District and School Teachers of the Year Honored at Annual Teacher of the Year Banquet
Okaloosa County School District Teacher of the Year, Royal Preston, Okaloosa Technical College, along with the other finalists, Ryan Patterson, Destin Middle School, and Morena Mannucci, Pryor Middle School, and the School Teachers of the Year, were honored and celebrated for their accomplishments in and out of the classroom and for the impact they each have made on the students they serve.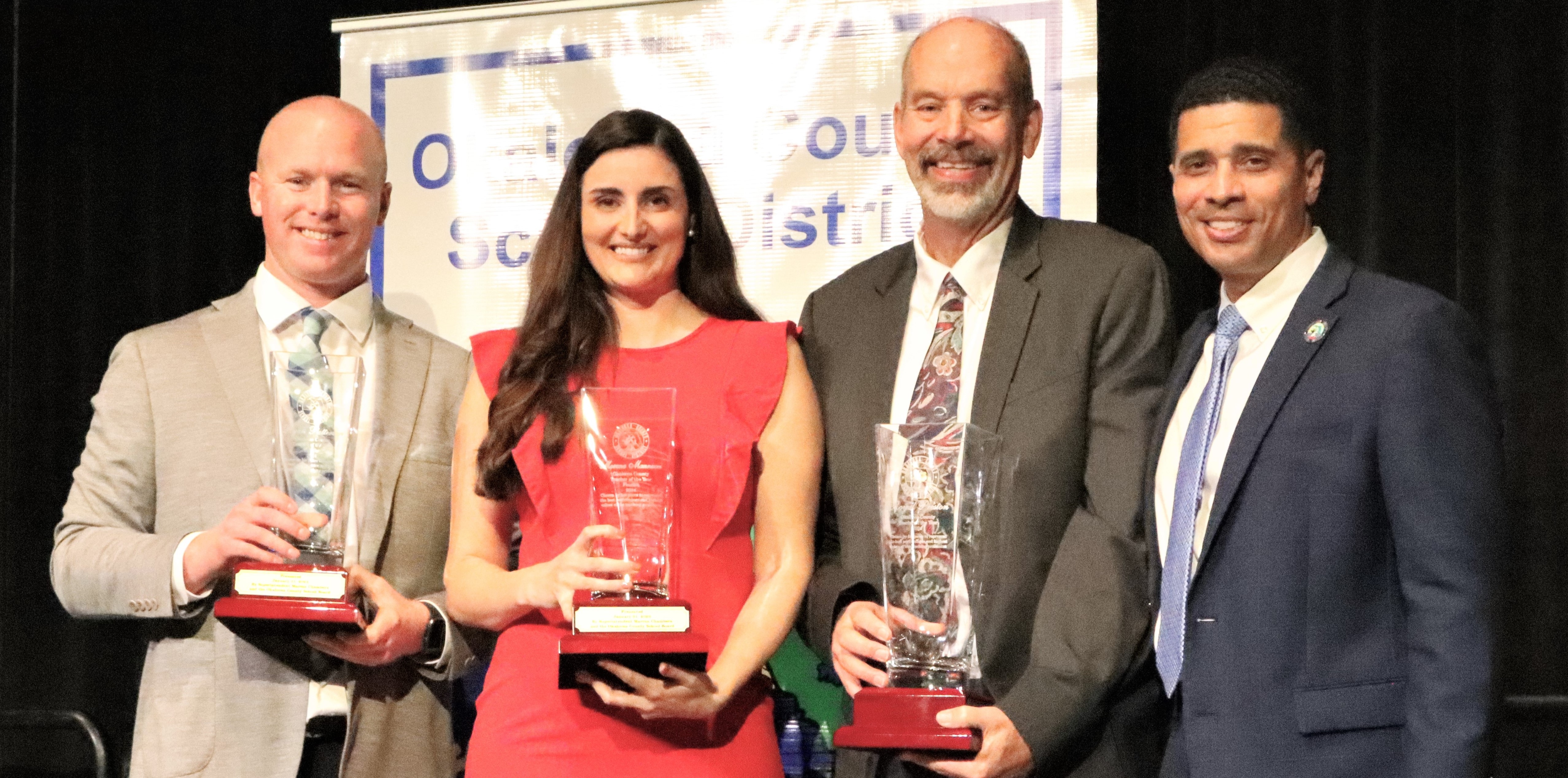 Pictured left to right: Ryan Patterson - Destin Middle School, Morena Mannucci - Pryor Middle School, Royal Preston - Okaloosa Technical College, and Marcus Chambers, Superintendent of Schools.
Selection of the 2024 Teacher of the Year began in the fall when each school announced its honoree. In December, each school's Teacher of the Year submitted a portfolio that includes a detailed resume, responses to questions about their teaching philosophy and practice, and comments about the teaching profession. Finalists were announced by the selection committee in January, and committee members visited their classrooms to observe them in action before selecting the winner announced tonight.
Okaloosa County's Teacher of the Year will compete with teachers from 71 public school districts and other institutions in Florida for the state's top honor. As our district's winner, the Okaloosa County Teacher of the Year will participate in the Florida Department of Education Teacher of the Year Roundtable and the Macy's Gala Awards Ceremony in July when the state winner will be announced.
Royal Preston, Okaloosa Technical College - Teacher of the Year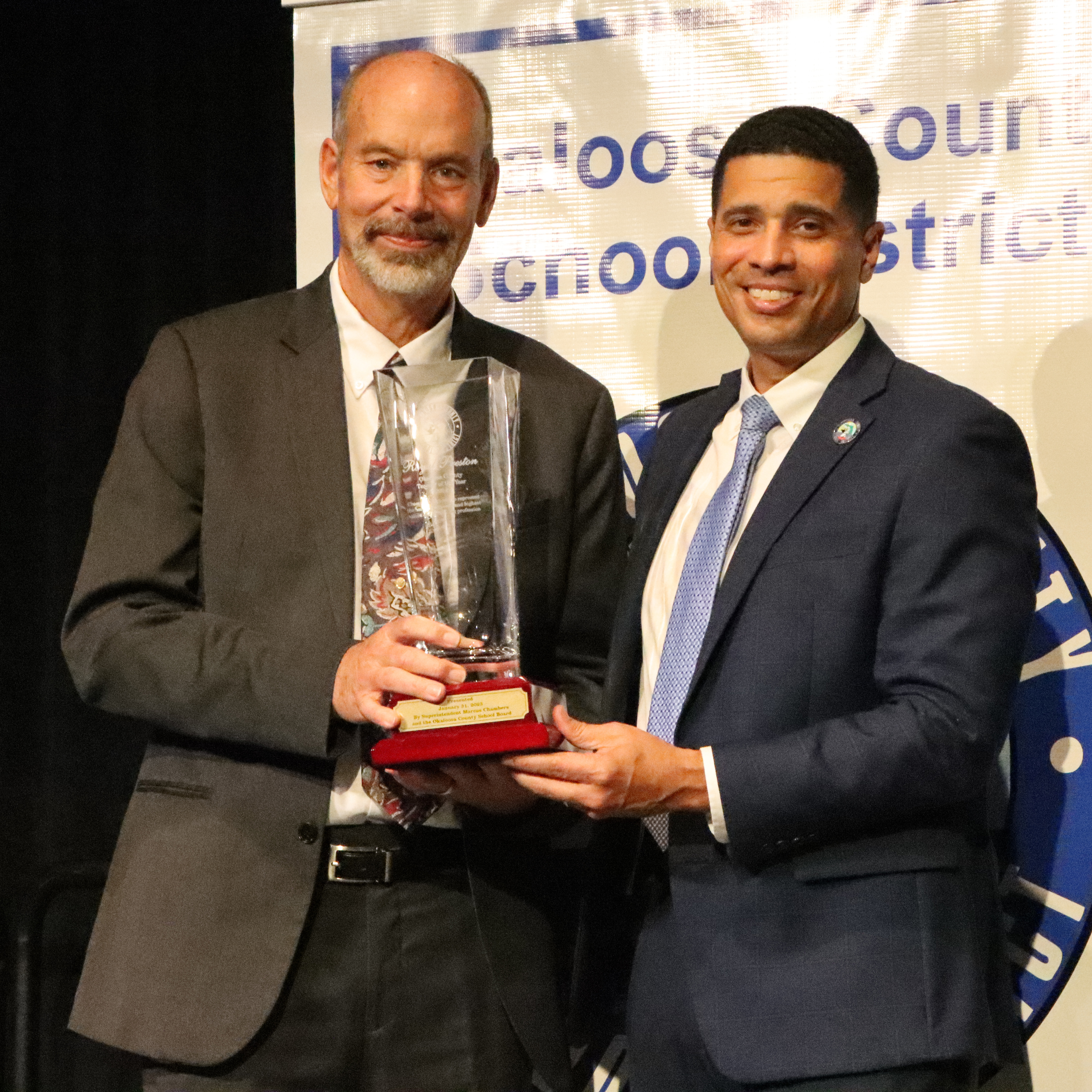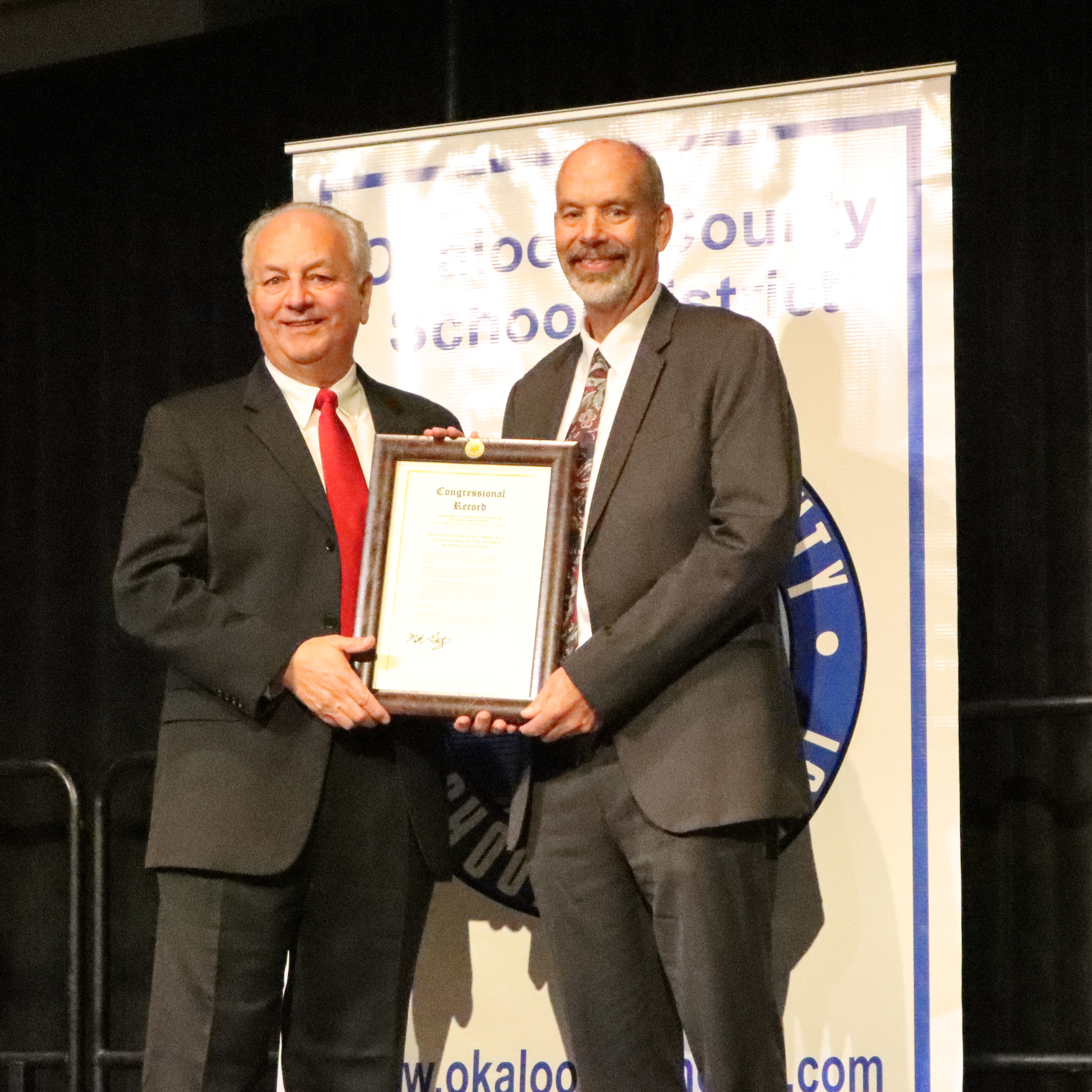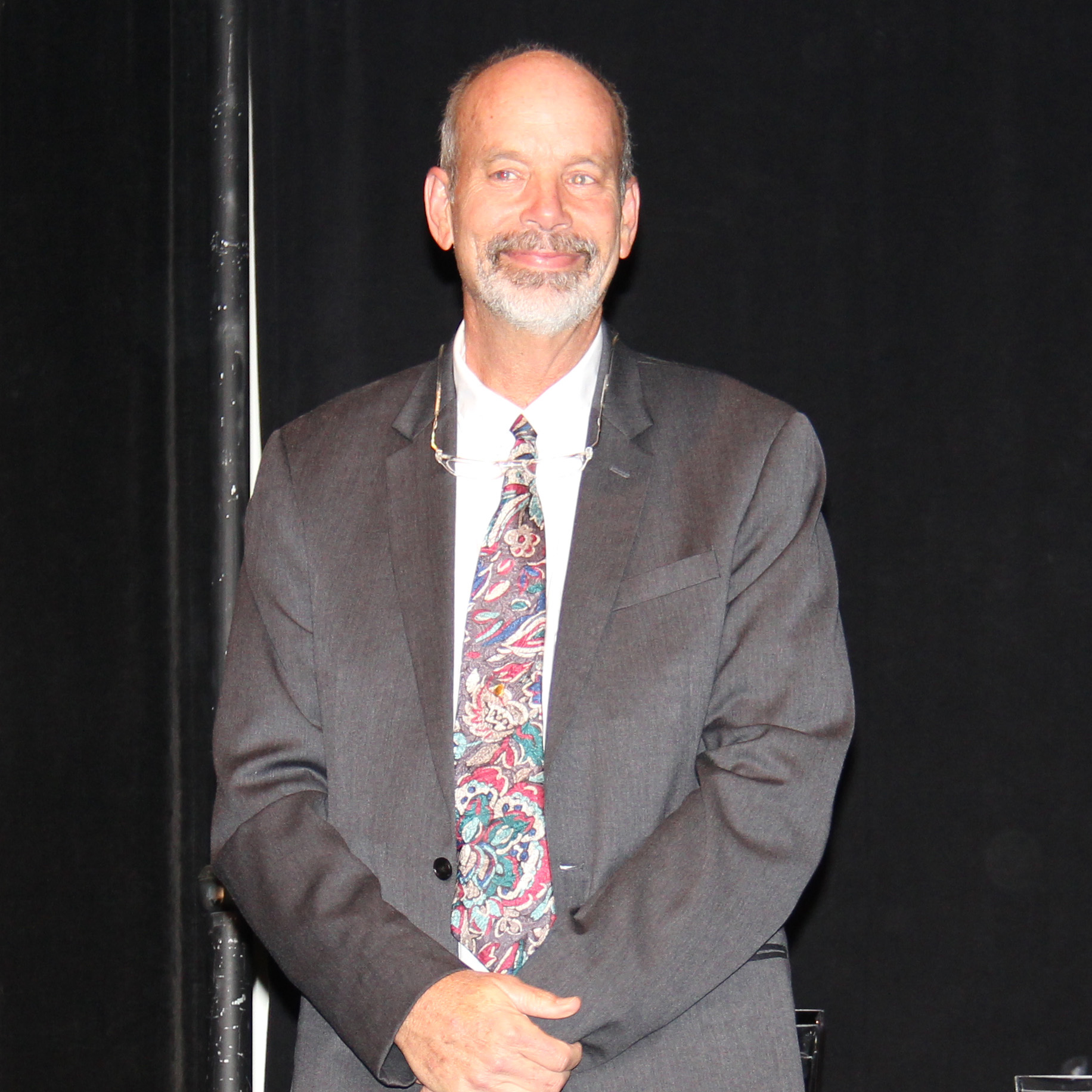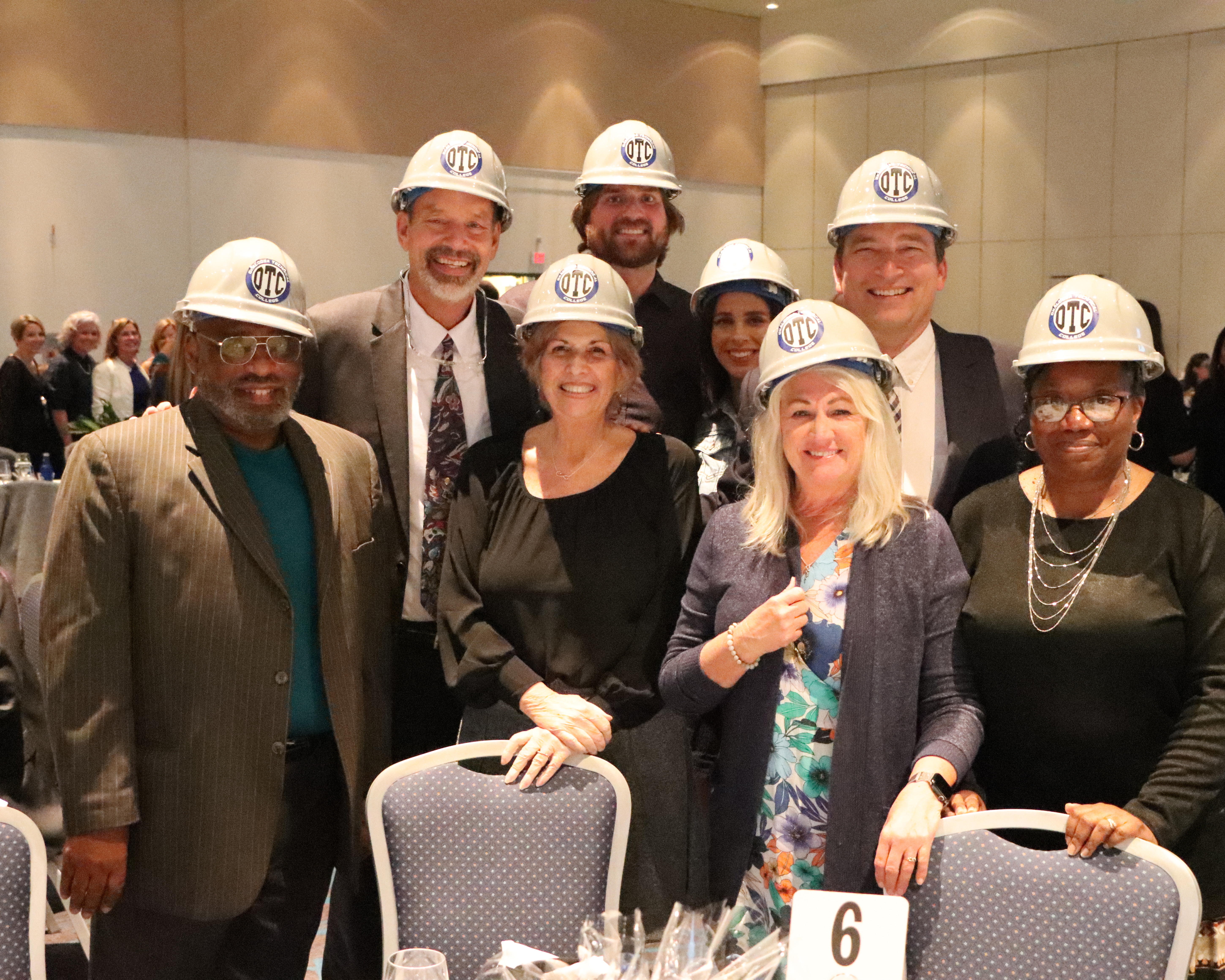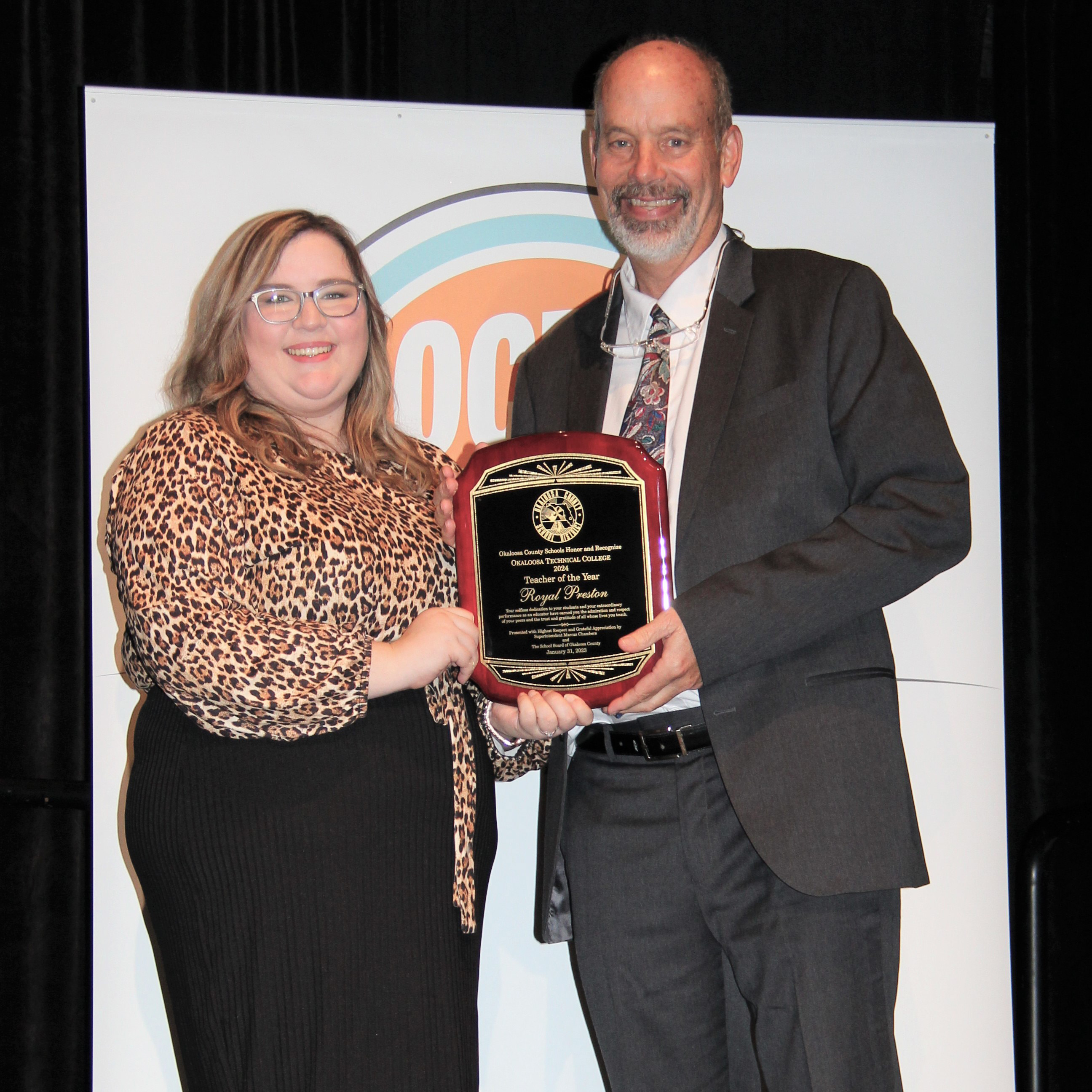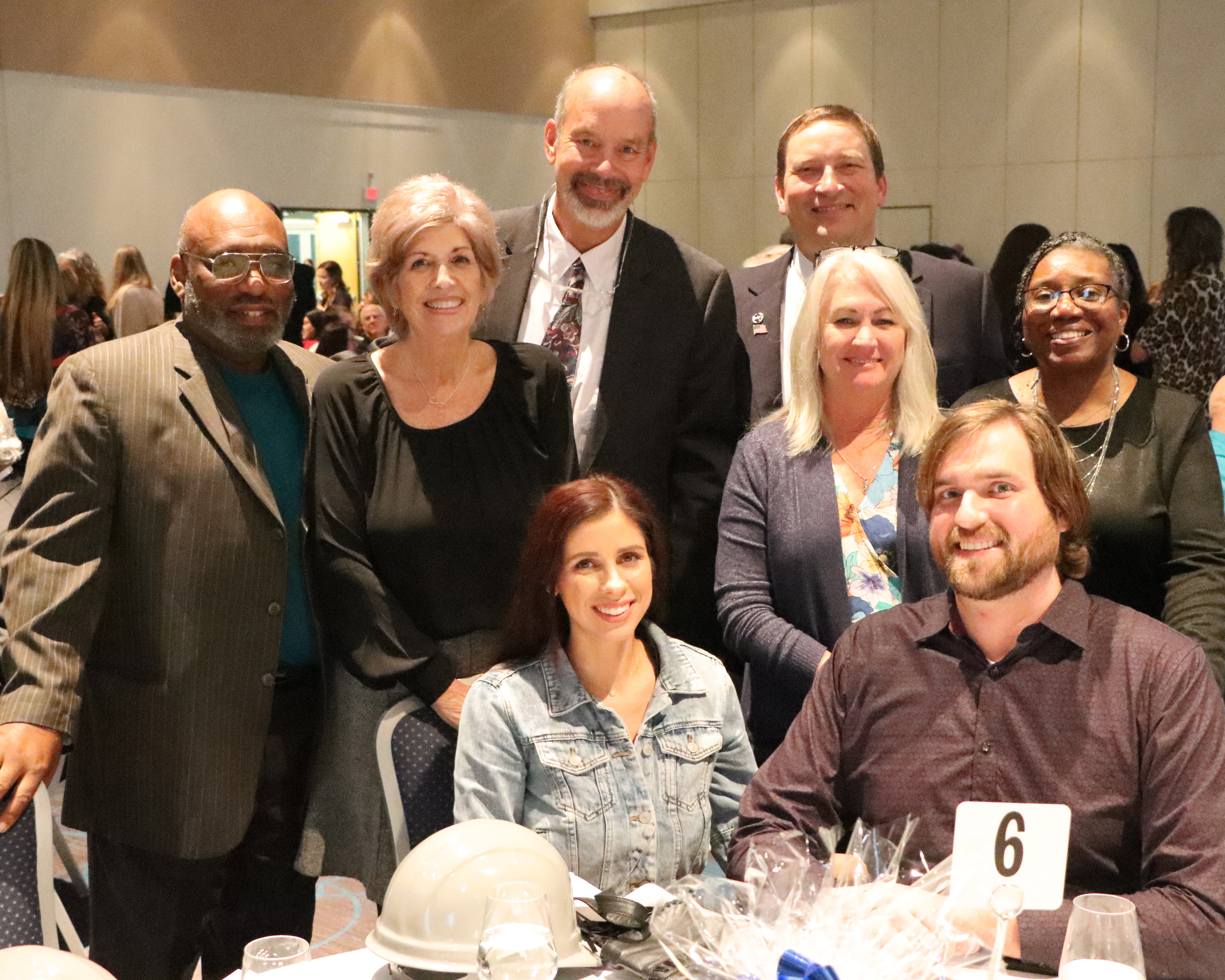 A product of Okaloosa Schools, Royal Preston attended Edwins Elementary School, Cherokee Elementary School, Lewis Junior High School, and Niceville High School. Senior year, he spent half days at the Bay Area Vo-Tech, now Okaloosa Technical College (OTC), where he teaches Carpentry and Building Trades. Preston worked as a building contractor, building over 200 houses and commercial projects. Teaching Building Trades and Carpentry for 29 years, he is passionate about Career and Technical Education (CTE) and sharing his craft and skills with students. He enjoys church, family, woodworking, gardening, pickleball, and tennis. God has blessed Preston with his bride of 34 years, Denise, son, Spencer, daughter-in-law, Somer, and granddaughter, Evie, their pride and joy!
Ryan Patterson, Destin Middle School - Finalist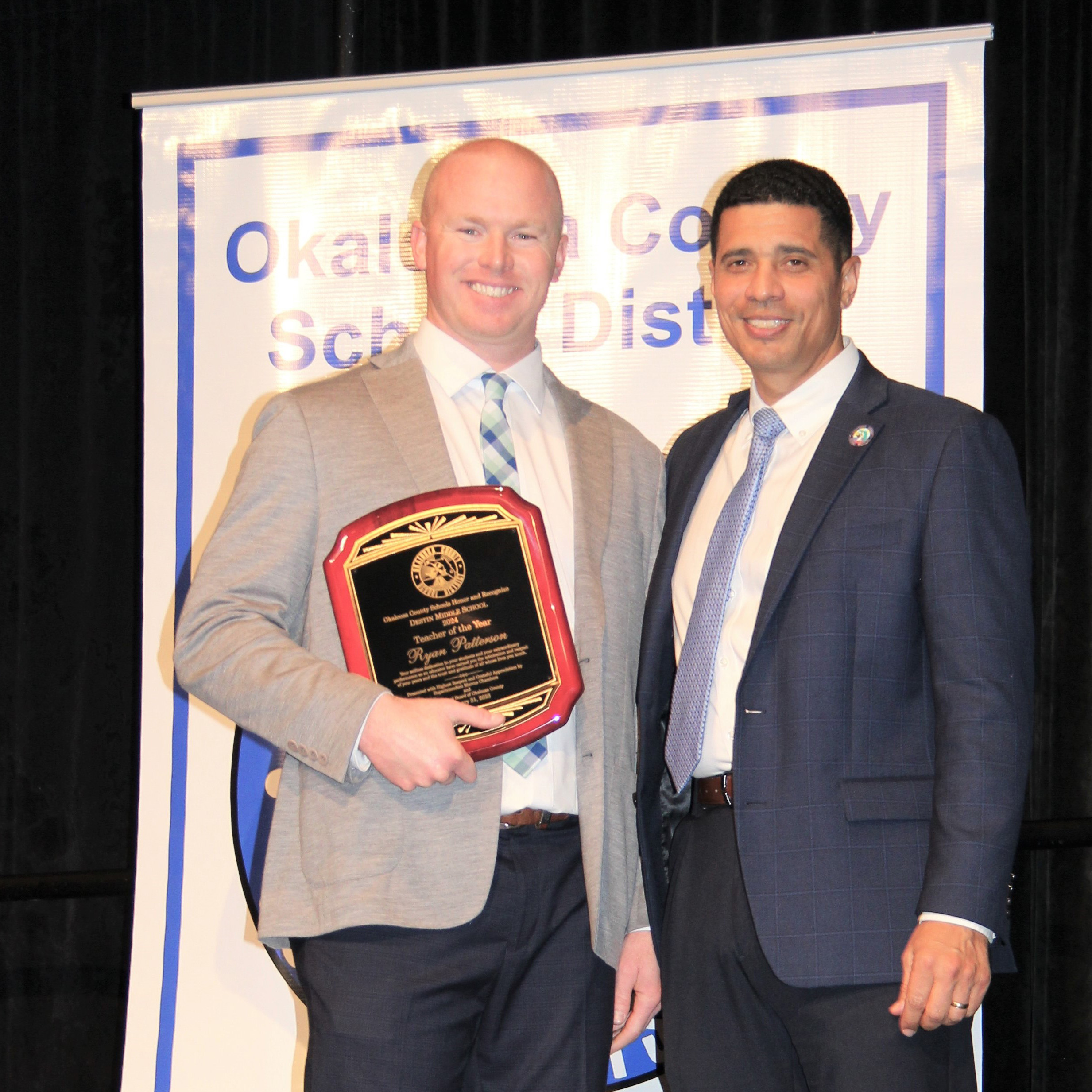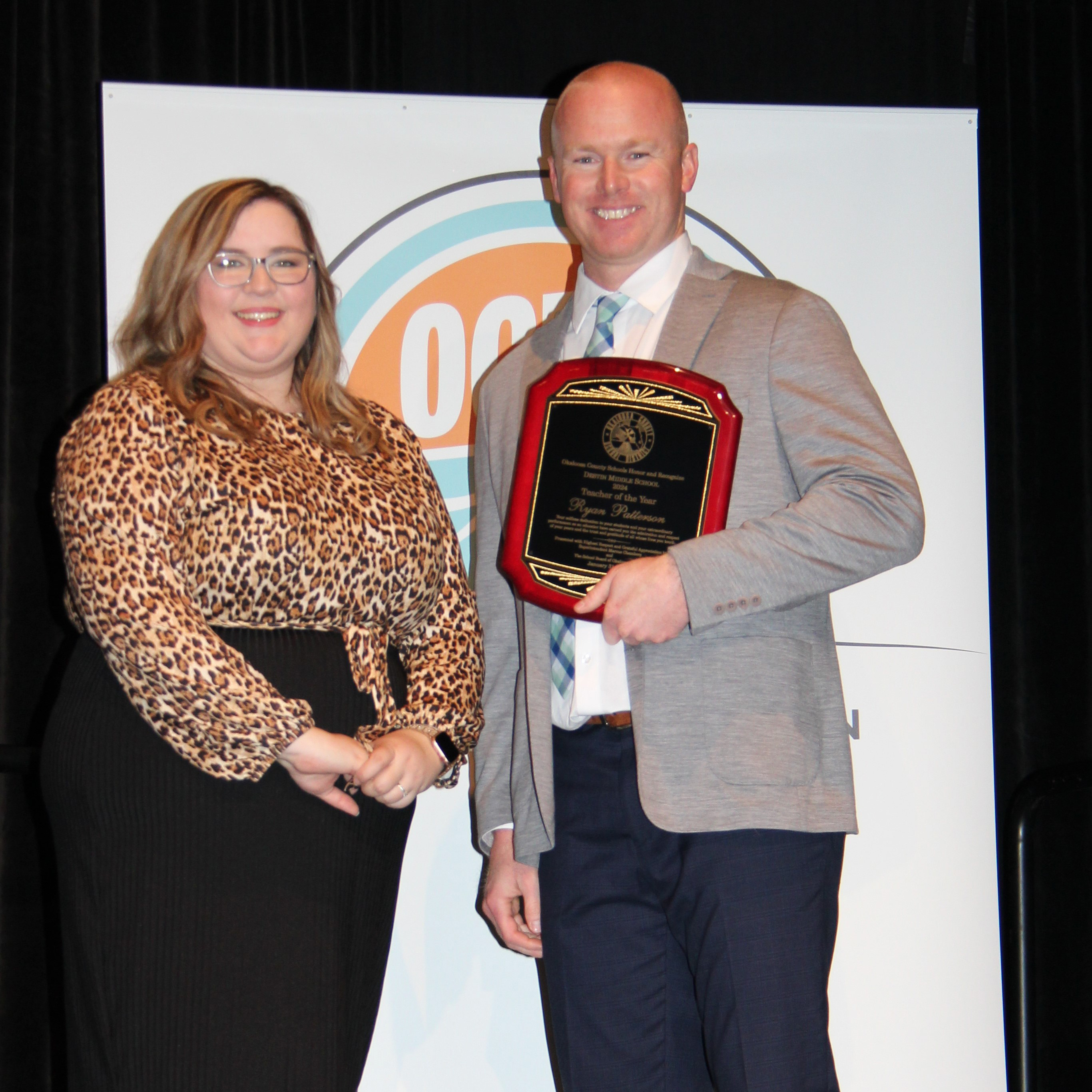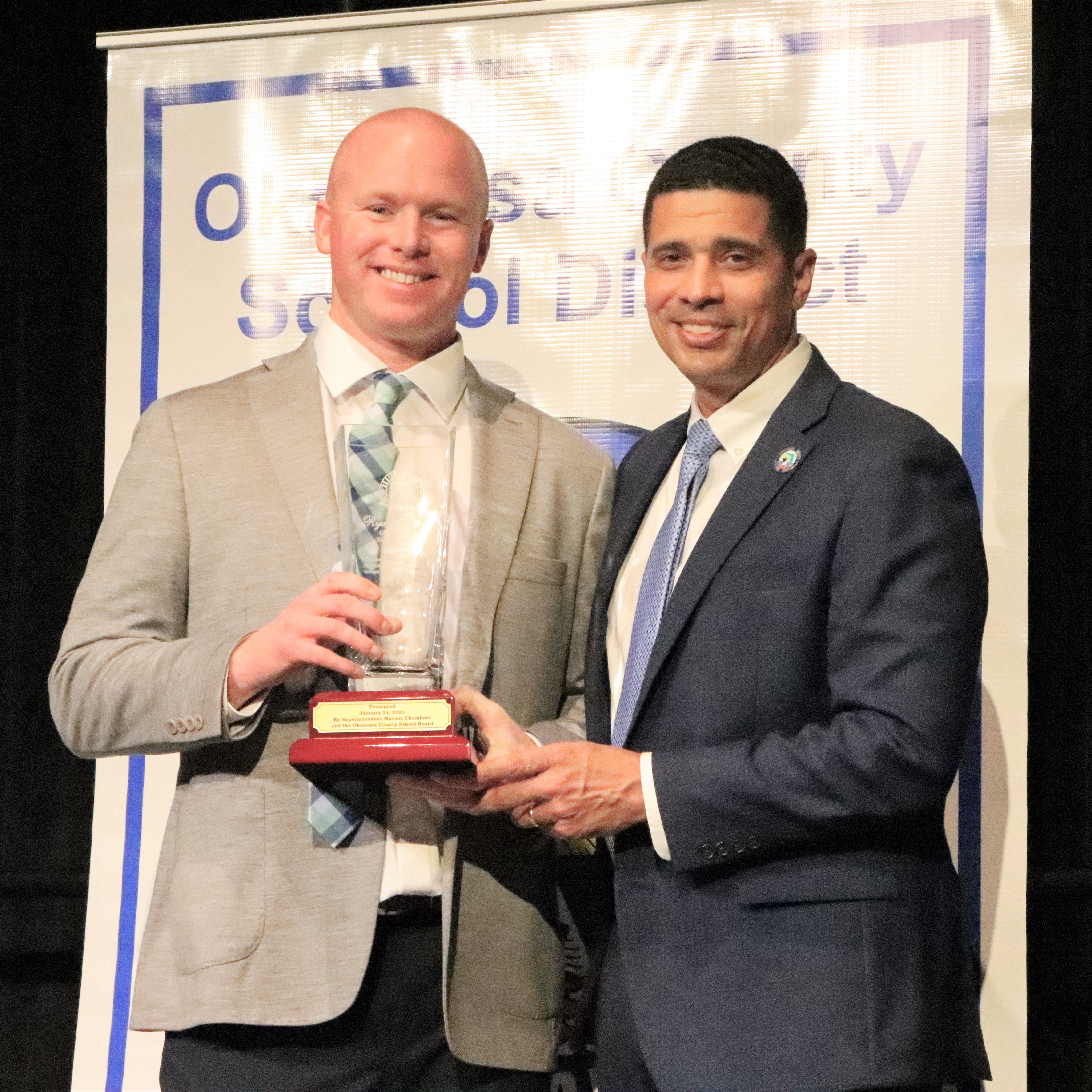 Ryan Patterson is a graduate of Fort Walton Beach High School, earned a Bachelor of Business Administration (BBA) from Shorter University, and a master's degree in Educational Leadership at the University of West Florida (UWF), and is pursuing a Ph.D. in Psychology. Before teaching at Shoal River Middle School in 2015, he served as an assistant baseball coach and recruiting coordinator at Florida State College at Jacksonville and Director of Intramural Athletics at Shorter University. In 8 years in Okaloosa County, his students served the community with the Teddy Bear Project, 9/11 Memorial Project, Global War on Terrorism Memorial Project, and a Hurricane Irma relief effort where over $25,000 in donations were made to families in Jacksonville, Florida. Patterson is humbled to serve as Destin Middle School's teacher of the year.
Morena Mannucci, Pryor Middle School - Finalist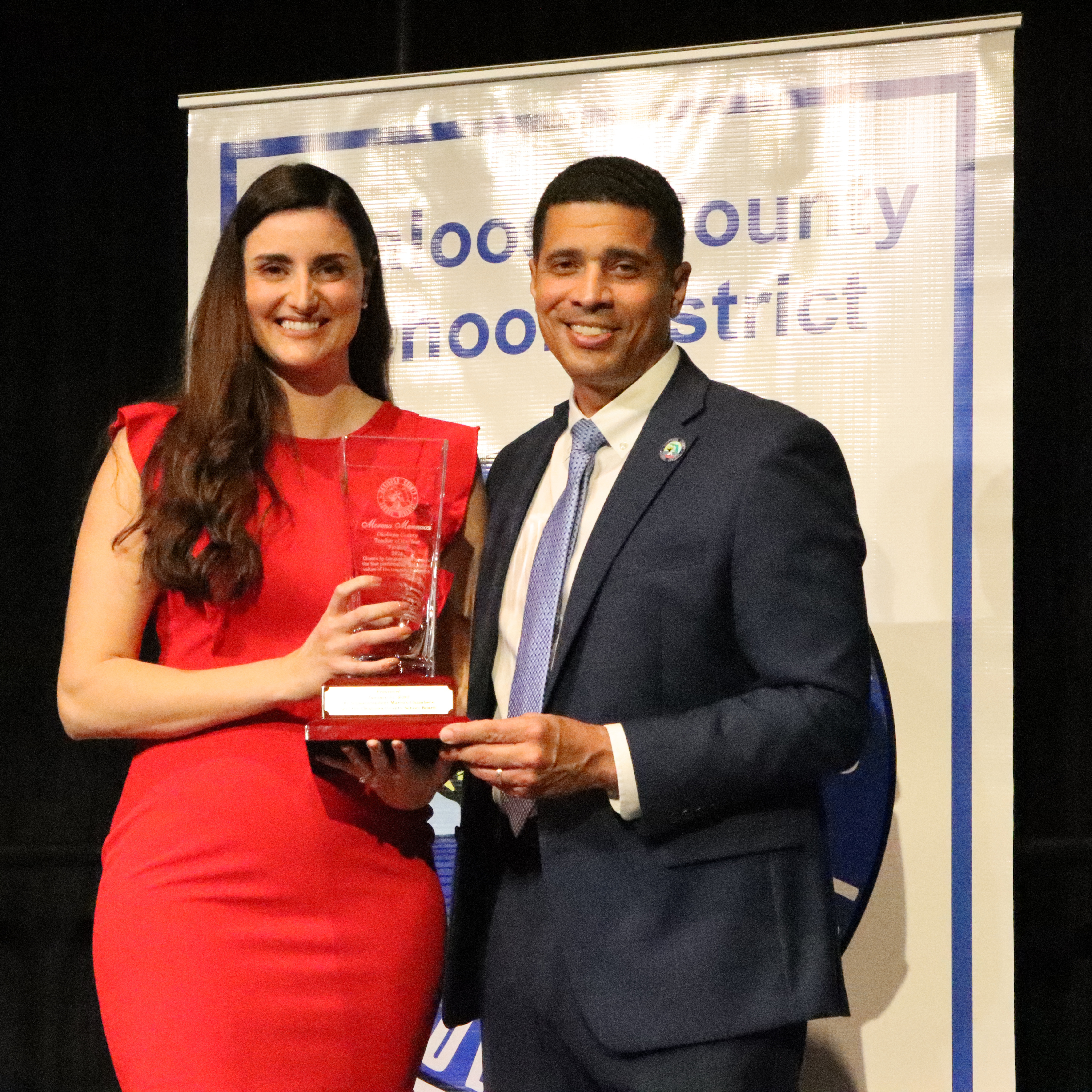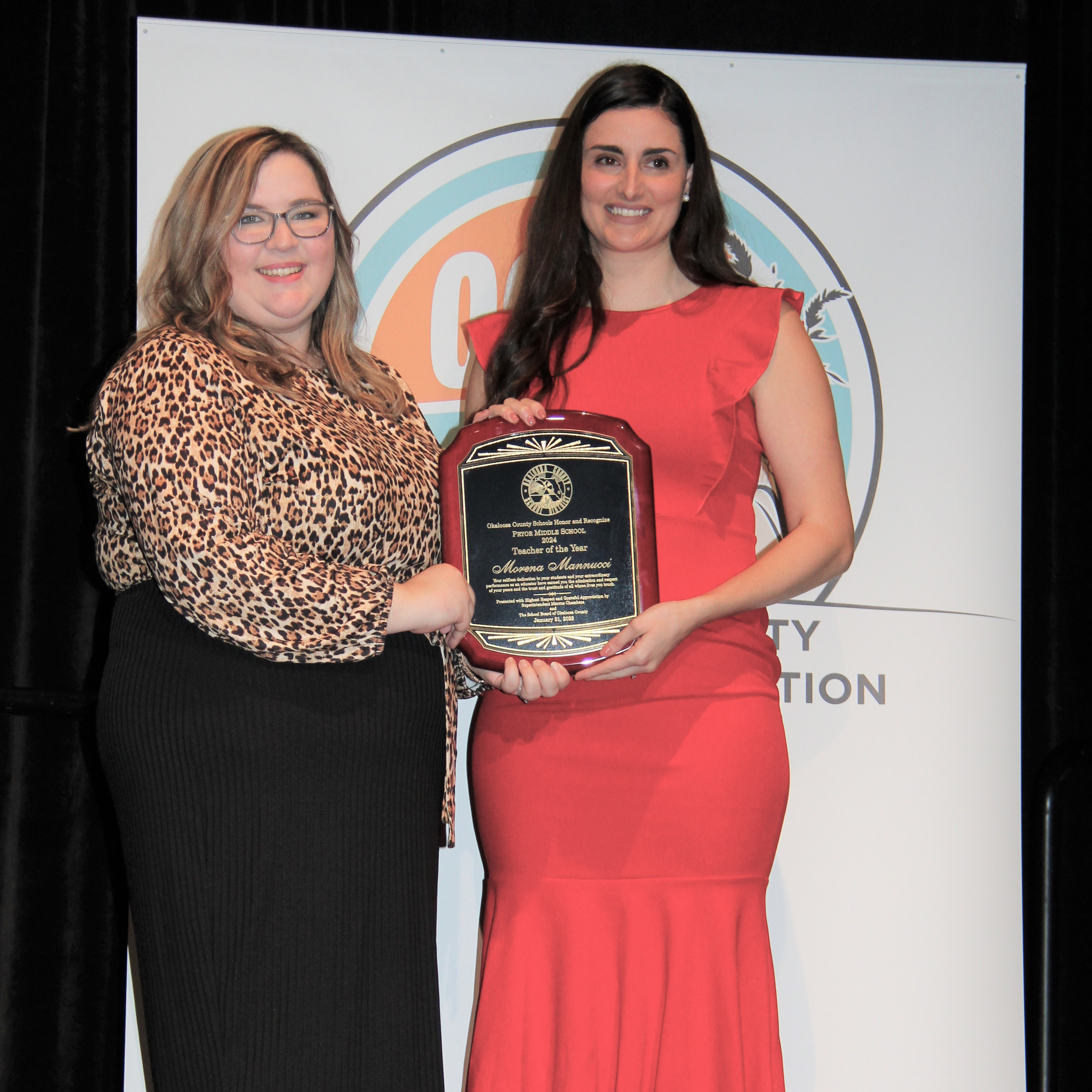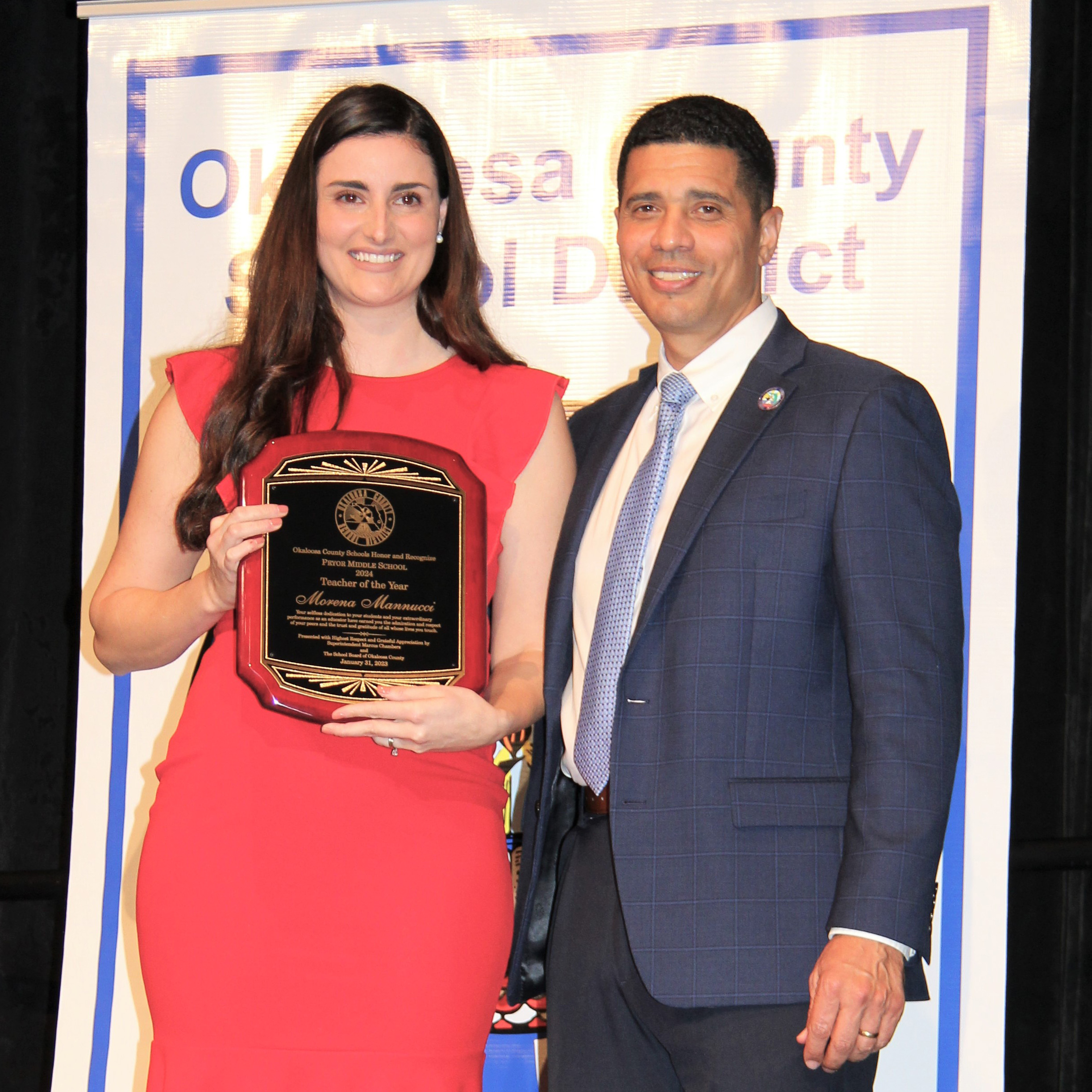 Morena Mannucci became an English learner at 19 and developed a zeal for teaching in her early college days. She began teaching accounting in North Carolina and soon moved to the Sunshine State where she took over the CTE Web Programming track at Pryor Middle School. She expanded the curriculum, earning the highest industry certification proficiency and acceleration points at the middle school level in Okaloosa. She has completed her master's degree in Educational Leadership at UWF and plans to support other teachers as a school administrator.
Congratulations To Our School Teachers of the Year!
Antioch Elementary School – Michele Tiller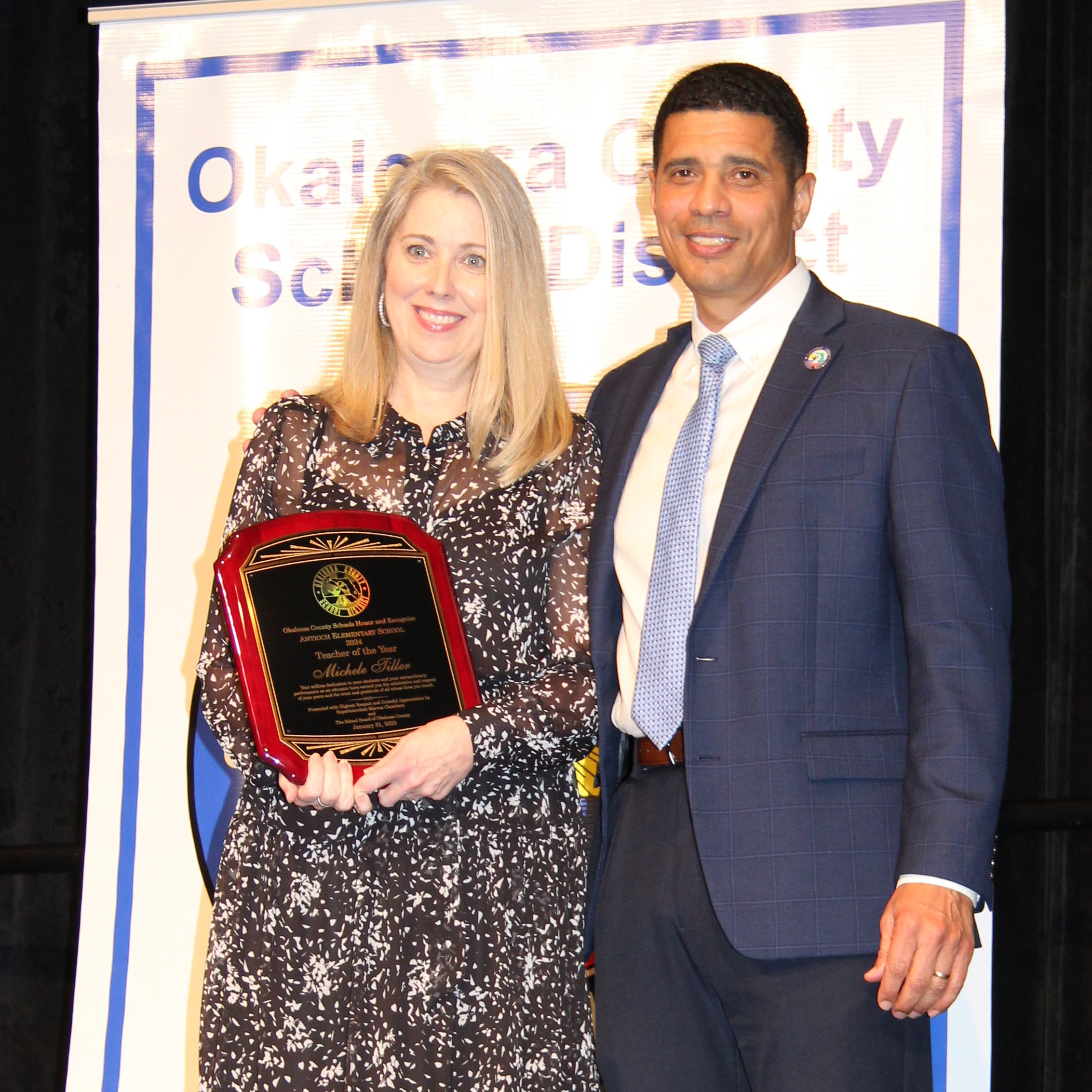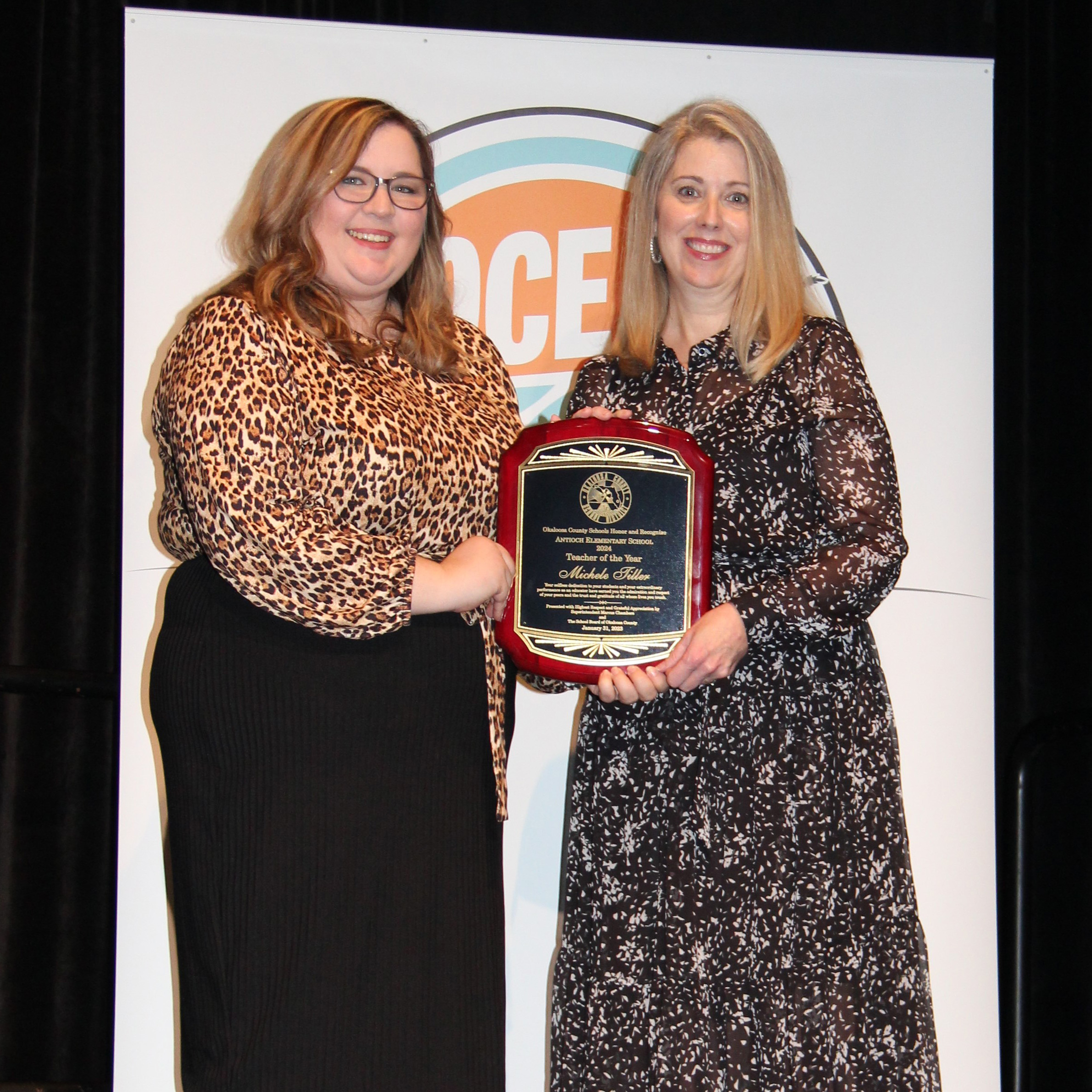 ​Michele Tiller has been teaching students with various disabilities for over 30 years. She began her teaching career at Valparaiso Elementary School and transferred to Antioch Elementary School during its inaugural year. She is grateful to have worked with so many wonderful teachers, support staff personnel, administrators, parents, and students throughout her years as a teacher. She is pleased to have with her tonight her son Frank, and daughter-in-law Avery, both of whom she is extremely proud. Mrs. Tiller is most thankful for the support of her husband, Blaine. Without him, she could not do this very challenging job.
Baker School – John Carlisle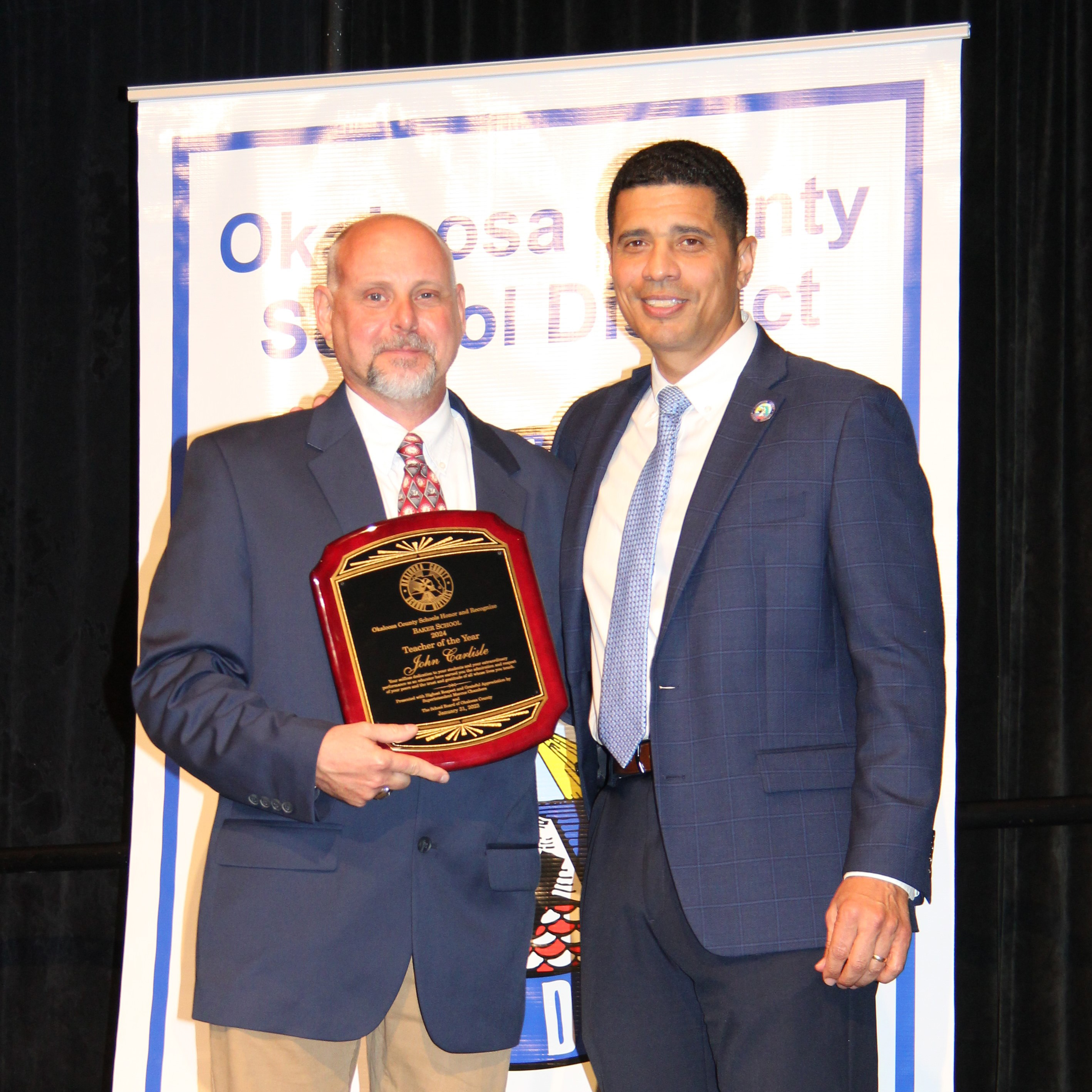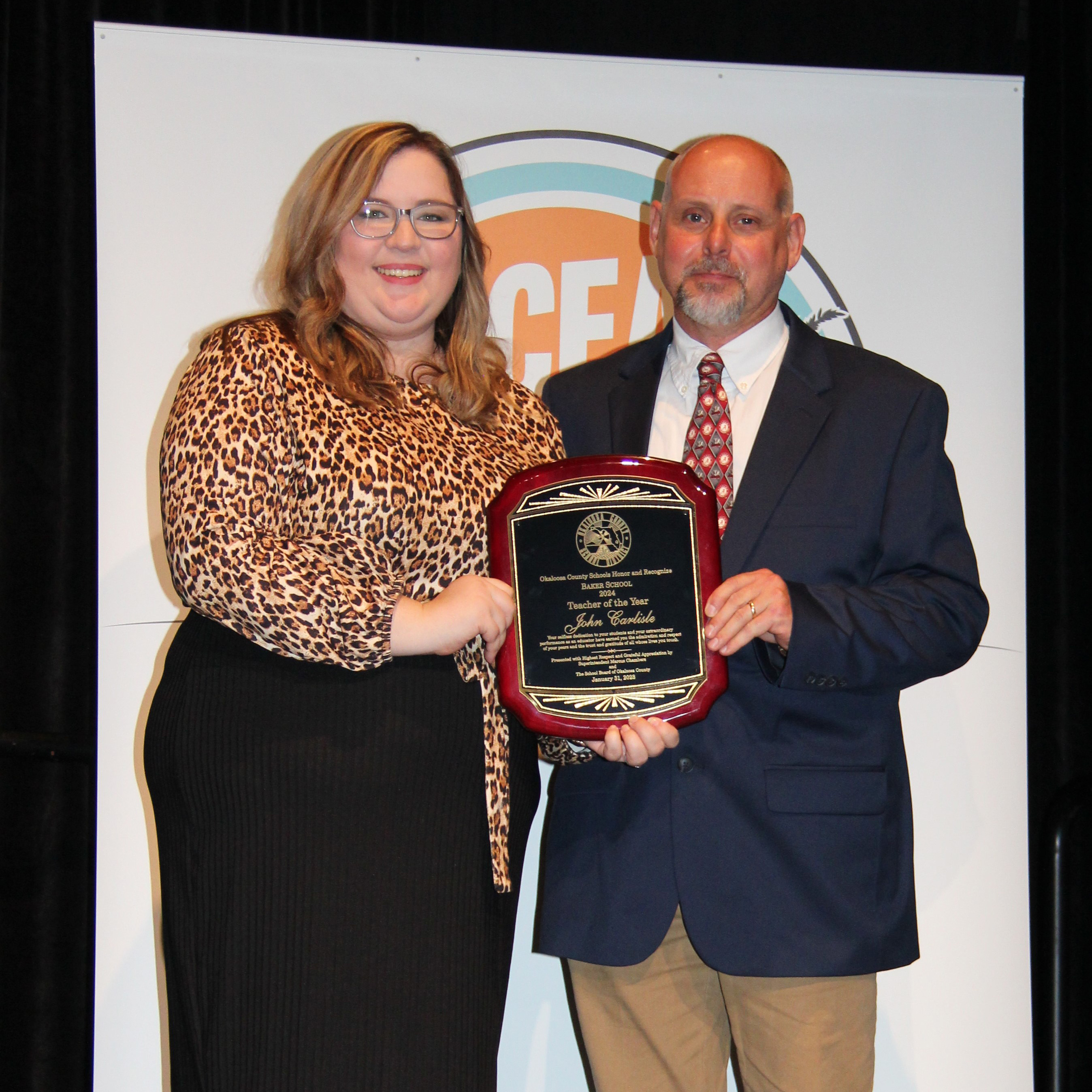 John Carlisle is in his 25th year of education and 18th year at Baker School. He earned both his bachelor's degree in Special Education (SLD) and master's degree in Curriculum and Instruction from UWF. His certifications include middle grades math, physical education, and SLD. In addition to his current teaching duties in Algebra 1 and Okaloosa Online, he serves as the head coach for the girls' softball program and assistant coach in football, girls weightlifting, and Fellowship of Christian Athletes. He has been married to his wife Tracy for 28 years and has two sons and two grandchildren.
Bluewater Elementary School – Brooke Laurick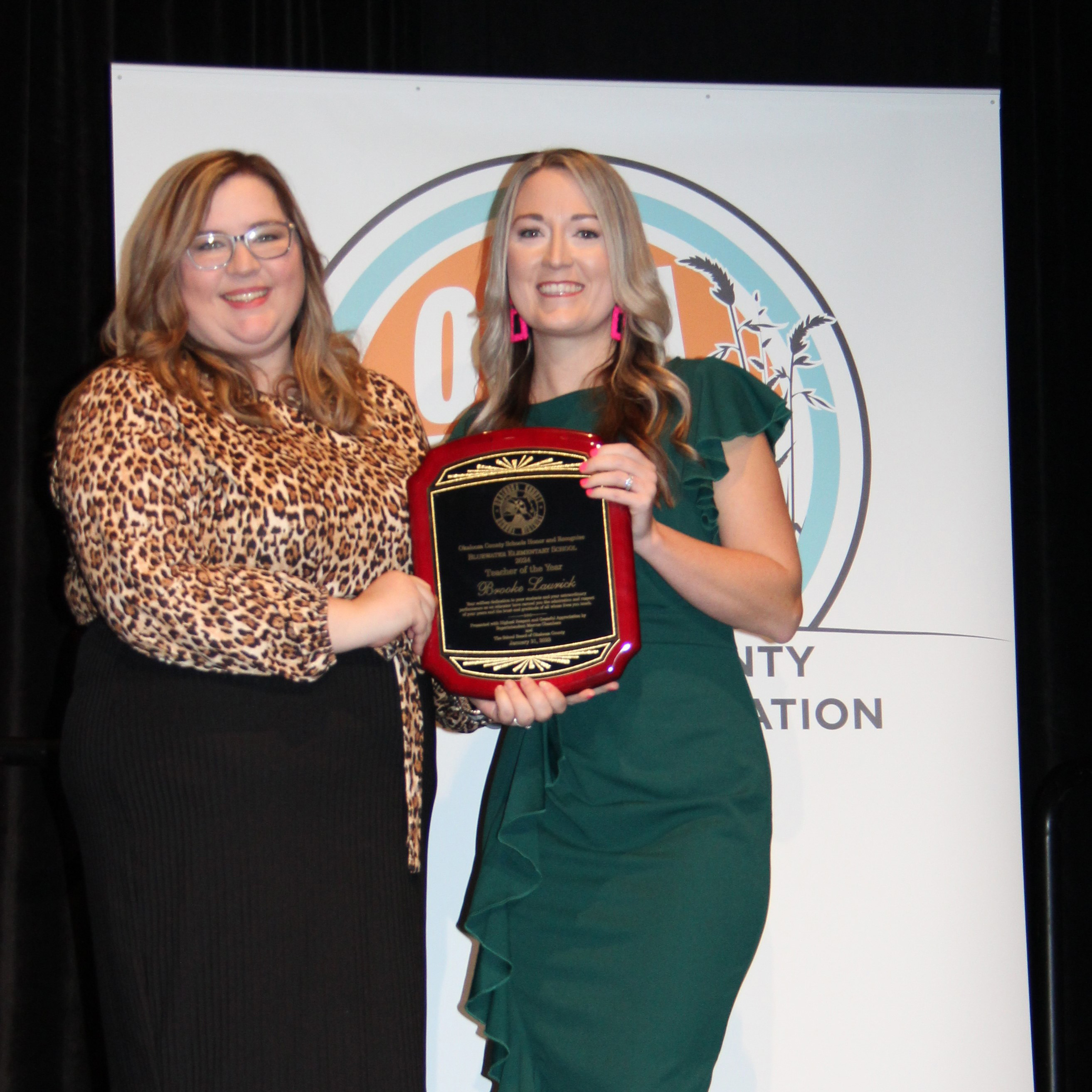 Brooke Laurick was born into a military family that took her around the world and finally to Okaloosa County. She graduated from Niceville High School and continued to get degrees at Northwest Florida State College (NWFSC) & Florida State University (FSU). She continued in Okaloosa County with her student teaching at Bluewater Elementary School, where she believes a phenomenal foundation was set as she learned from remarkable teachers. She loves igniting students' passion for reading by connecting them to stories that help discover more about their world and their own imagination. She believes there is no better feeling than hearing students ask, "Just one more chapter?"
Bob Sikes Elementary School – Ashley Alayon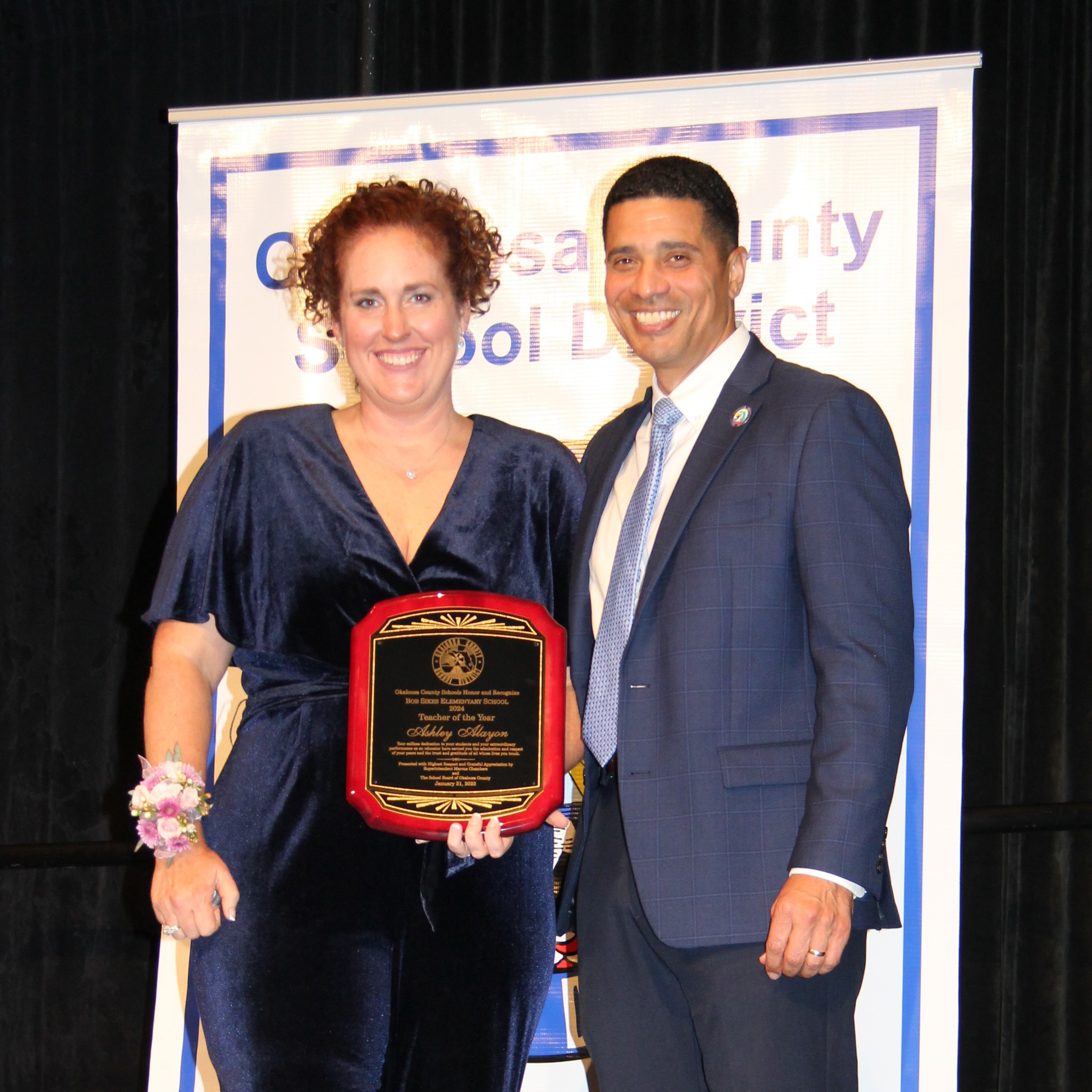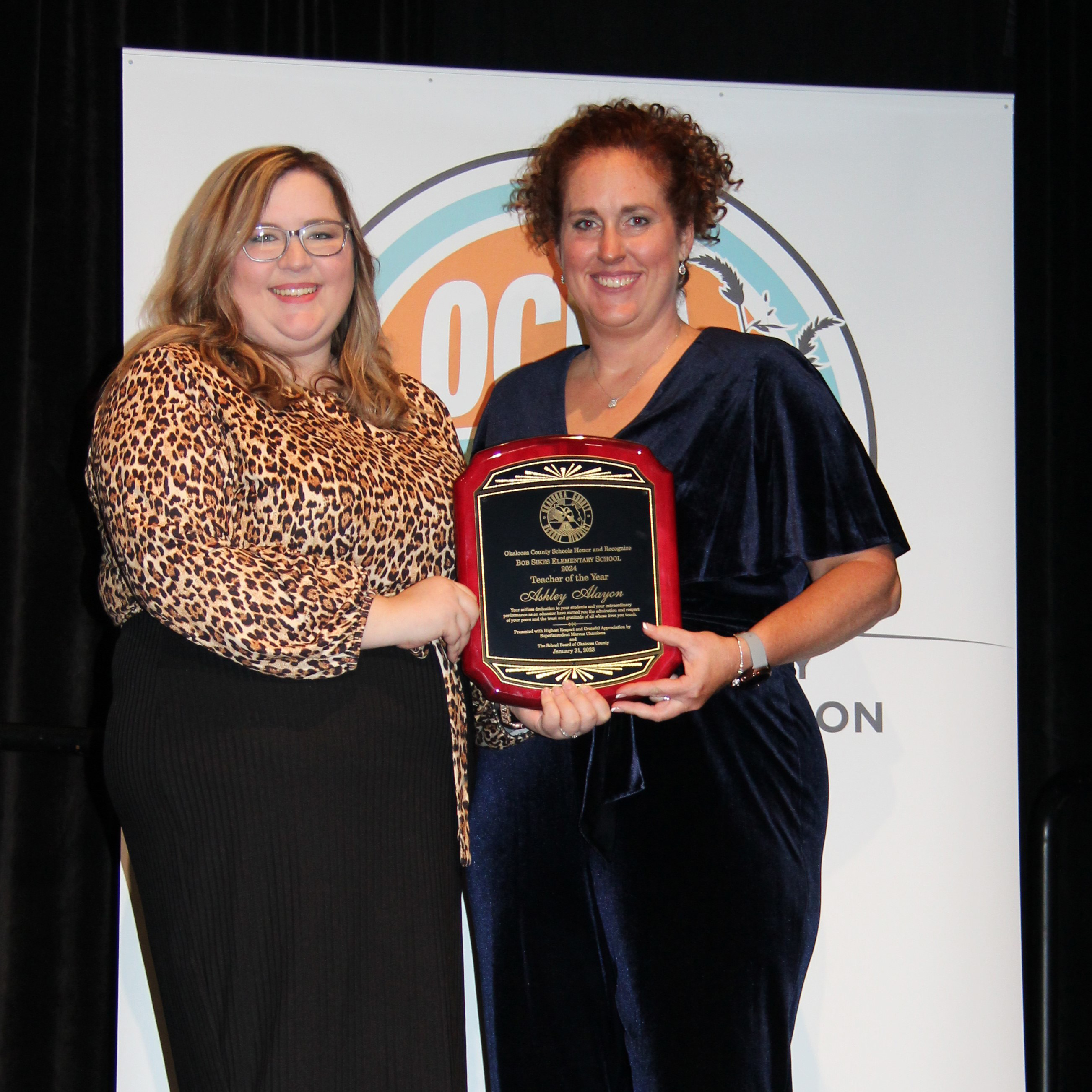 Ashley Alayon is currently completing her 5th year teaching full time. She is a graduate of the University of West Florida with both a bachelor's degree in Elementary Education and a master's degree in Instructional Design & Technology. She is certified in Elementary Education, Middle Grades Mathematics, and Exceptional Student Education (ESE). She also holds both English to Speakers of Other Languages (ESOL) and Reading endorsements. Ashley is a military spouse and a mother of two with a passion for learning. She aspires to mentor and always helps those in need. Mrs. Alayon is both humbled & grateful for this recognition.
Bruner Middle School – Corinda Wilson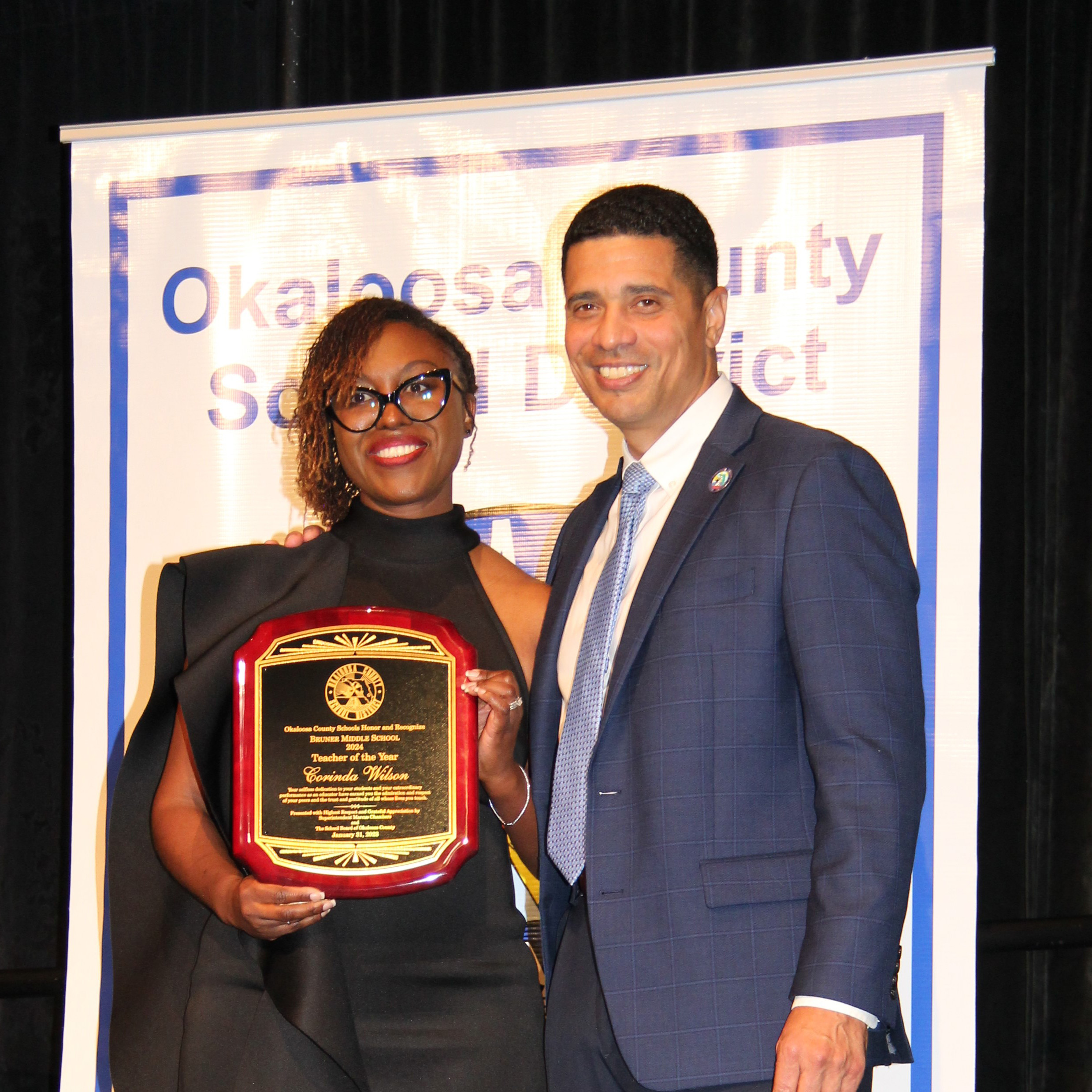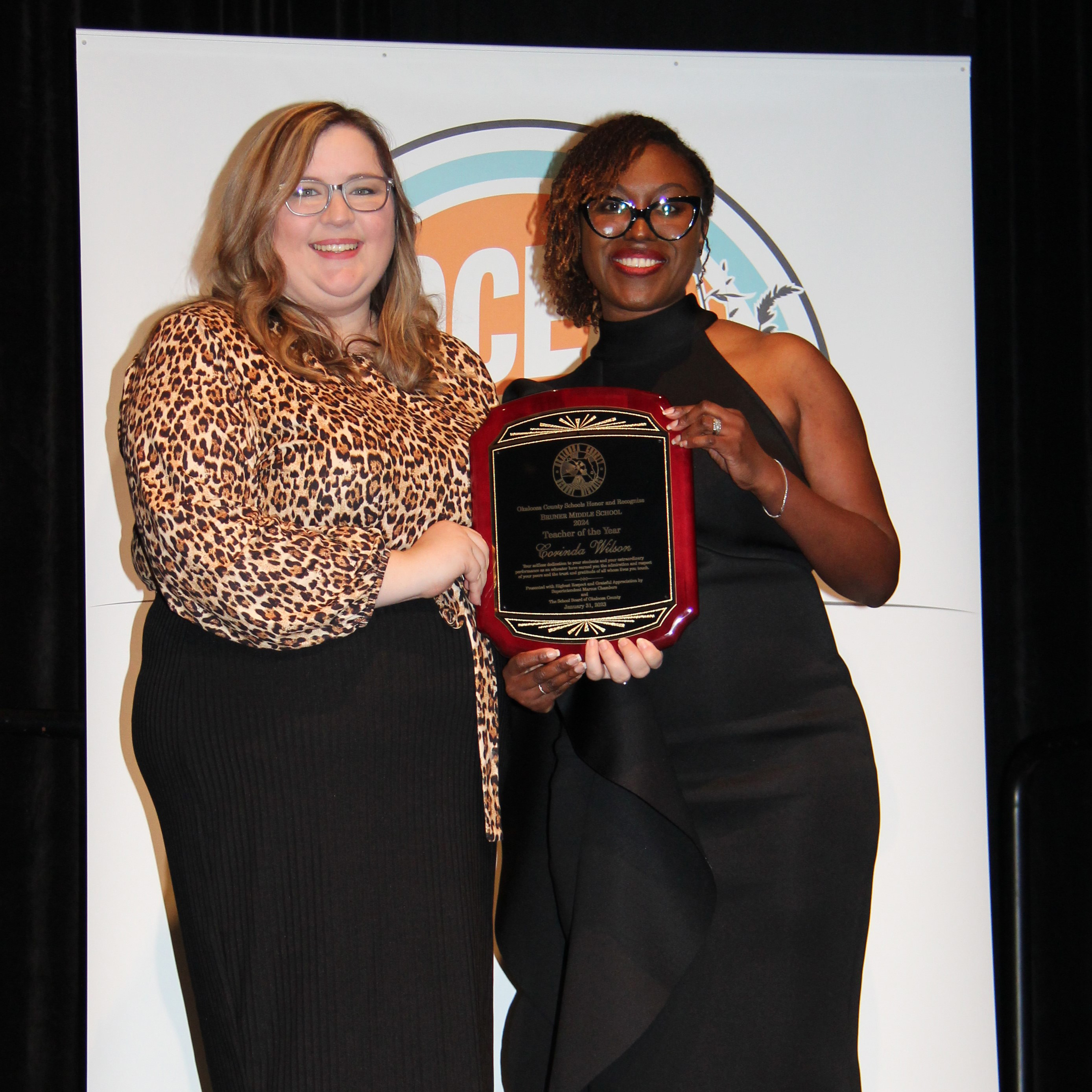 Corinda Wilson is an educator committed to the whole-person concept. In Mrs. Wilson's 7th grade English Language Arts (ELA) class, she promotes a learning environment where her students feel seen and heard, believing that building rapport is critical in educating our youth. She holds a bachelor's degree in Liberal Arts with minors in education and psychology, as well as a master's degree in Human Services: Marriage and Family Counseling. Corinda is also a published devotional author and certified life coach. Outside the classroom, Mrs. Wilson enjoys time with her husband Jarvis, and daughters, Hannah and Grace.
Choctawhatchee High School – Kay Brock
Award accepted by Michelle Heck, Principal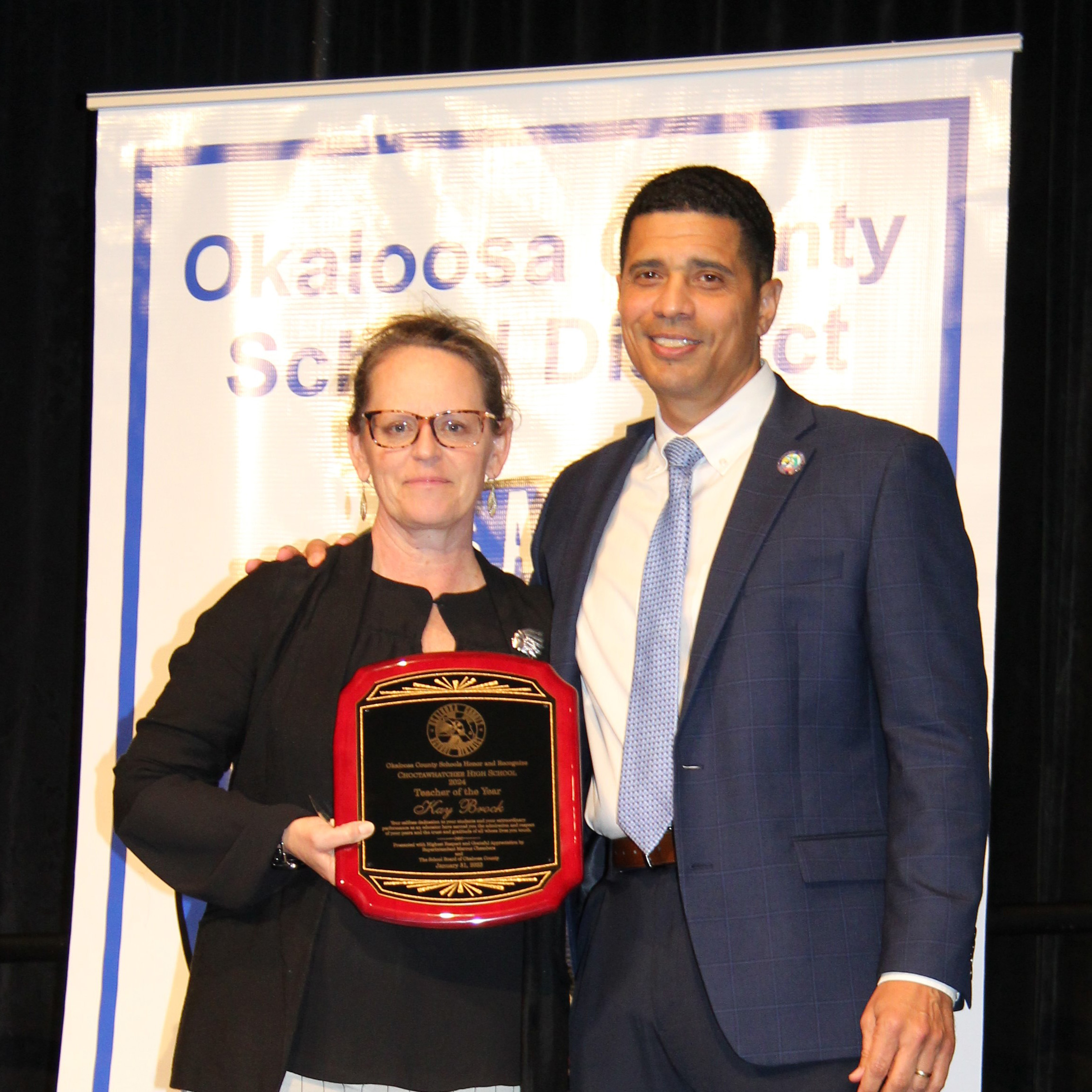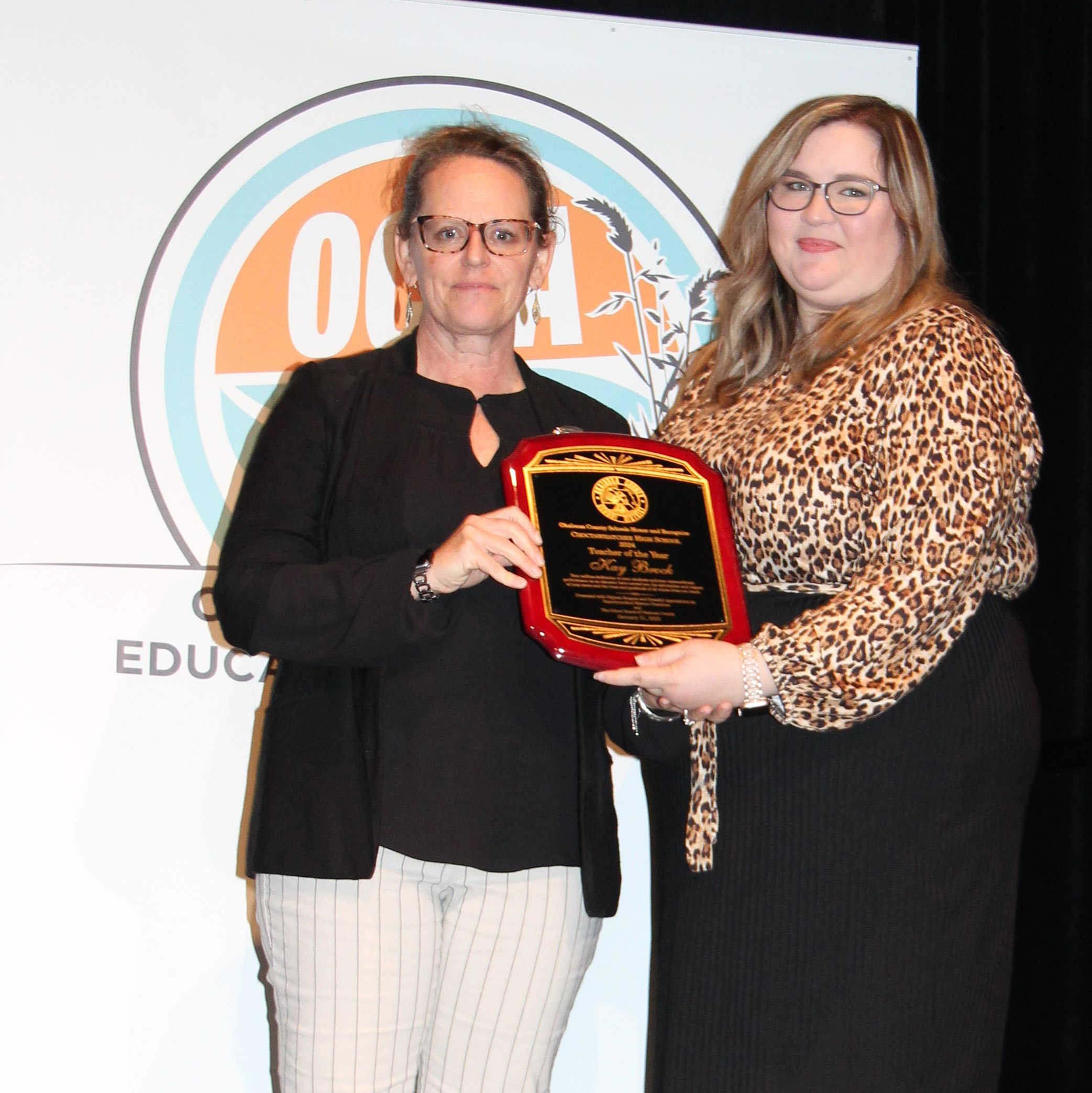 Kay Brock was a product of Okaloosa County - Wright Elementary School, Pryor Middle School, and a 1978 graduate of Choctaw High School. She earned two bachelor's degrees from UWF and then began teaching in the Social Studies Department with the Big Green Indians in 1989. Kay later earned her master's degree in Counseling and Psychology from Troy University which led to her next role as a school counselor. Kay was a career educator for the last 35 years and her most rewarding job was as Chief Guidance Counselor at Choctawhatchee High School. Taking care of thousands of students, her quick wit, and sense of calm are what she will be most remembered and loved for.
Crestview High School – Davina Carroll
Award accepted by her husband, Robert Carroll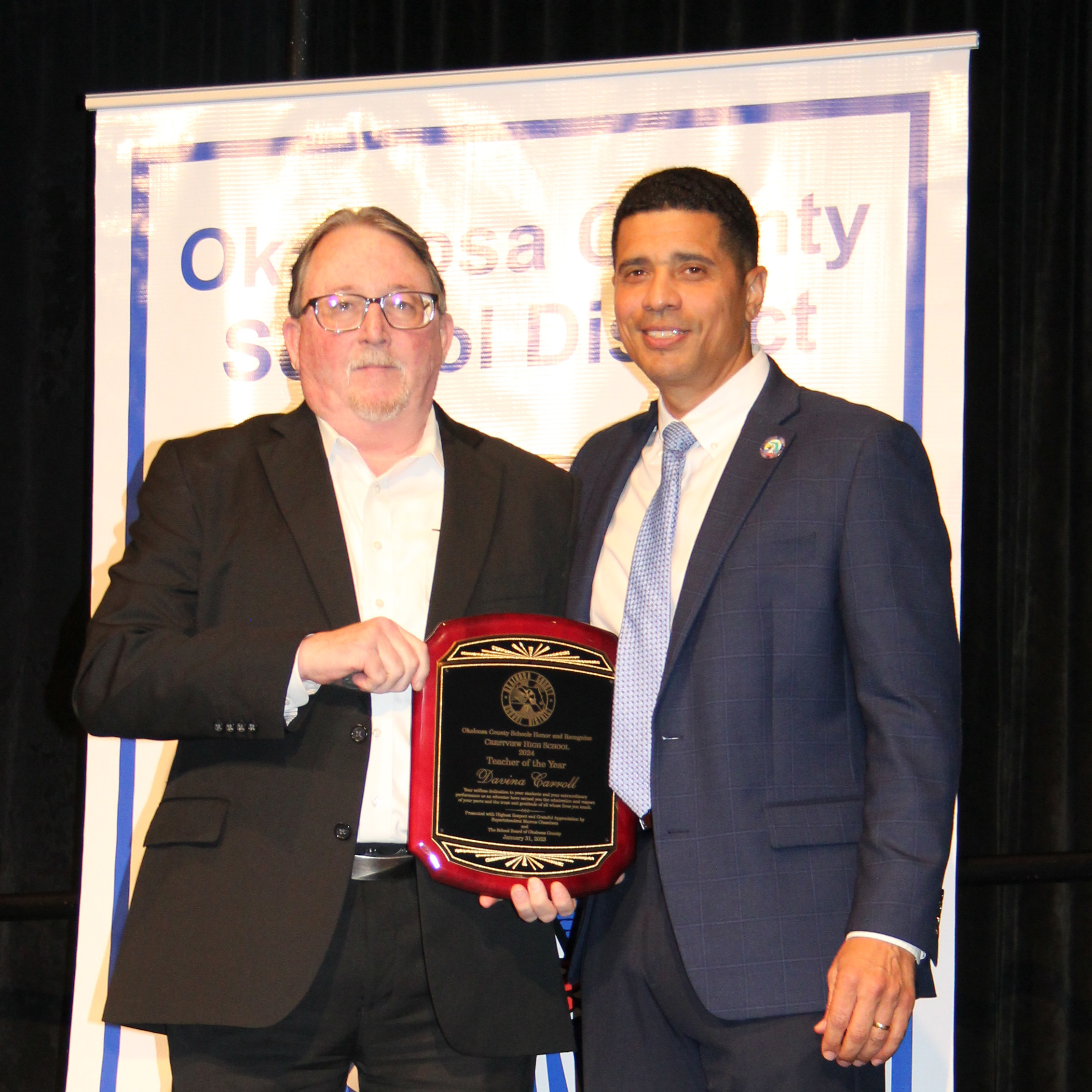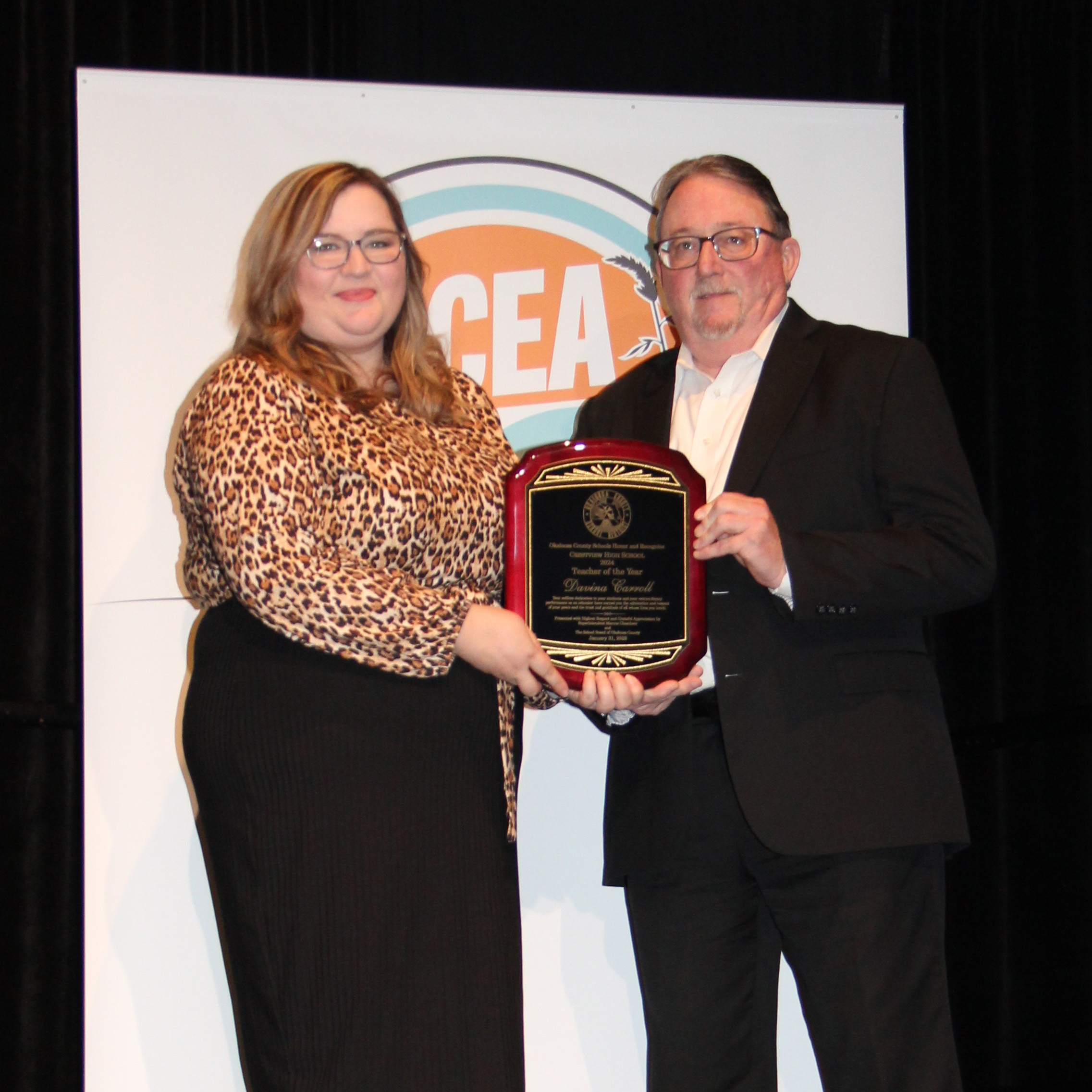 Davina Carroll graduated from Niceville High School in 1983 and received her bachelor's degree from Florida State University. She has taught math and science at Rocky Bayou Christian School, Richbourg Middle School, and Crestview High School. Her legacy is best characterized by the way she loved people. In the days following her passing, letters, notes, and posts poured in from students about the influence she had on their lives. For many, she was the one person who believed in them and made them feel valued. Davina lived out her calling in life, to love and honor others, both in and out of the classroom. We are proud of her!
Davidson Middle School – Carol Cassity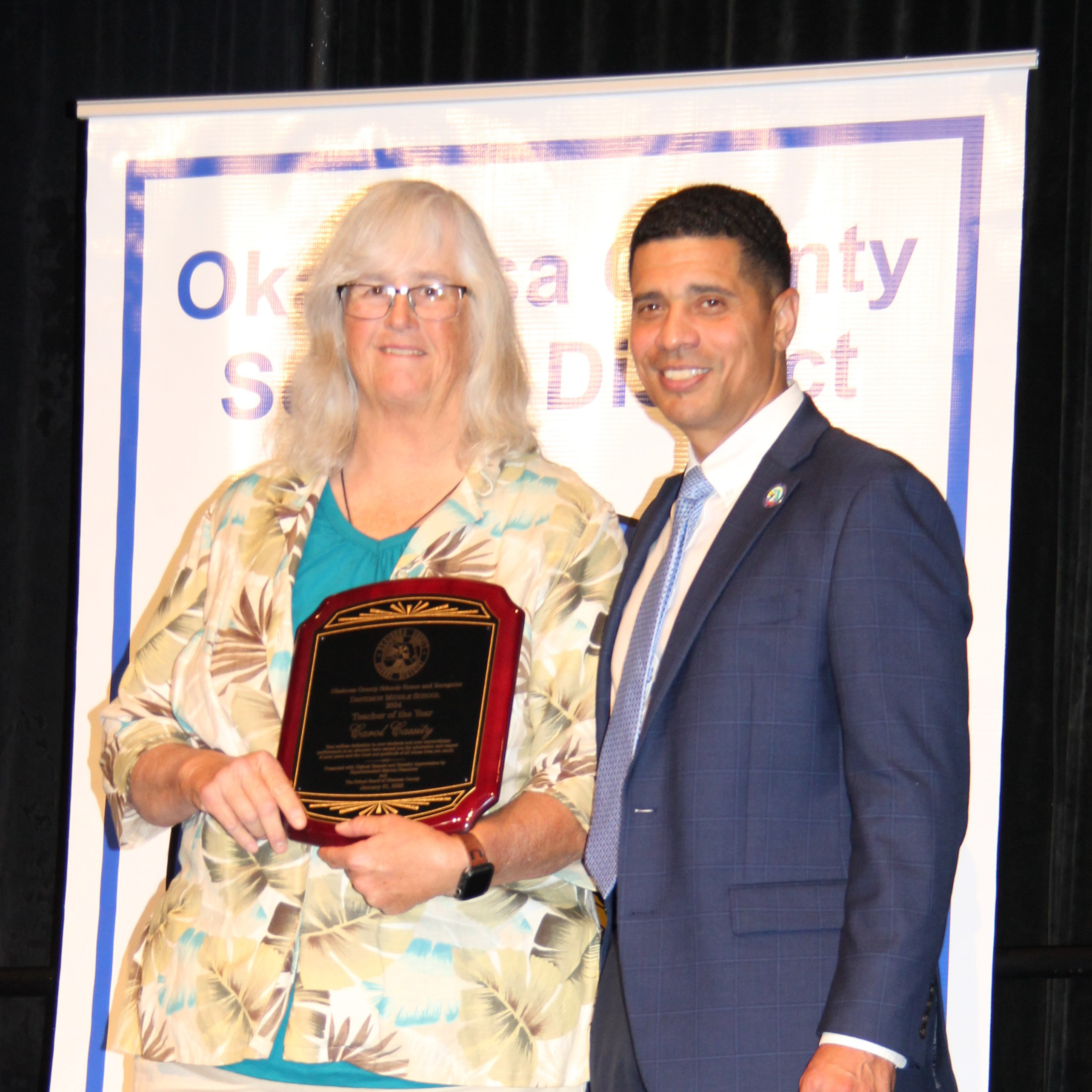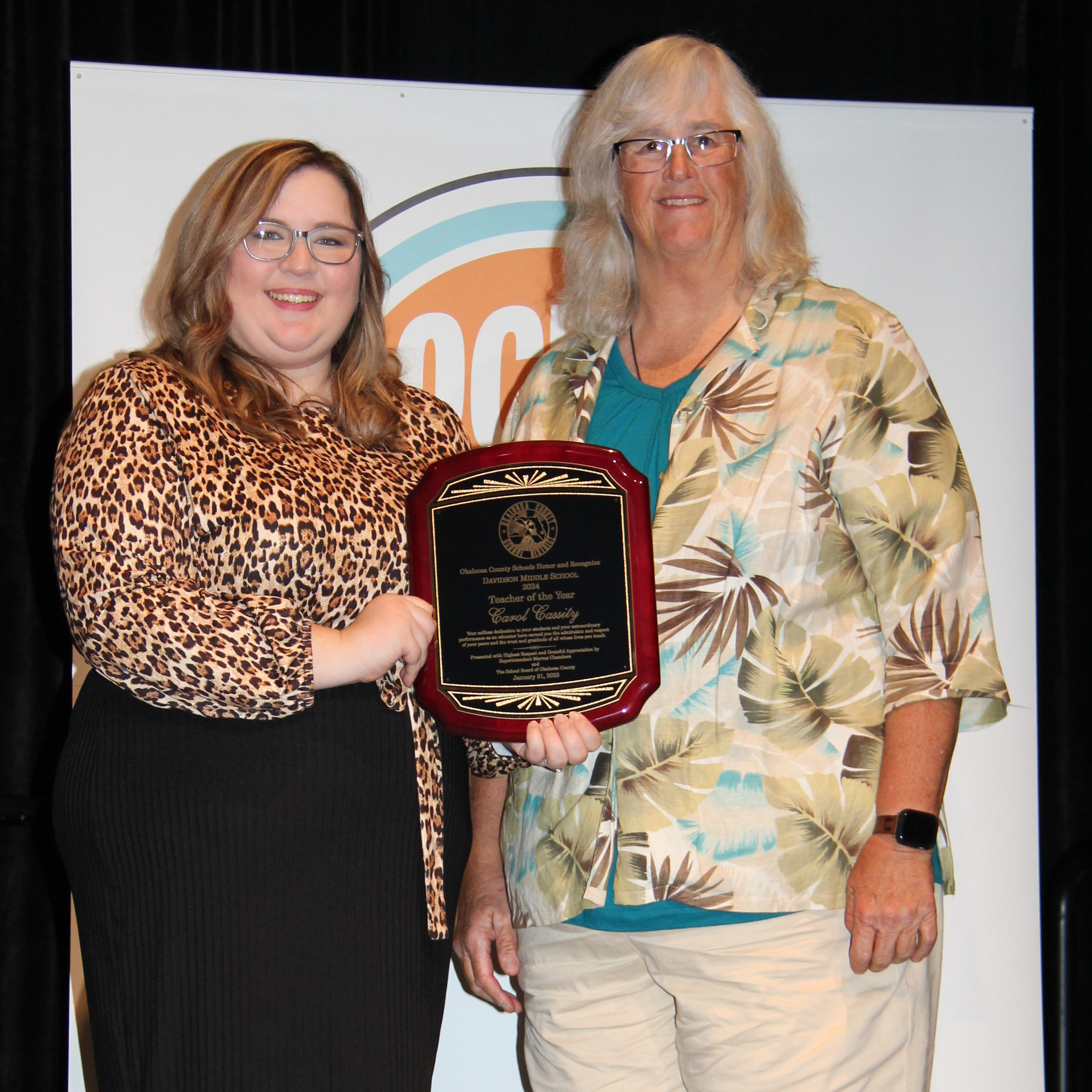 A native Floridian, Carol graduated from Southwest Miami Senior High School. Law school beckoned. But when Carol's dad died suddenly, she decided the world did not need another lawyer. Carol graduated from Florida Atlantic University. In 1989 her teaching career started at Miami Southridge Senior High School. Dr. Lamar White hired Carol at Ocean City Elementary School in 1993. Thirty-four years, starting programs at four schools, and striving to provide meaningful instruction to all the kids in her class have resulted in a rewarding life in education. Thanks be to God, Okaloosa County, and Davidson Middle School. GO CANES and GO PANTHERS!
Destin Elementary School – Cindy Huggins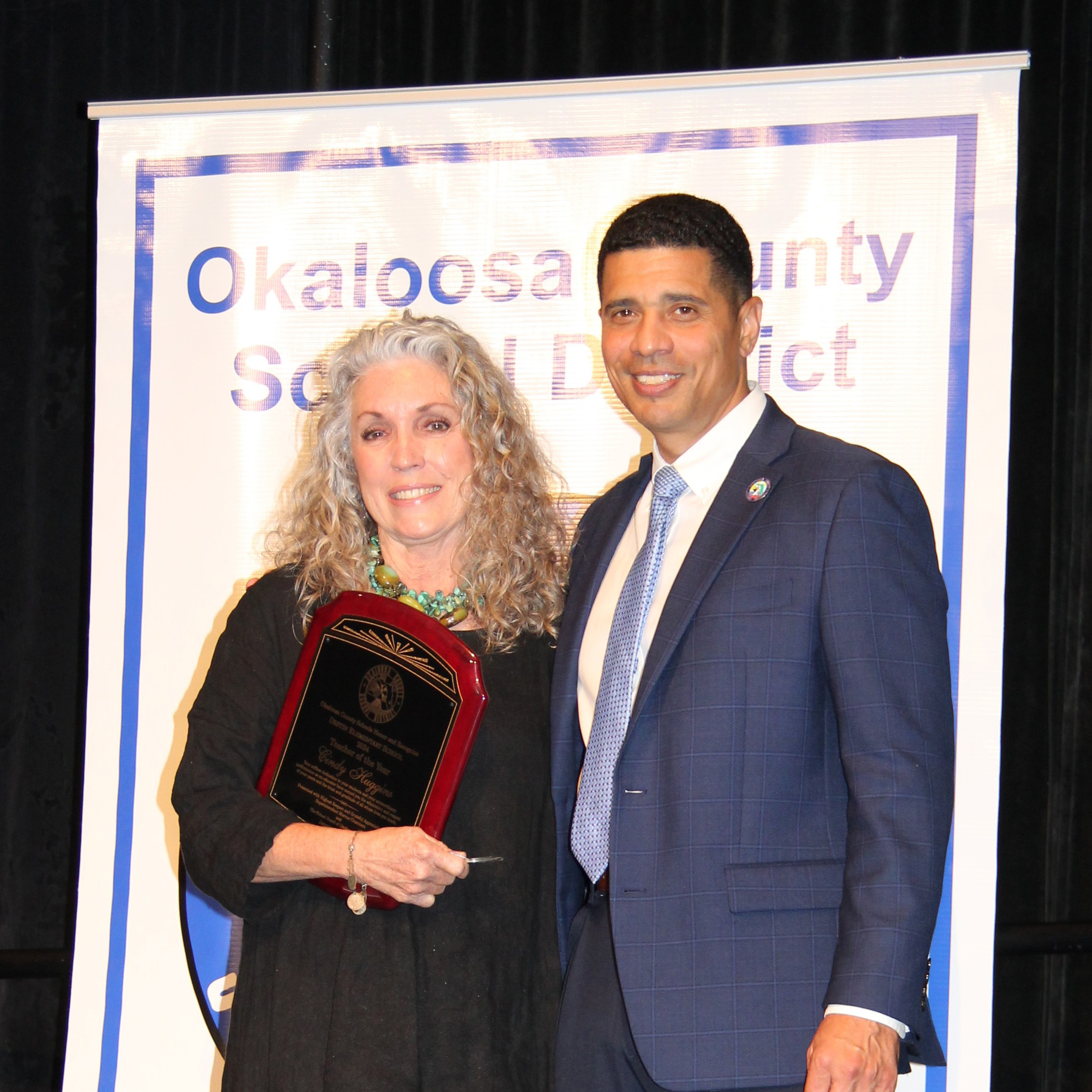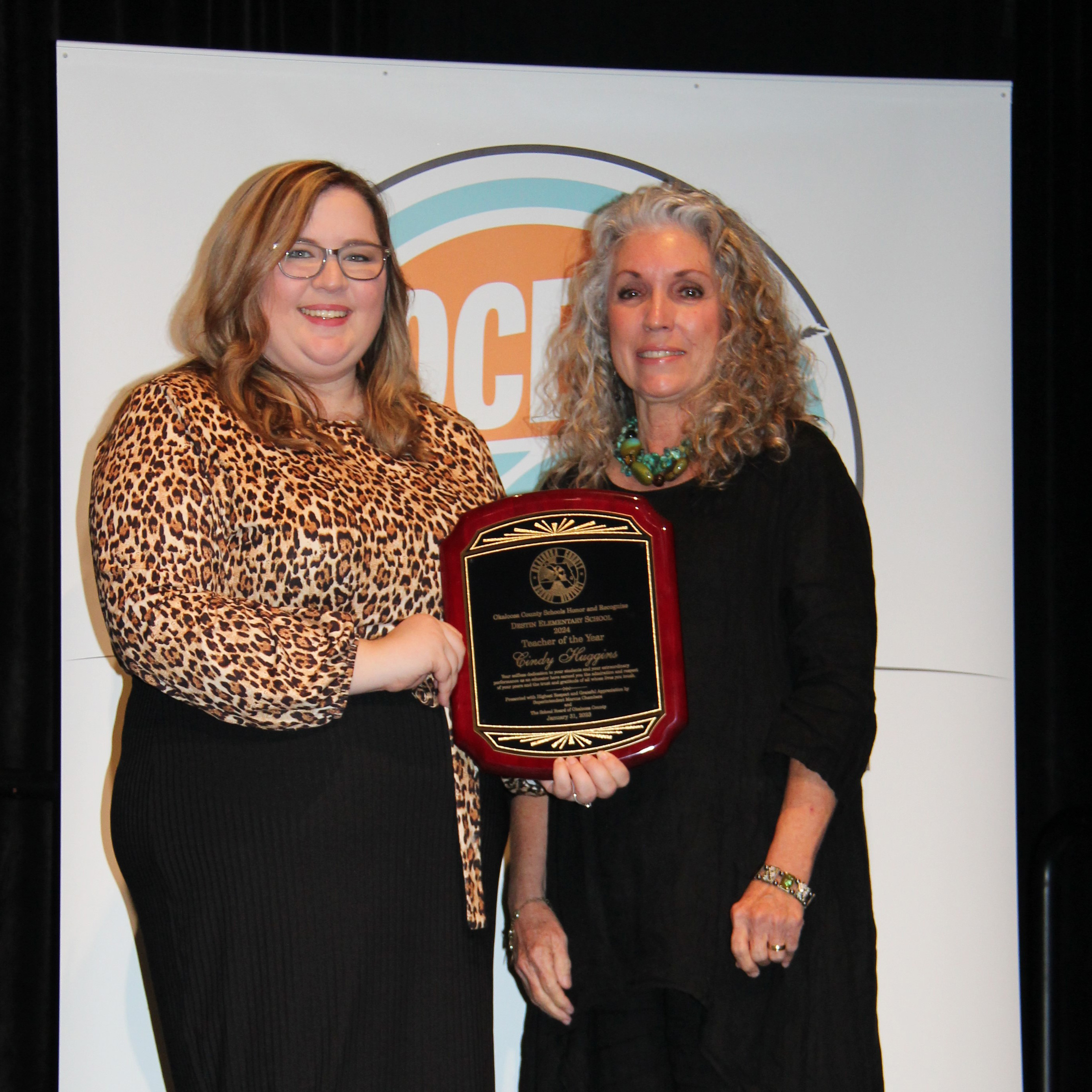 Cindy Huggins grew up in Destin, Florida, and attended Destin Elementary School. She is 1976 graduate of Fort Walton Beach High School and earned a Bachelor of Science Degree in Plant Pathology from the University of Florida (UF) in 1980, and a Masters in Curriculum and Instruction from UWF in 2000. She taught fifteen years in Walton County and returned to her hometown in 2003 to teach at Destin Elementary School. Cindy feels the last twenty years have been the most rewarding of all. She is married and has two children and 7 grandchildren.
Edge Elementary School – Maria Lewis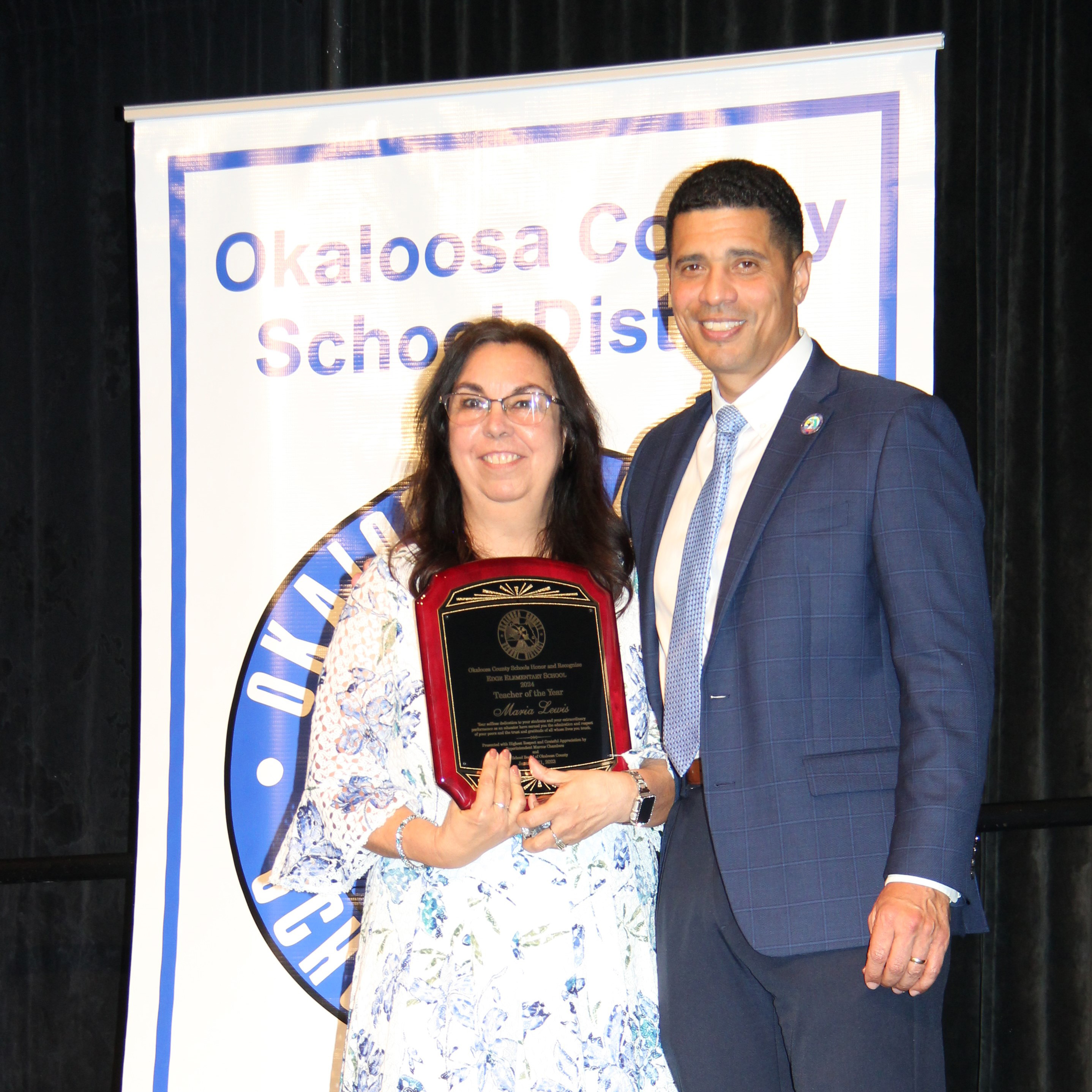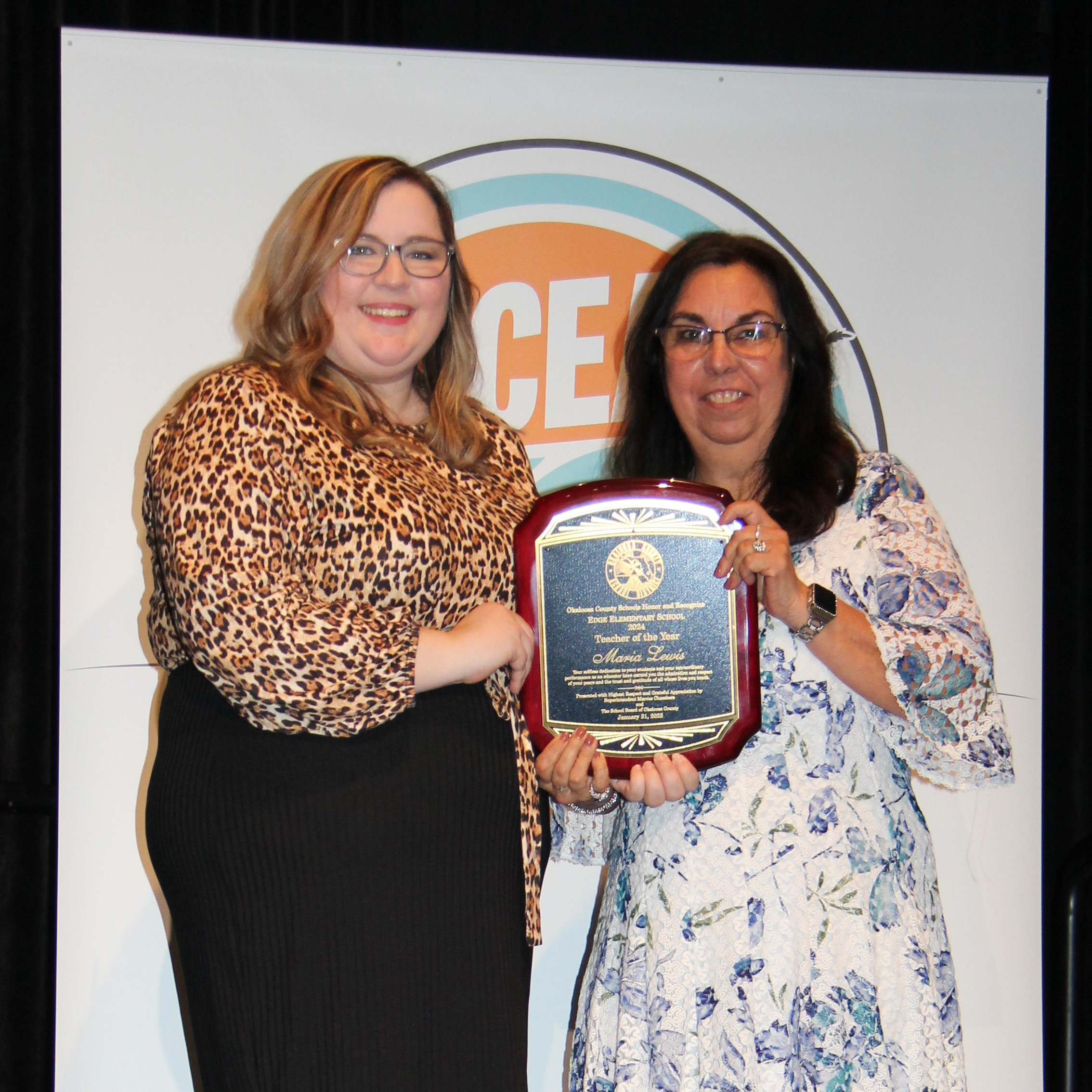 Maria Lewis is honored to represent Edge Elementary School and the school counseling profession. This is her 33rd year as an educator, with the past 30 years in the Okaloosa County School District (OCSD). As a classroom teacher, media specialist, and school counselor, her goal has always been to encourage students and families. Maria has had the privilege to work with amazing administrators, teachers, and staff members who have helped her grow and improve as an educator. She is grateful to her husband, Mike and children Michael, Josh, and Sarah for their support and love. Maria thanks her parents for their examples as educators and lifelong learners.
Edwins Elementary School – Ashley Williams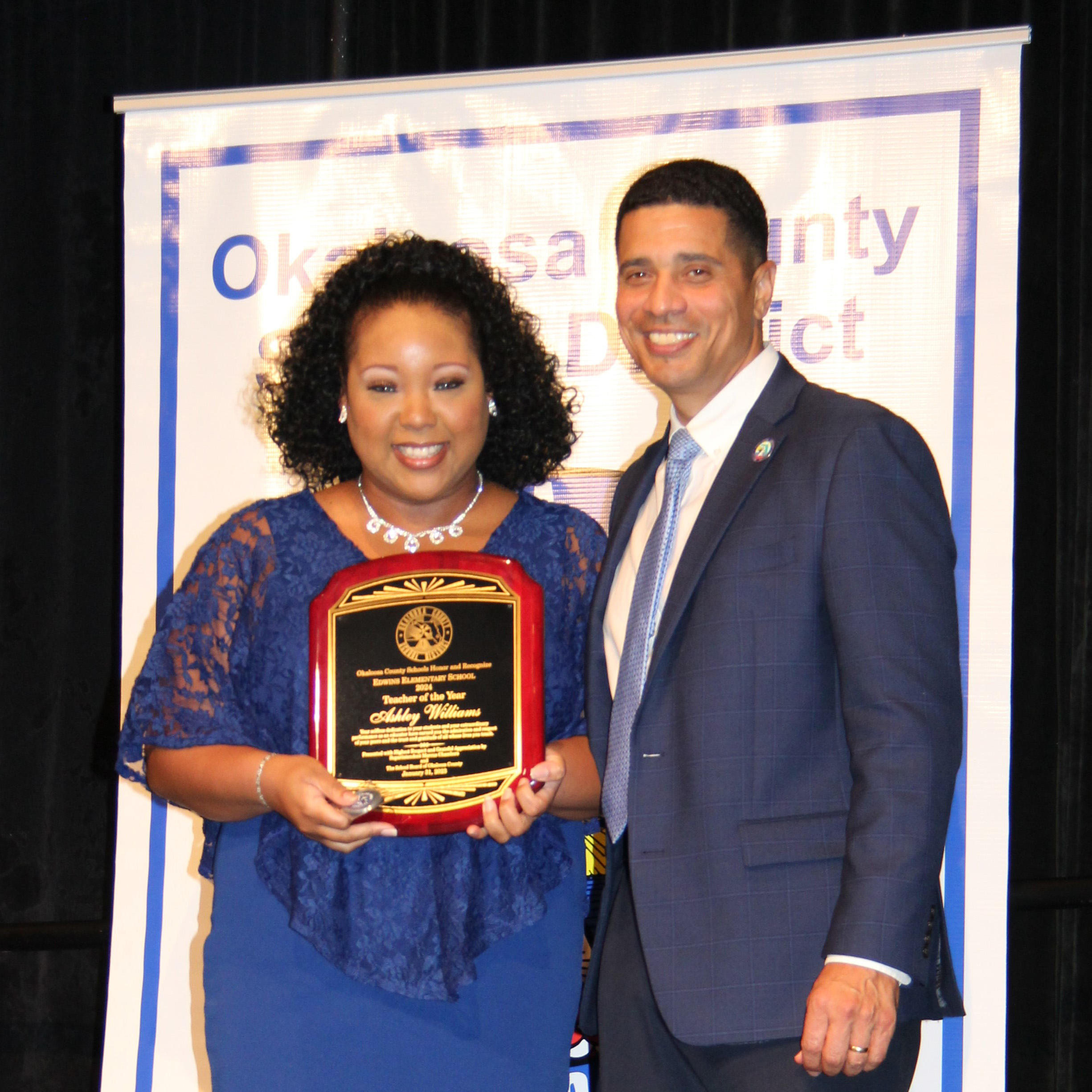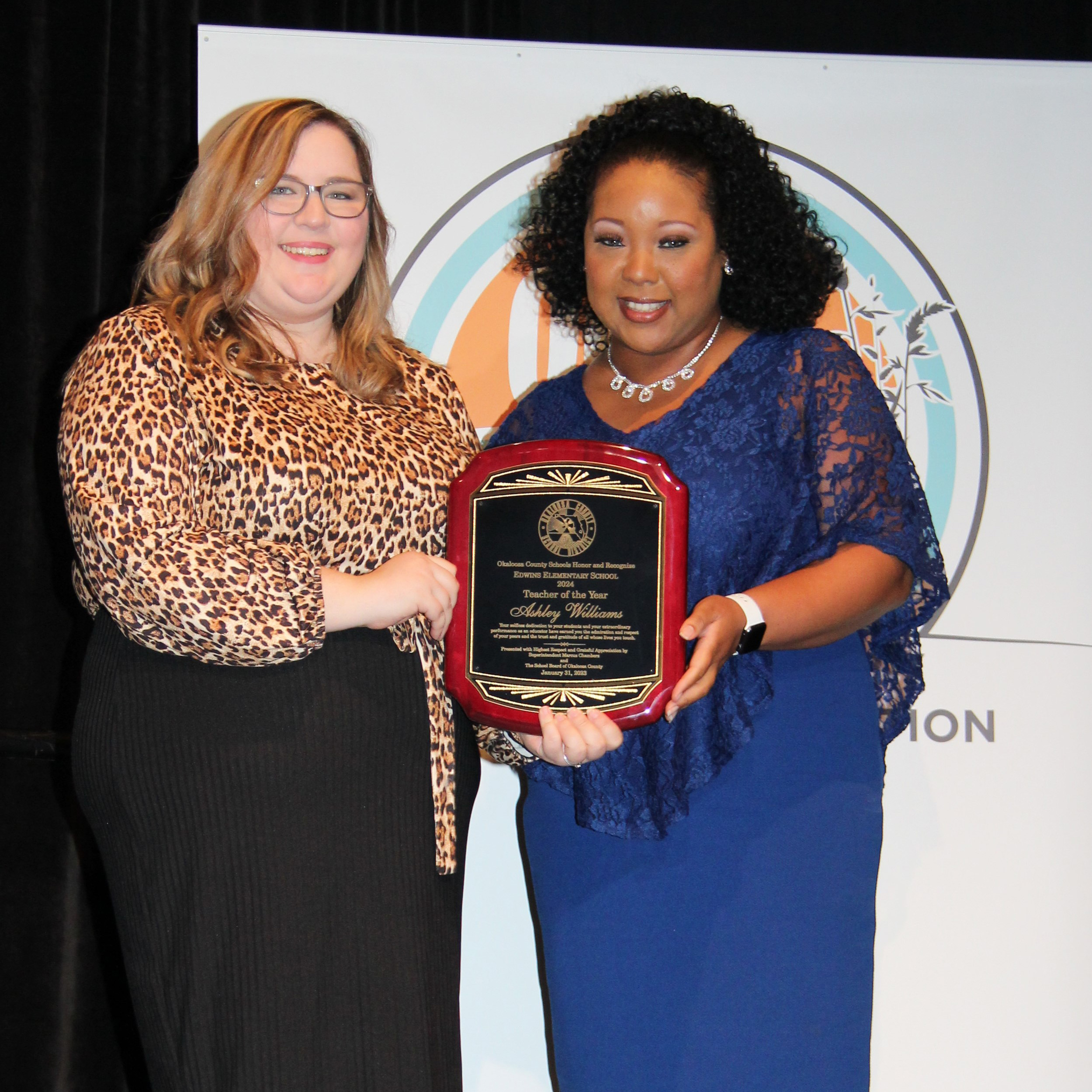 Ashley Williams is a proud product of Okaloosa County Schools. She attended Richbourg Middle School and graduated from Crestview High School in 2003. She went on to earn her bachelor's degree in Elementary Education with endorsements in both Reading and ESOL. Ashley has taught in the Okaloosa County School District for 10 years in various grades. Her "whole brain" approach to teaching promotes fun, growth, and classroom community. Rapport with students and colleagues is of the utmost importance to her and she is committed to student success both inside and outside of the classroom.
Eglin Elementary School – Crystal Chesseman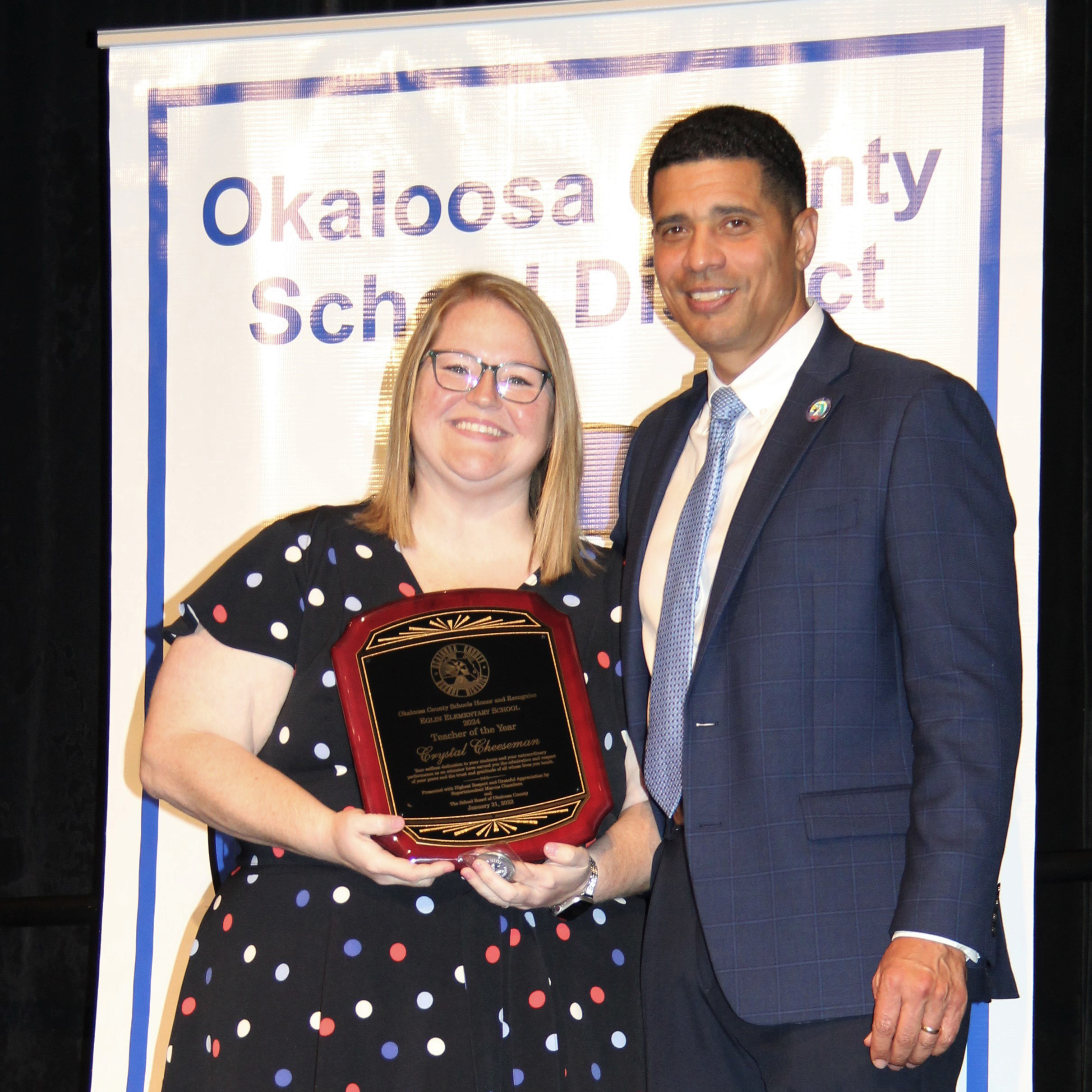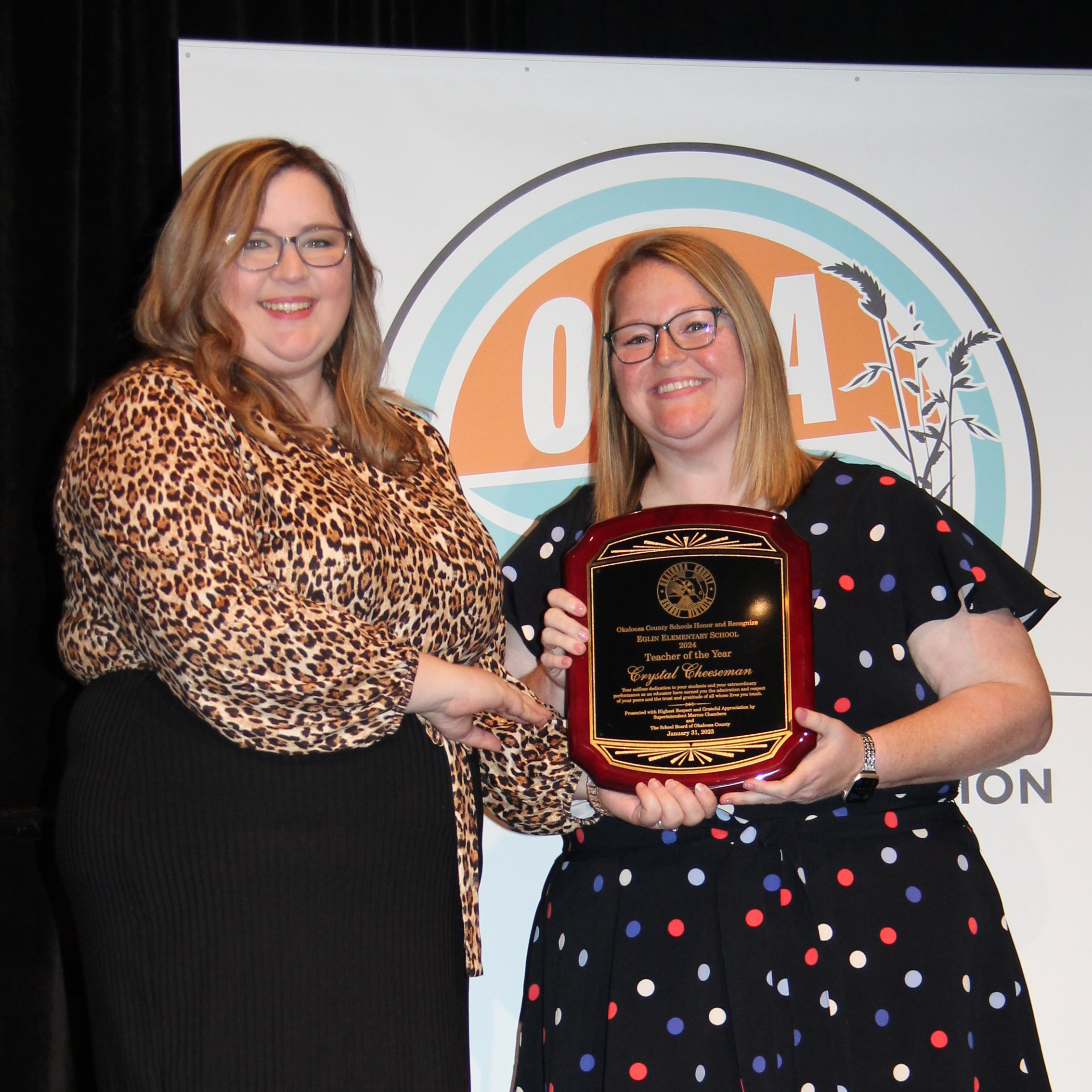 Crystal Cheeseman is proud to be in her 8th year of teaching in Okaloosa County. She received her bachelor's degree in Elementary Education from NWFSC. She has since received her master's degree in Reading Education from UWF and is working to pursue her Educational Specialist in School Counseling from FSU. Ms. Cheeseman has had the honor of teaching 2nd grade at Eglin Elementary School for the last 6 years. When she is not teaching, Crystal loves to spend time with her 6-year-old son, Ethan. She would like to thank her family and the staff at Eglin for their continuous support.
Elliott Point Elementary School – Robin Kendrick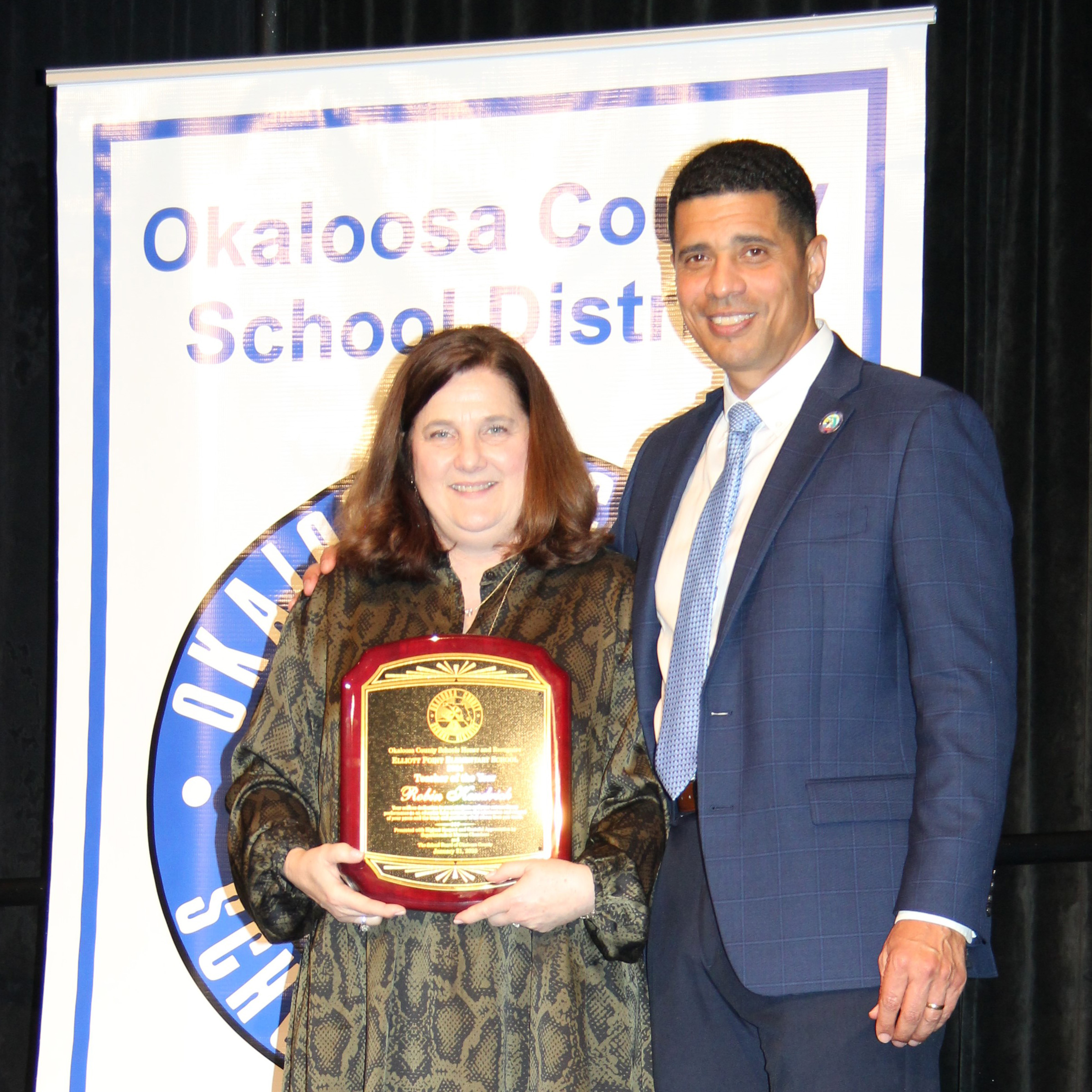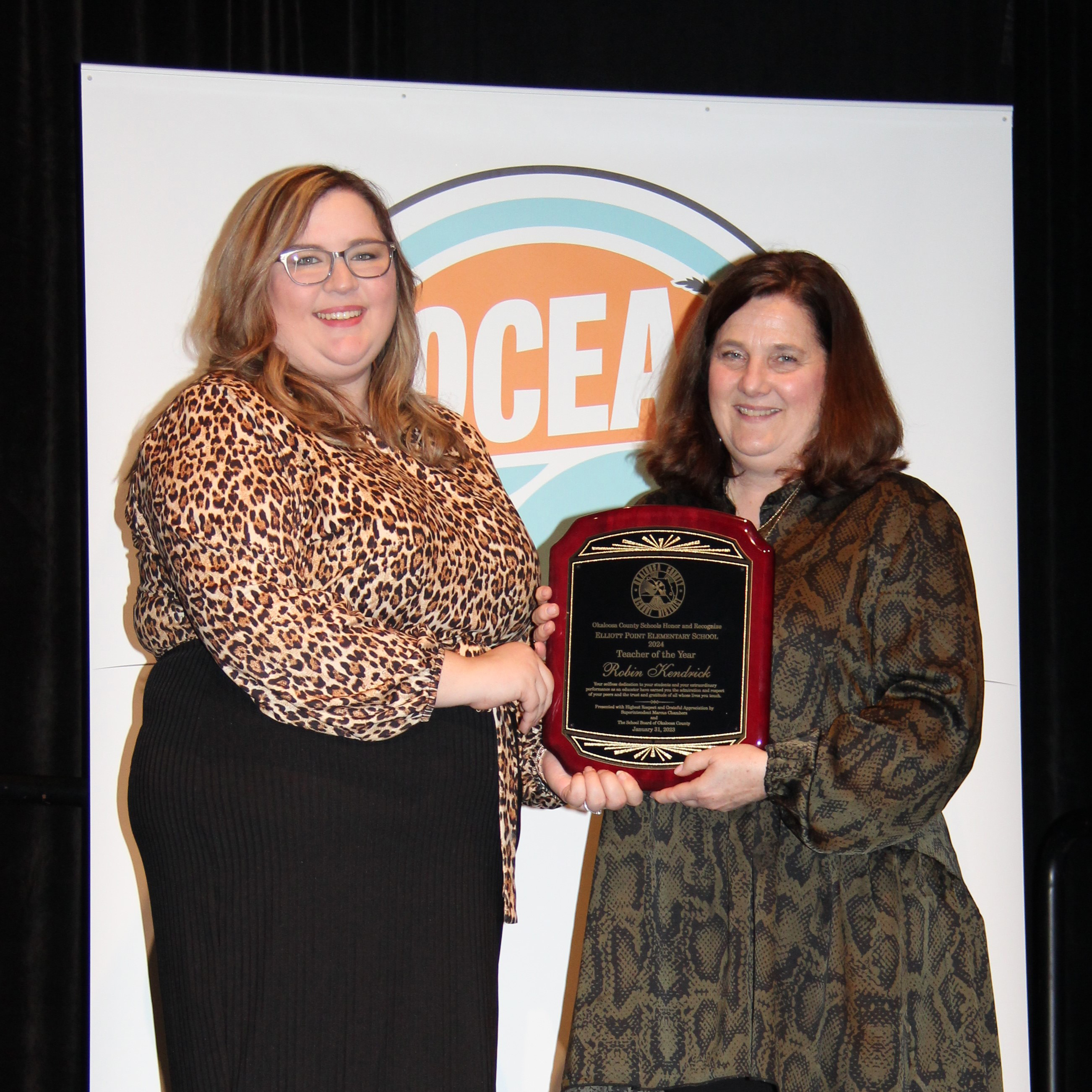 Robin Kendrick graduated from Missouri State University with a double major in elementary and special education. She received her master's in education from Auburn University. Robin has been teaching for 33 years. The first eight years of her career were in special education classrooms, and she was at Silver Sands for five of those years. She taught kindergarten and first grade in Georgia, Virginia, Alabama, and Florida. This is her 8th year at Elliott Point as a second-grade teacher. Robin is grateful for the support and encouragement she receives daily from Elliott Point Elementary School's staff and administration.
Florosa Elementary School – Jennifer DeJesus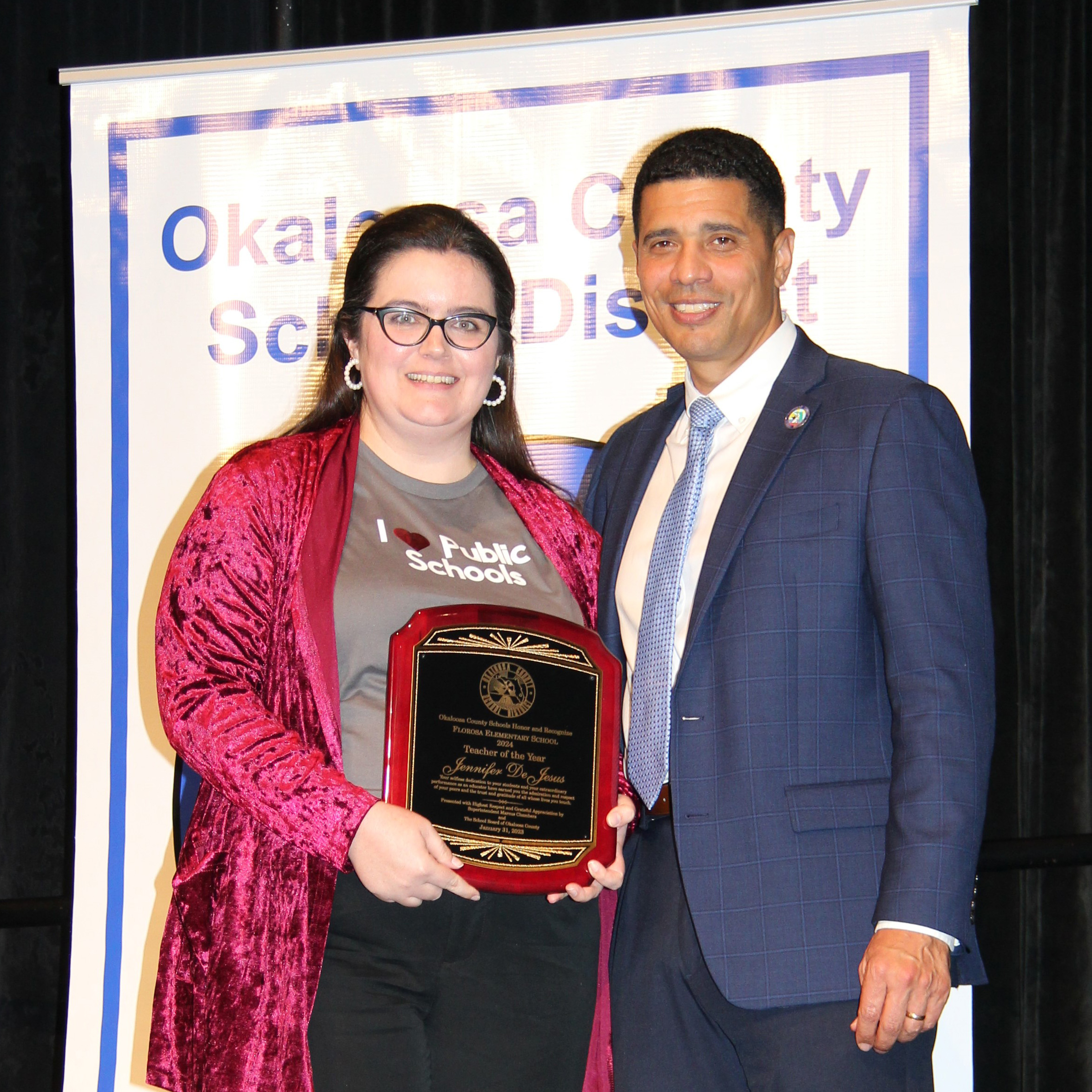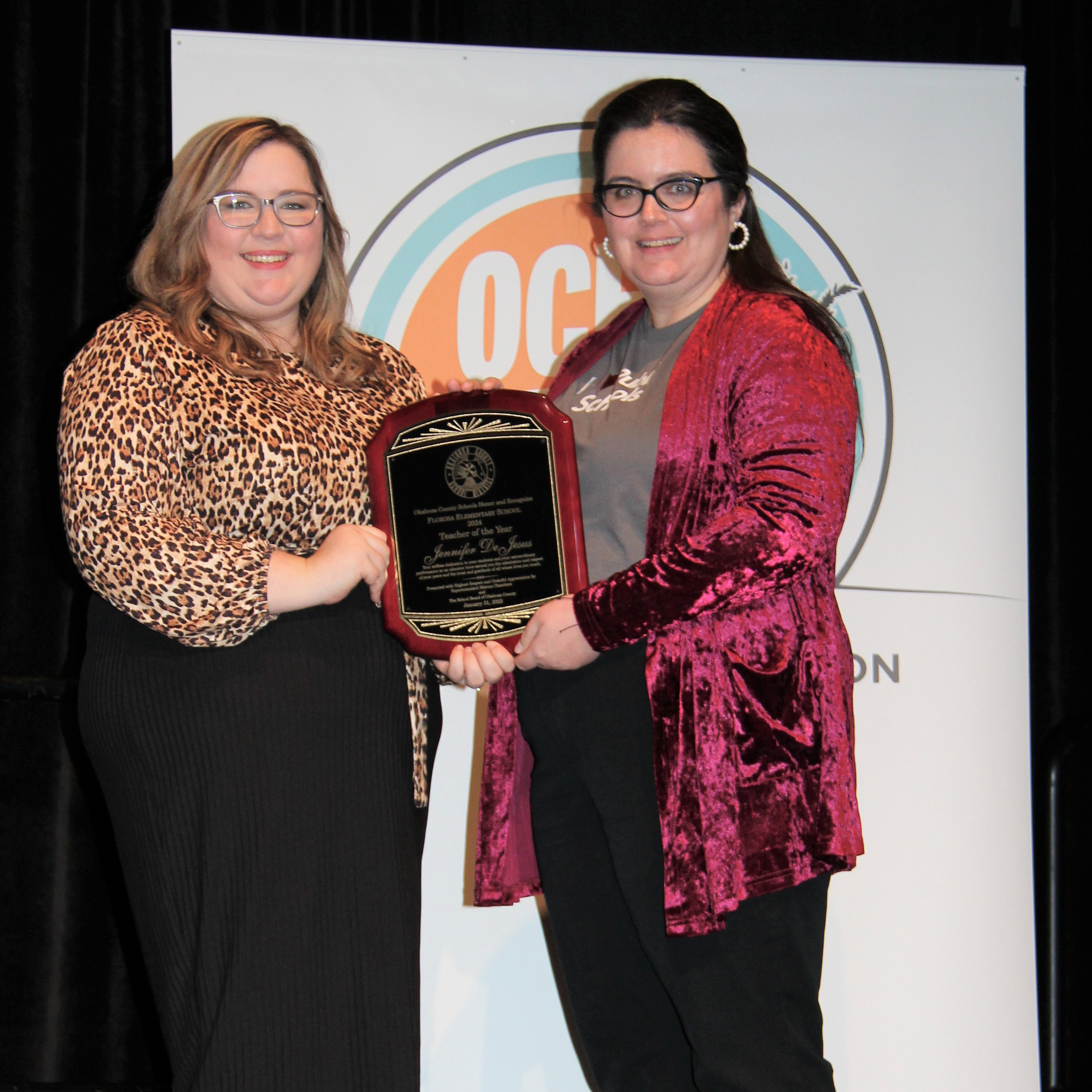 Jennifer DeJesus' journey into education was not a typical path. In fact, it was in the middle of an Iraqi desert that she first spoke the words, "I want to be a teacher." After serving in the United States Air Force for 7 years, she took her first step. She enrolled in school and started completing classes working towards her degree in education. Jennifer started working as a substitute teacher in Okaloosa County. From there, she applied for a 4th grade position at Florosa Elementary School where she currently works. It is Jennifer's belief that she is empowering students to become cycle breakers.
Fort Walton Beach High School – Nancy White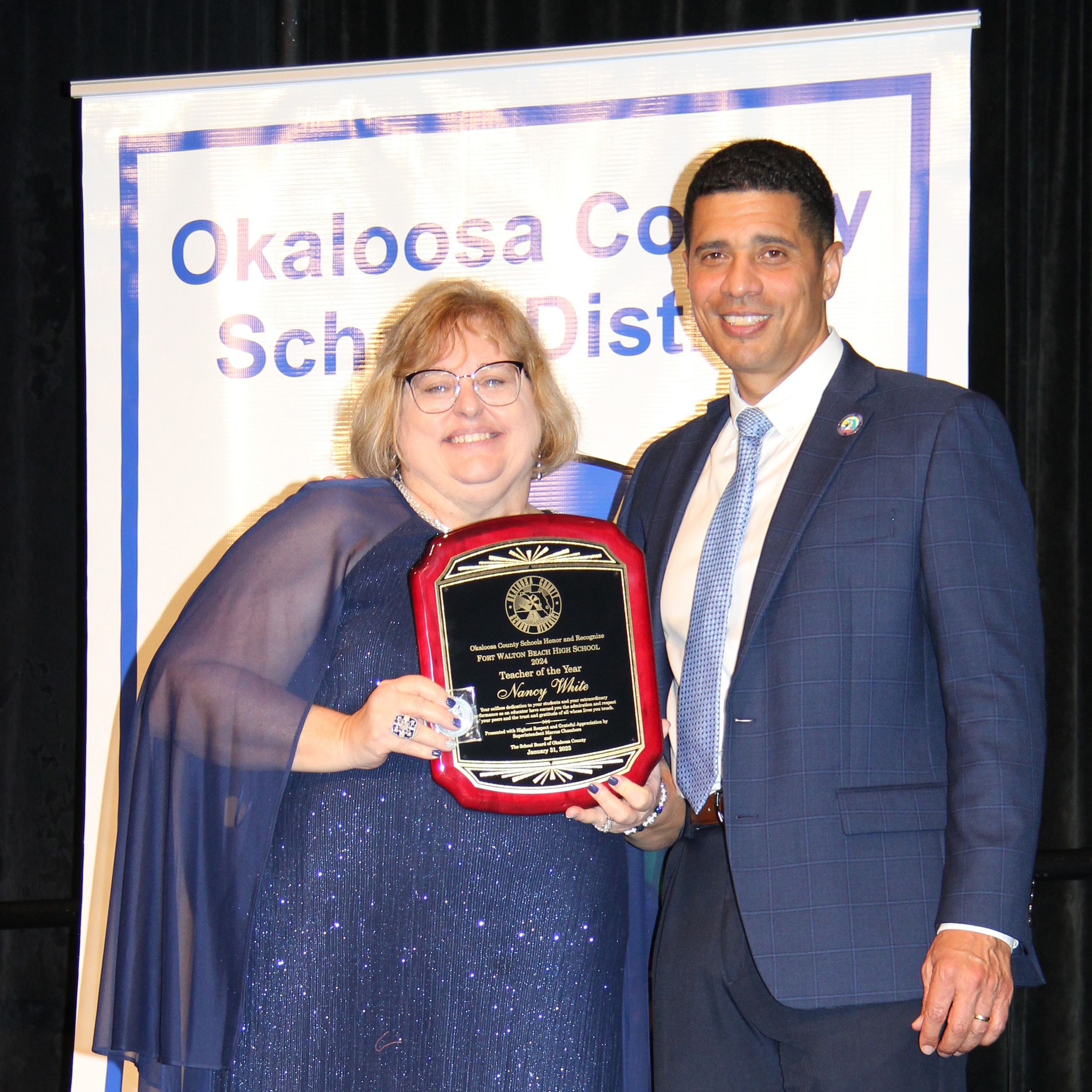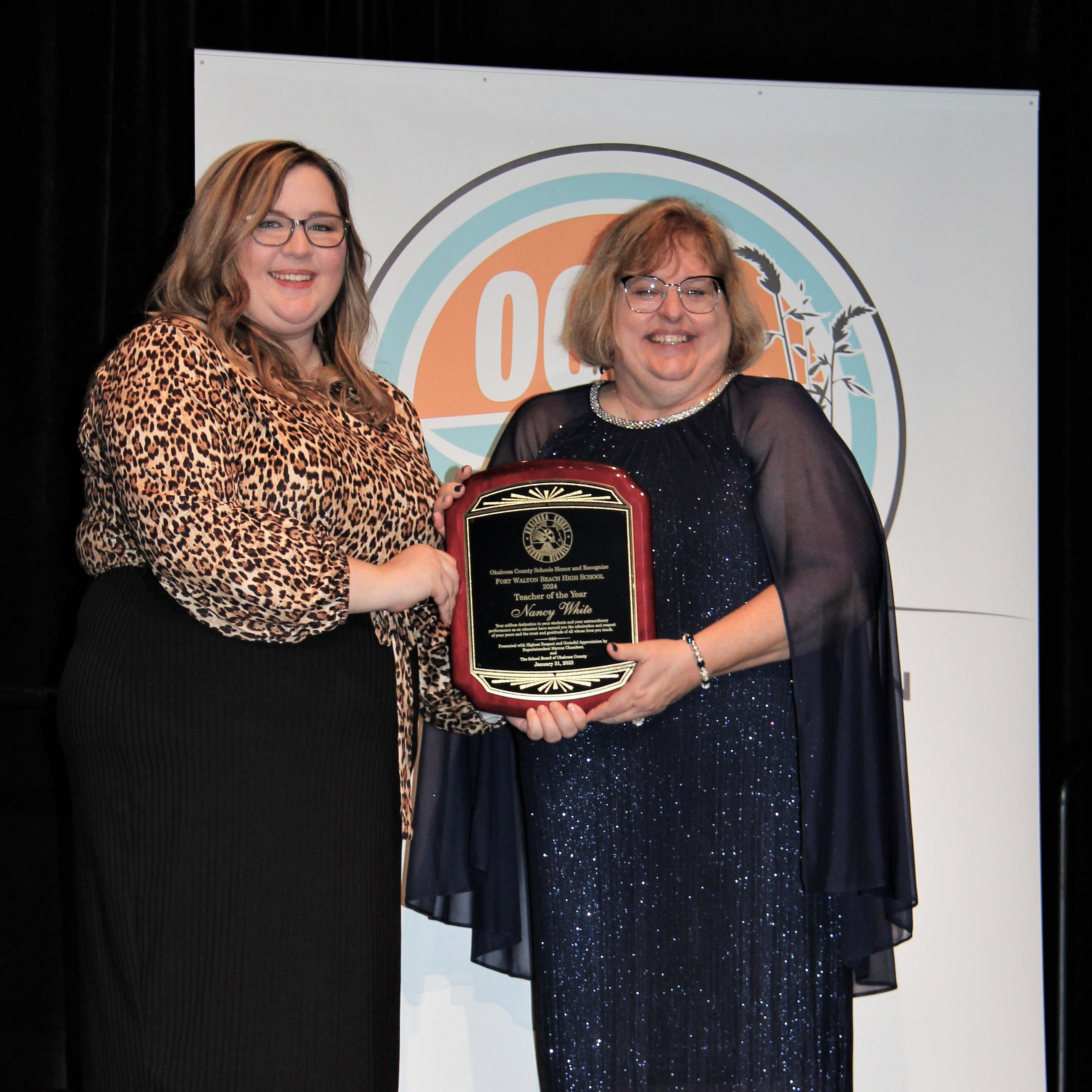 Nancy White has been an instructor in public high schools for a total of 22 years: 18 years at Fort Walton Beach High School (FWBHS), two years at Crestview High School, and two years at JE Richards Middle School in Lawrenceville, GA. During her teaching career, she has taught all four grade levels (9th-12th) in the state of Florida and 7th grade in the state of Georgia. In addition, she also led a variety of courses in United Methodist Churches with students ranging from age two to 92. She has literally been teaching her entire adult life. Nancy thanks the faculty at FWBHS for this honor.
Kenwood Elementary School – Tracy McDonough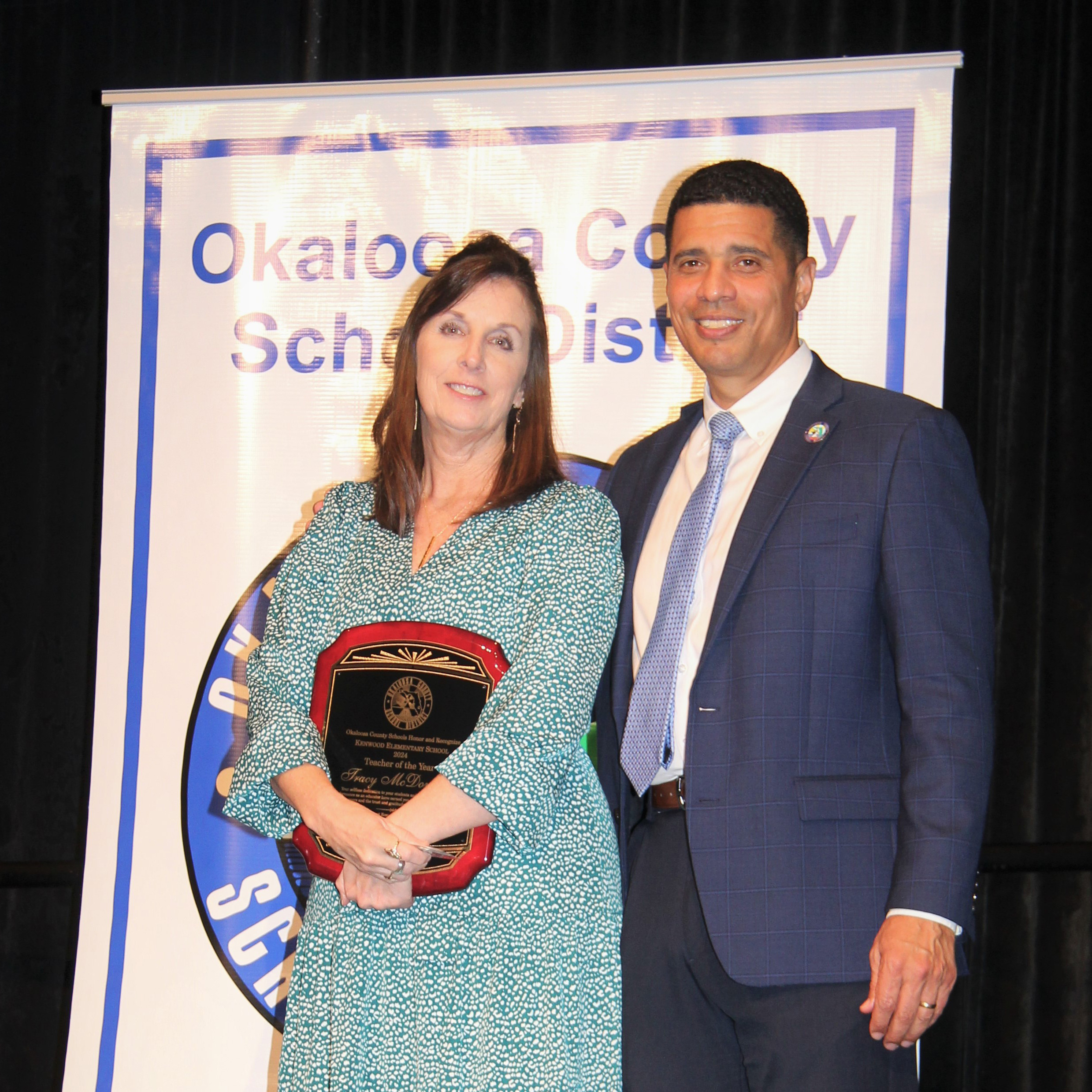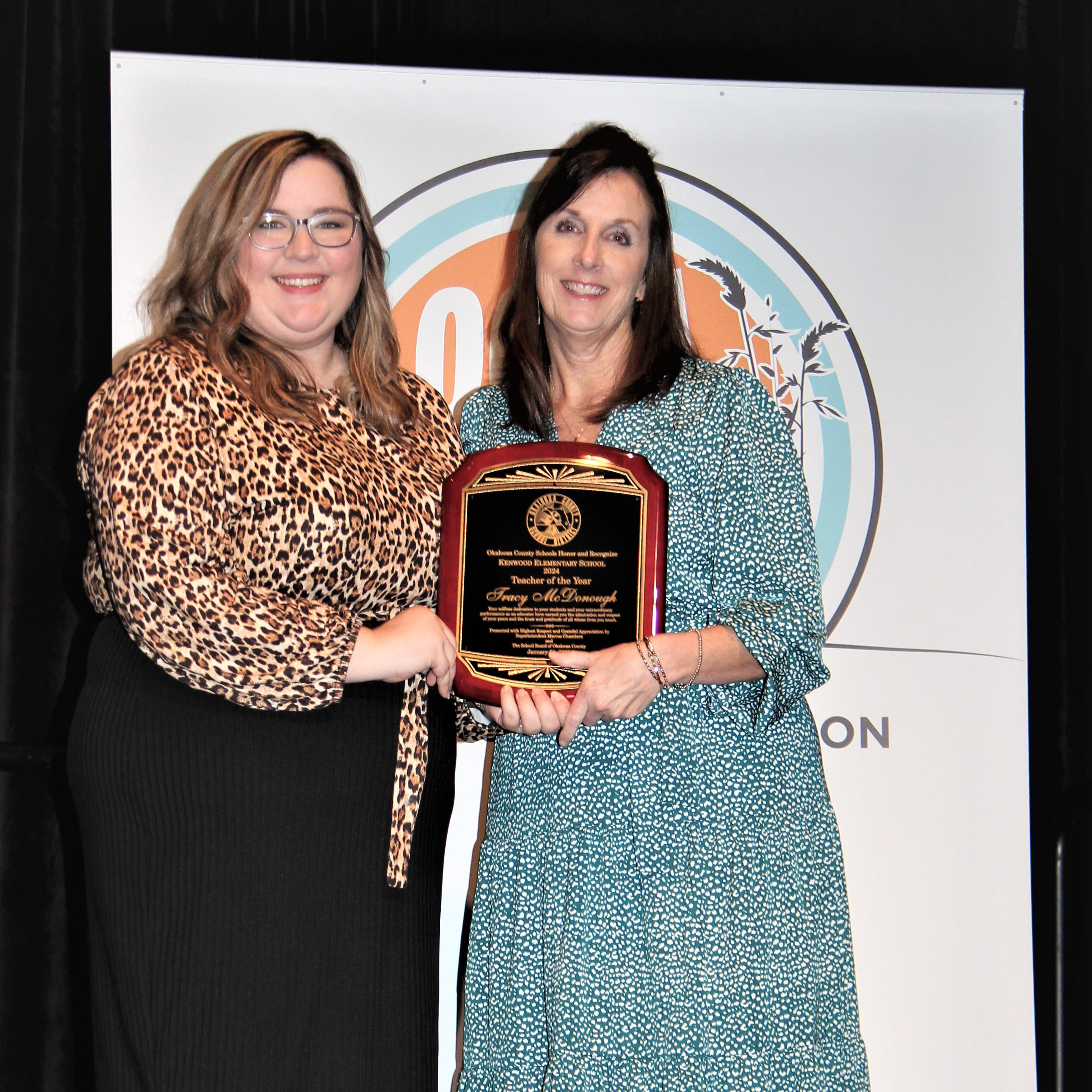 She earned her bachelor's degree in Elementary Education from FSU. She has been teaching for 30 years in Okaloosa County. She began her career teaching first grade at Combs New Heights Elementary School. She taught there for 10 years before transferring to Kenwood Elementary School where she has been teaching Kindergarten ever since. Tracy always wanted to be a teacher. She finds it very rewarding to be able to be a part of a young learner's firsts. She enjoys watching young students learn to read and write and believes in forming relationships with her students and helping them to realize their strengths.
Laurel Hill School – Deidre Honish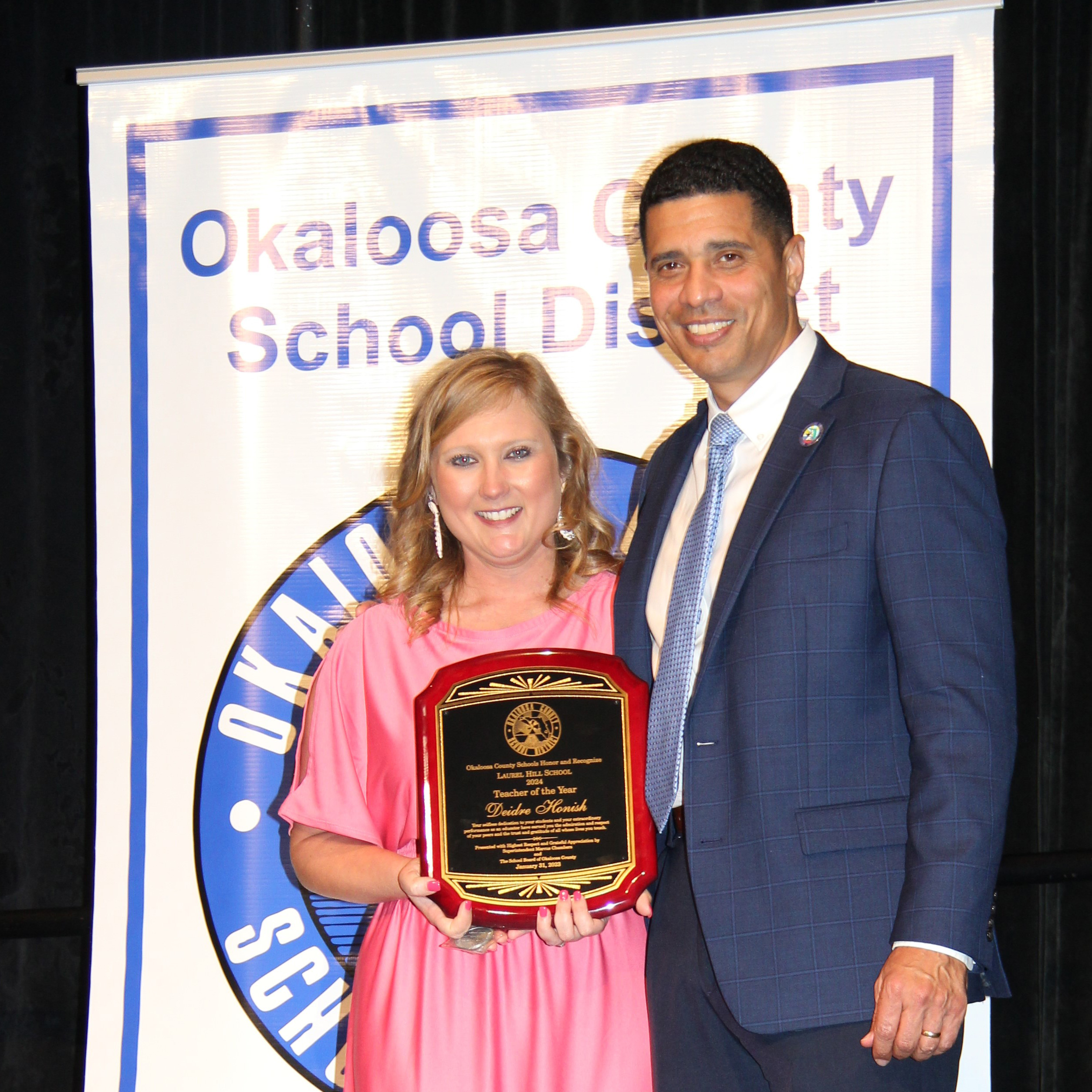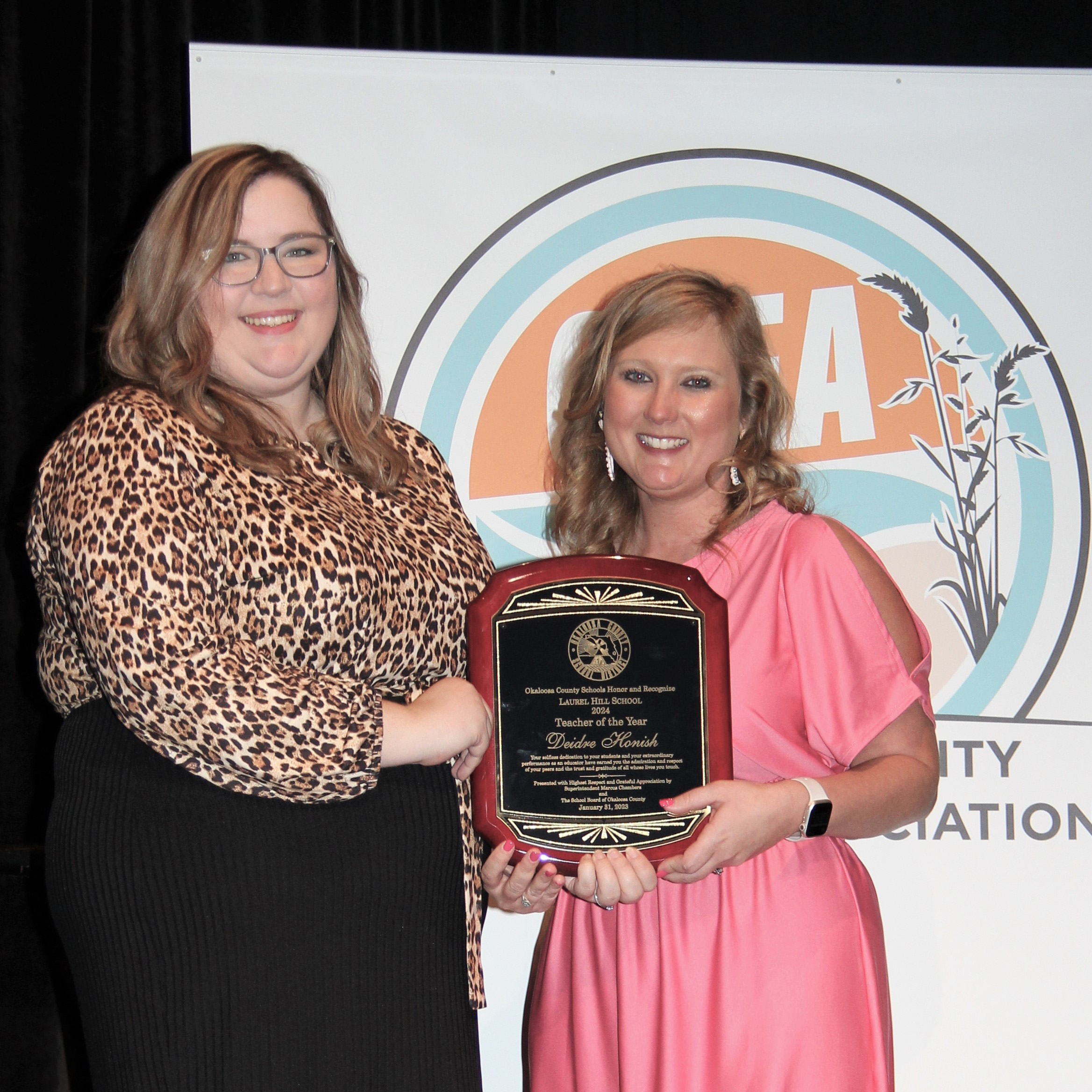 Deidre Honish has been a Title I teacher for 8 years at Laurel Hill School (LHS). As a Title I Teacher, she provides small group instruction to elementary students. Deidre firmly believes that success in education is about building relationships. She is committed to educating students, colleagues, families, and the community through establishing strong connections. Deidre lives in Laurel Hill with her husband and two sons that attended LHS. She loves being able to go to school with her boys. She feels blessed to live in the community in which she was raised and serve at her alma mater.
Lewis School – Cindy Jannazo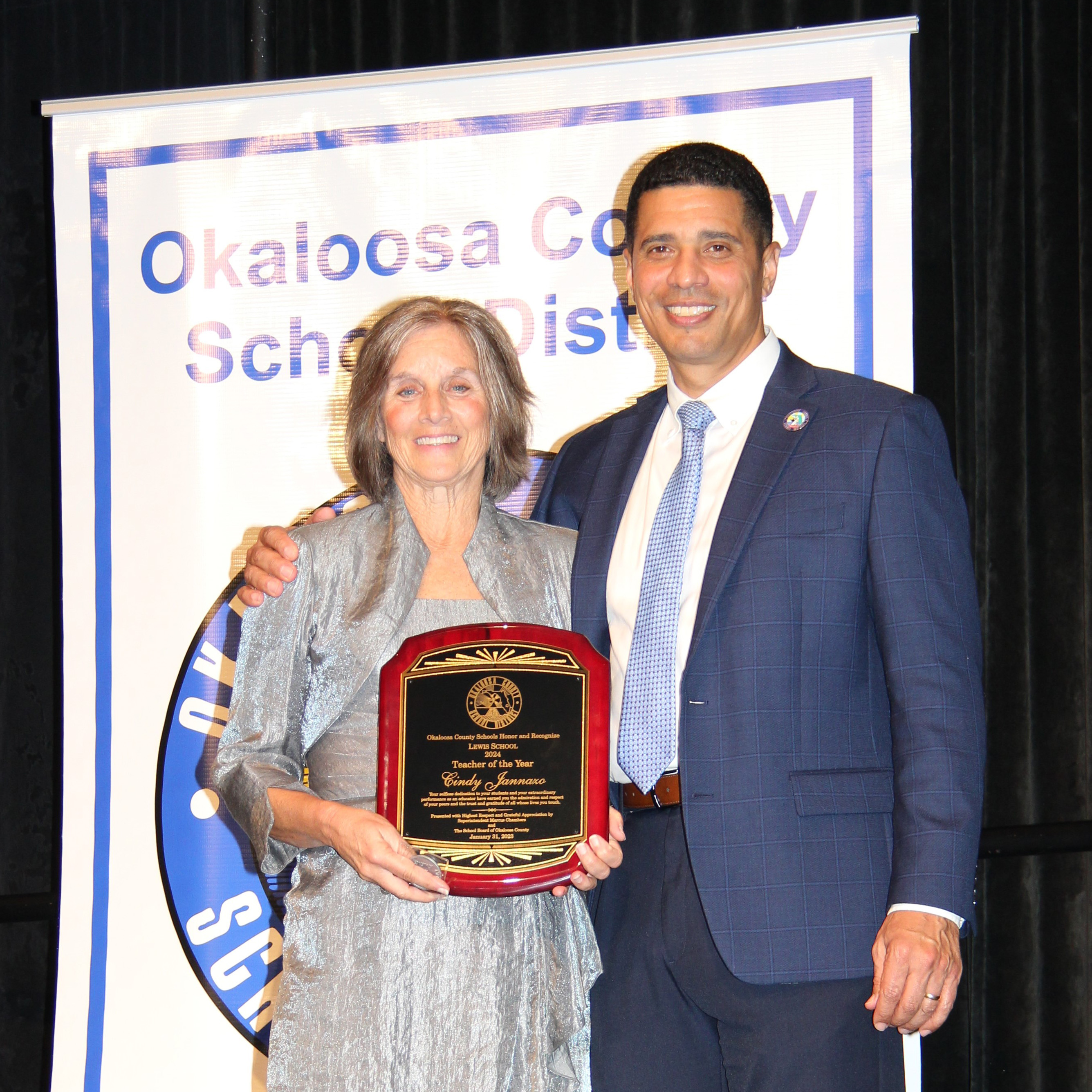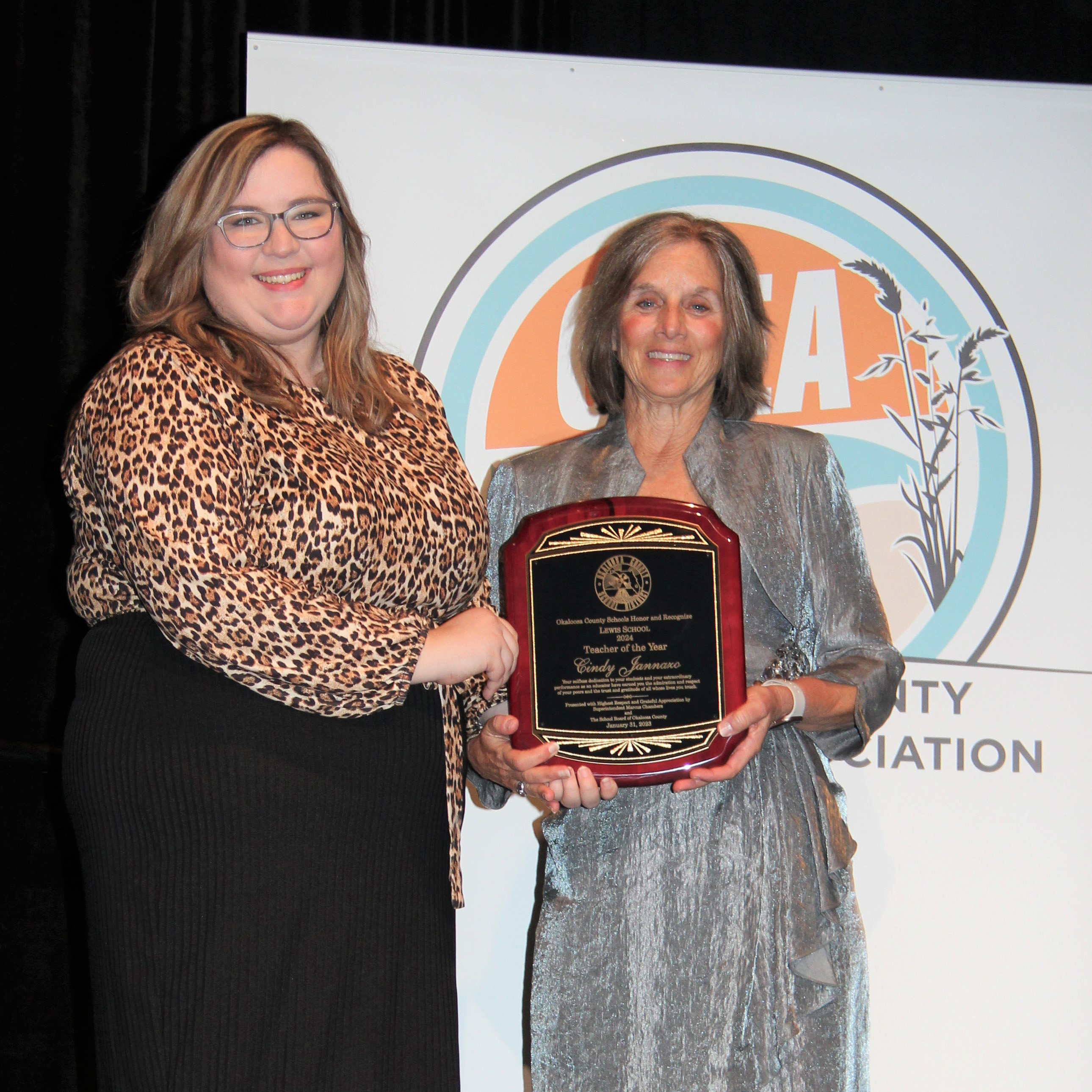 Cindy Jannazo has been a teacher in Okaloosa County for 22 years, teaching middle school math and science and for 17 of those years and teaching science for 5 years at the high school level. She is also the Cross Country coach at Lewis School but claims she does not run as fast as she used to. She is blessed to be at the best school in the county with the very best faculty, staff, students, and administrators and jumped at the chance to return to Lewis School when a science position came open back in 2014. Cindy is a member of the Falcon Family and is very proud to represent Lewis School.
Longwood Elementary School – Thuy Nguyen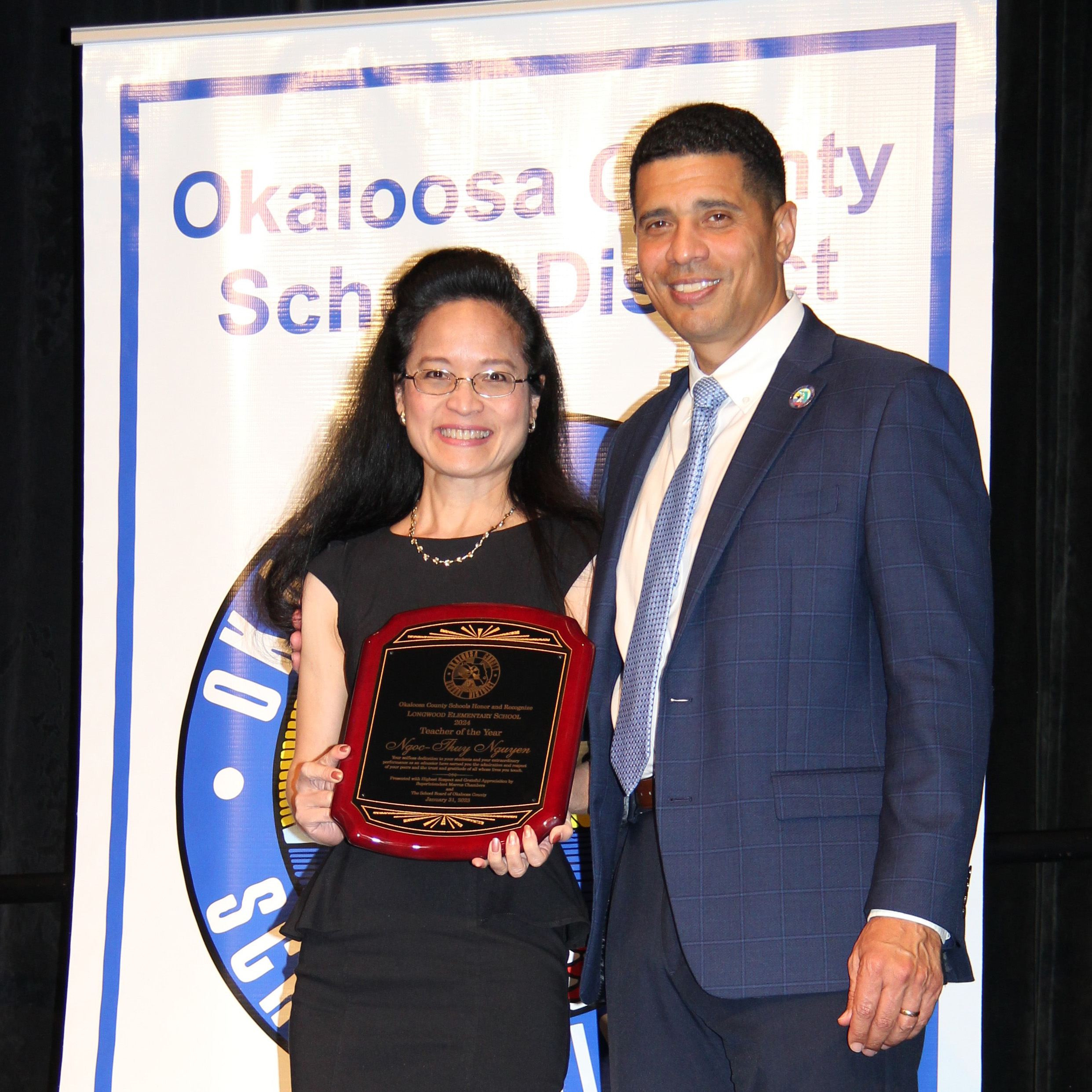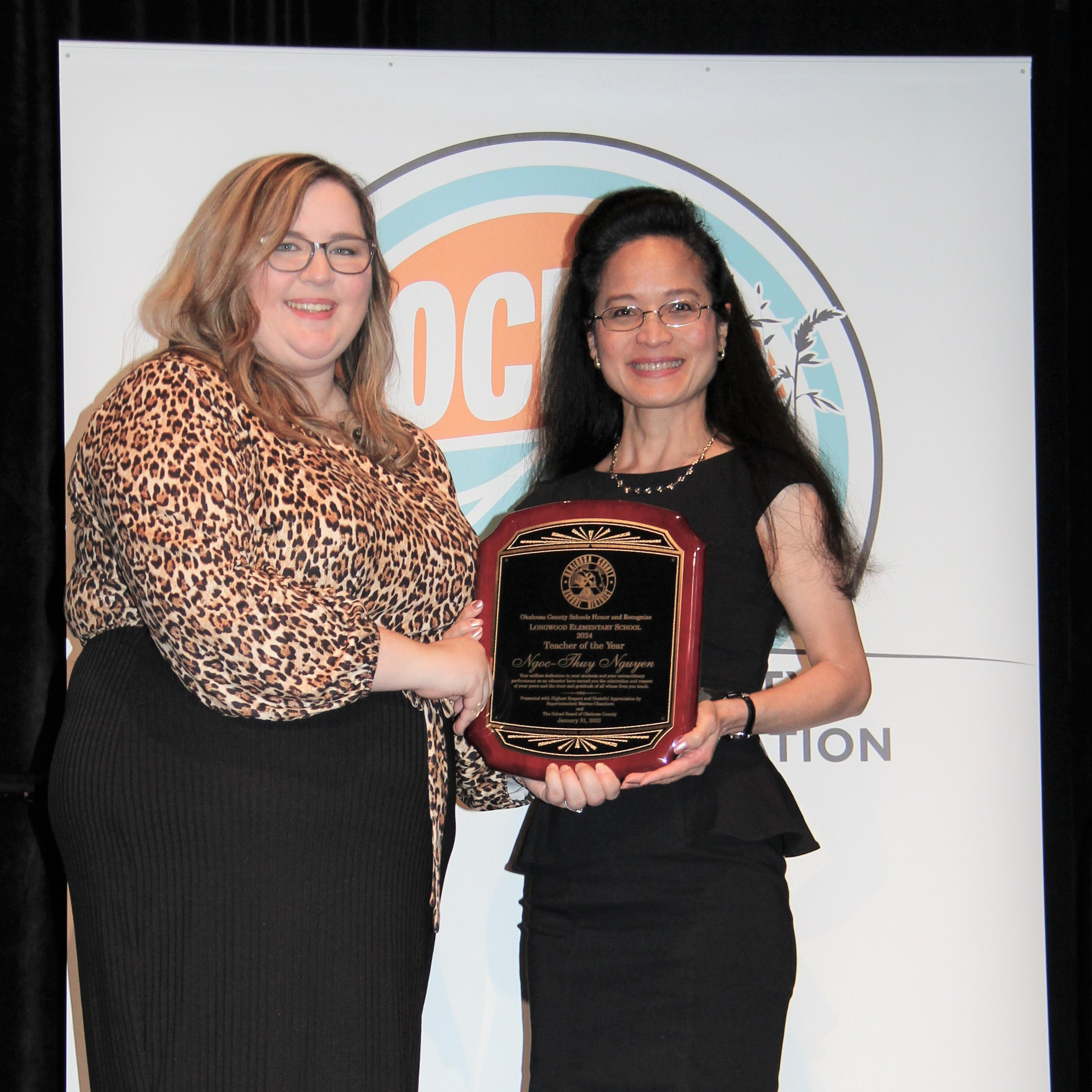 Thuy Nguyen fled Vietnam with her father and sister and lived in 3 refugee camps before settling in Mobile, AL. With a master's degree in English as a Second Language (ESL), she taught both elementary and high school for 17 years in Hawaii. This is her 3rd year teaching ESOL at Longwood Elementary School. She is grateful for the support of her colleagues and, especially, her family and life partner of 26 years, Jeff. She entered 4th grade with no English but graduated 8 years later as Class Valedictorian. She hopes to inspire her students to achieve their aspirations in life and overcome adversities through hard work and determination.
Mary Esther Elementary School – Jennifer Hoogstra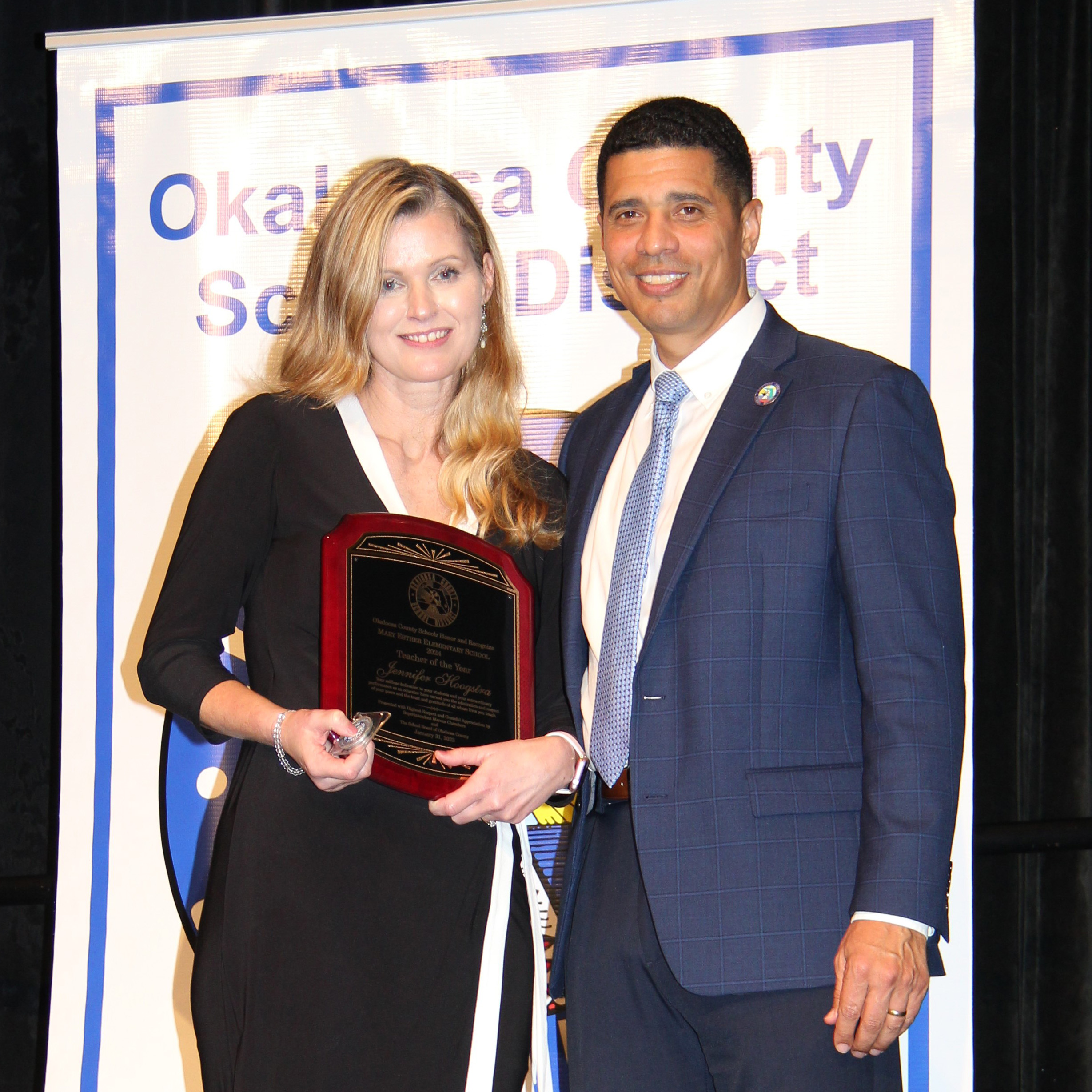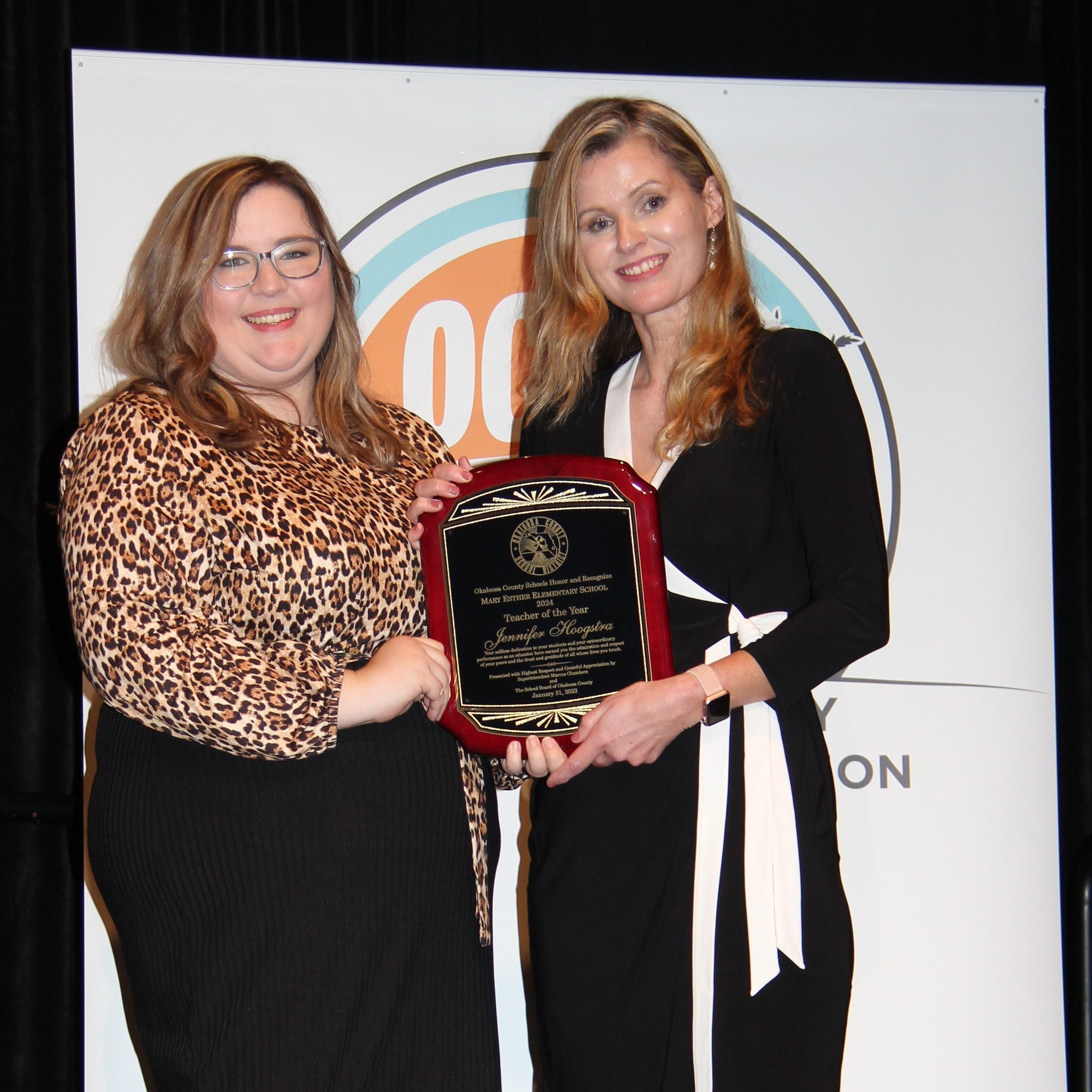 Jennifer Hoogstra is a kindergarten teacher at Mary Esther Elementary School and is in her twelfth-year teaching early childhood. Moving often as an United States Air Force (USAF) spouse, she has taught three different grade levels, at five different schools, from the west to the east coasts. She has earned a master's degree in Education, with a specialty in Reading. Jennifer has served on several committees, wrote, and awarded writing grants for her team, coached the elementary girls' basketball team, and mentored future teachers. She is a proud military spouse of an Air Force Veteran with two sons that are currently serving in the USAF.
Meigs Middle School – Toby Ratcliff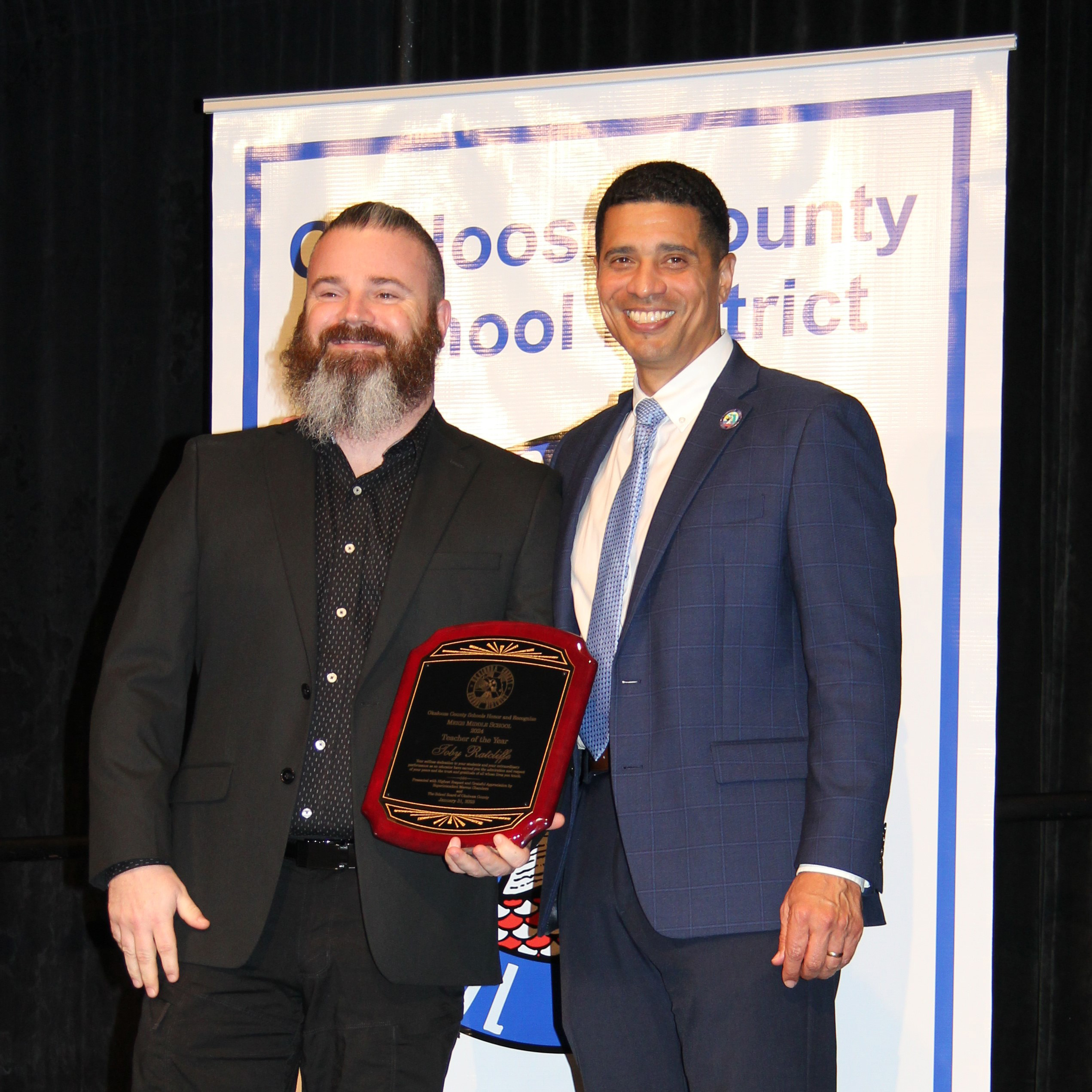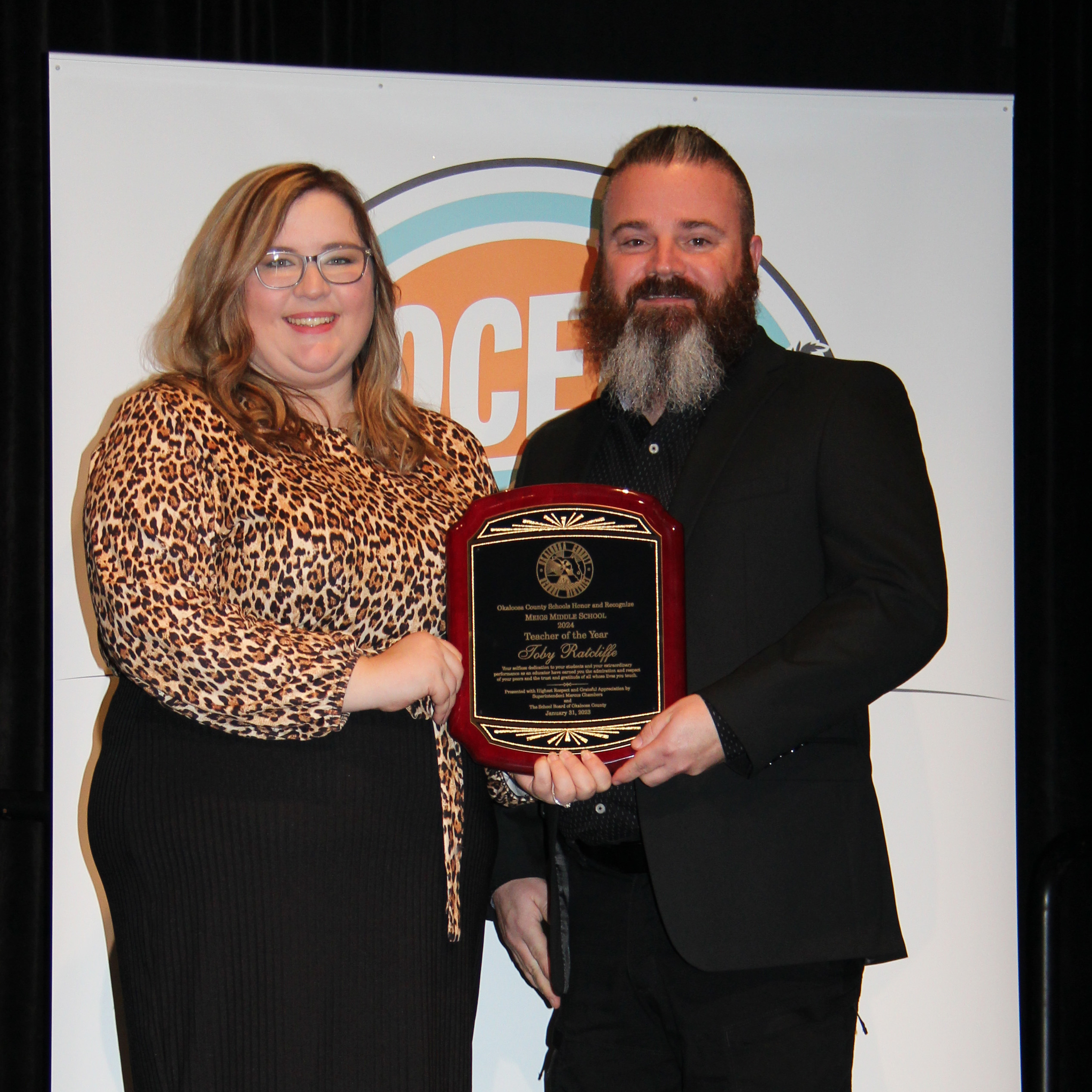 Toby Ratcliff (Mr. R) is a 6th grade science teacher at Meigs Middle School. Teaching is Mr. R's second career. He spent 20 years in the USAF serving as a P-MEL Technician, a Network Integration Technician, and finally a Chaplain Assistant. After retiring from Hurlburt Field, he started and completed his Associate of Arts (A.A.) and Bachelor of Science (B.S.) degree in Elementary Education at NWFSC w/Summa Cum Laude honors. Mr. R's teaching philosophy is simple. He states that while it is essential that you must teach from the standards, it is the connections made with the students that makes a teacher successful.
Niceville High School – Kelly Humphrey
Award accepted by Charles Marello, Principal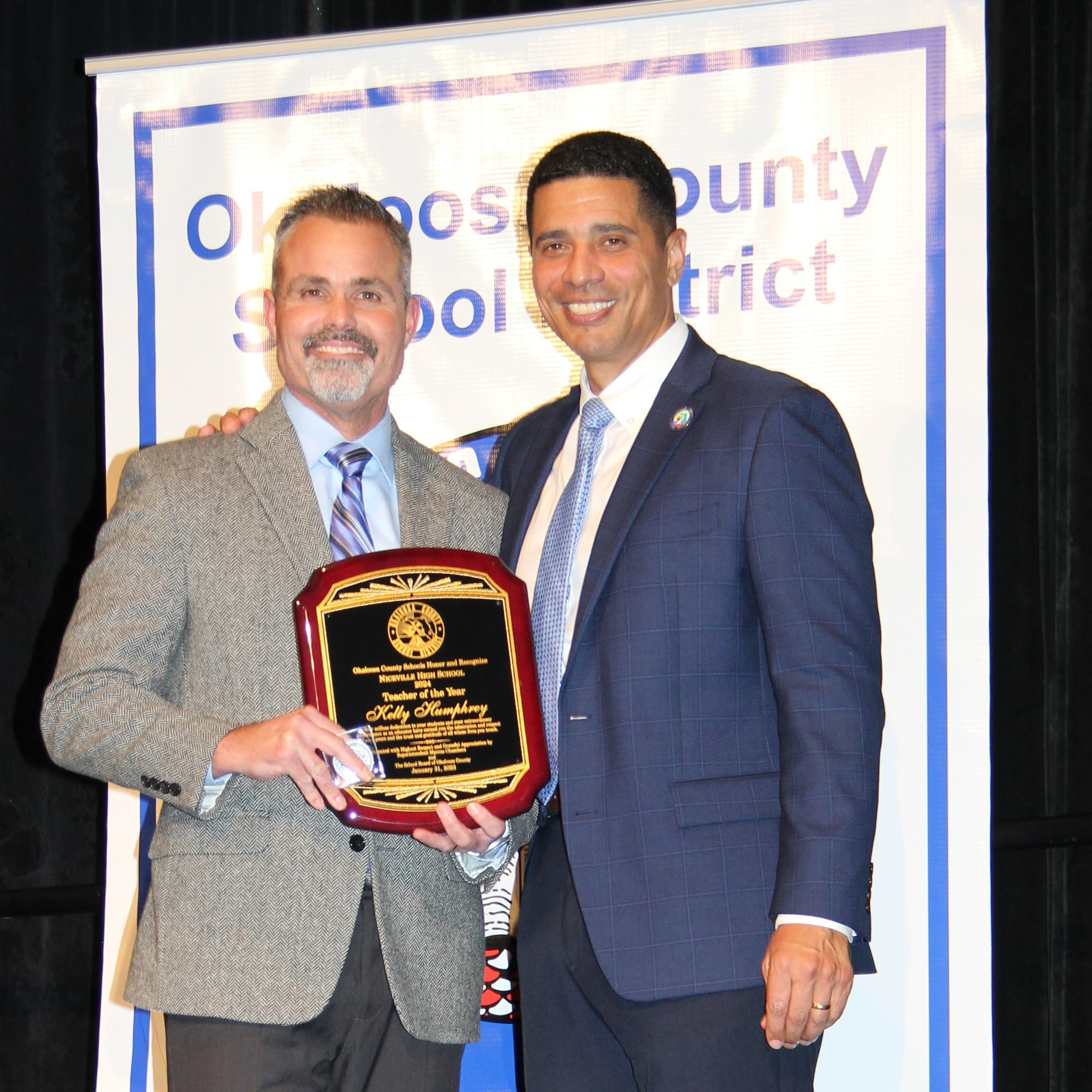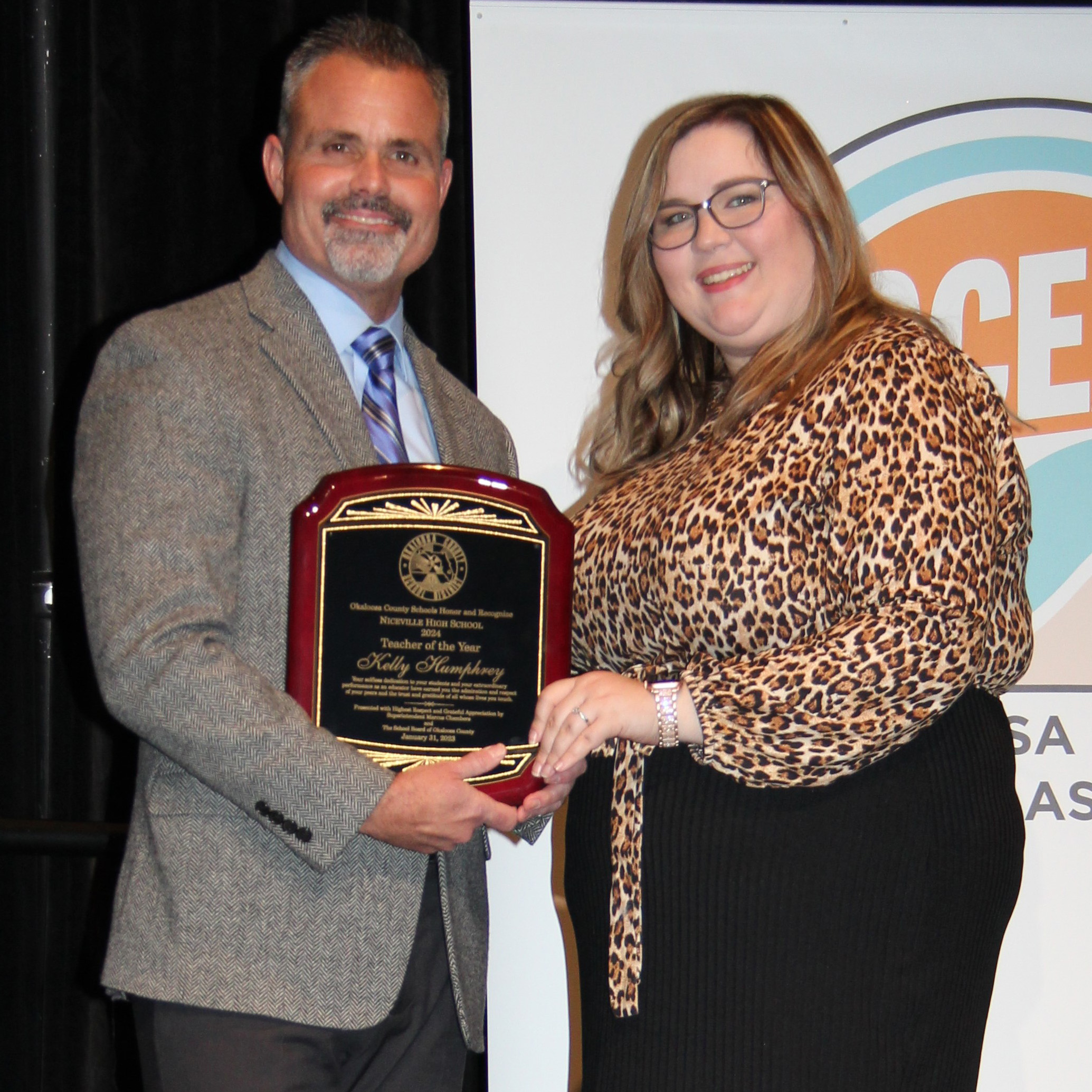 Kelly Humphrey is a proud member of the Niceville High School Class of 1980 and is thrilled to be teaching English at her Alma Mater. Kelly and her husband, John, have been married for 38 years and have one son, Joey, and a very spoiled dog named Ranger. She would like to thank Charles Marello for taking a chance on her as well as her mother for being her biggest supporter. Kelly is a kidney transplant recipient and is incredibly grateful to the anonymous donor who saved her life and made it possible for her to pursue a second career as a teacher. She congratulates all the nominees...and Go Eagles!
Northwest Florida Ballet Academie – Stephanie Masso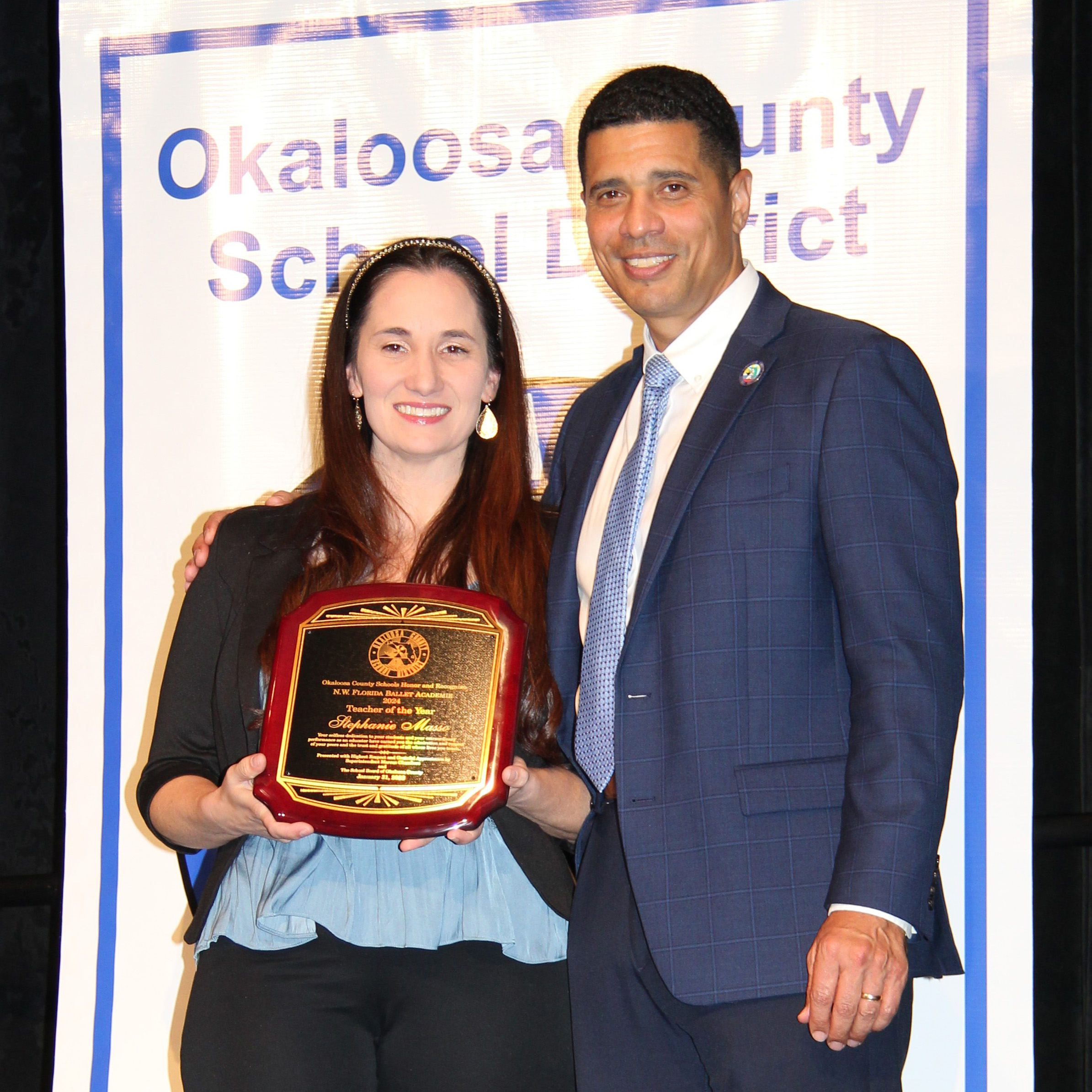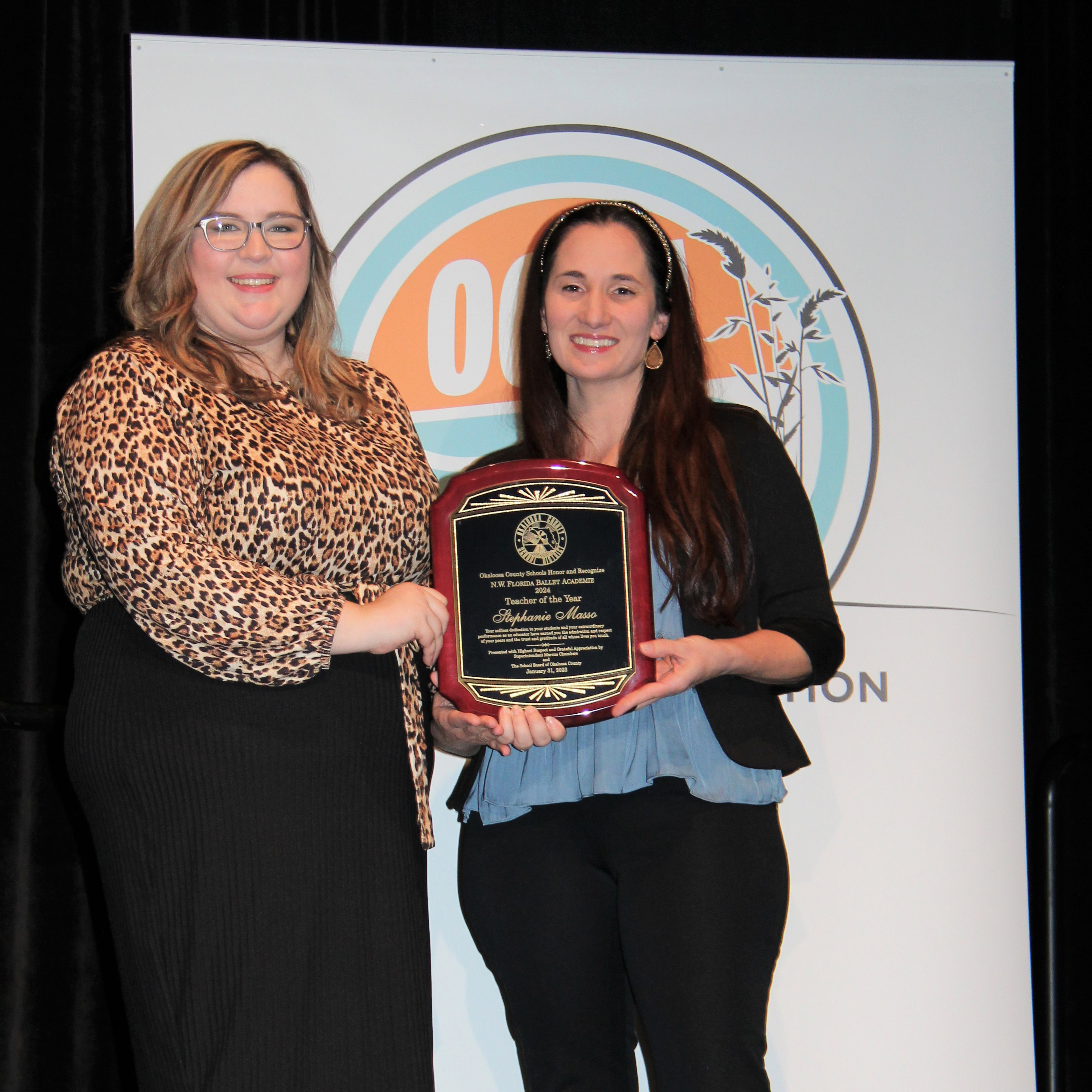 Stephanie Masso was born and raised in upstate New York and moved to Crestview, Florida, with her husband, Pedro, as a military family in 2011. As a proud mother of four, Pedro Jr, Alex, Cecilia, and Natalie. She enjoys spending time with her family and traveling to watch them play baseball, soccer, and dance. She has taught in Okaloosa County for 8 years. Stephanie is two-time graduate of UWF having earned master's degrees in Elementary Curriculum and Instruction, Special Education and Applied Behavior Analysis. She loves teaching 4th grade at the Northwest Florida Ballet Academie and serving as a HOPE advisor and Positive Behavioral Interventions and Supports (PBIS) coordinator for her school.
Northwood Elementary School – Rhonda Piaget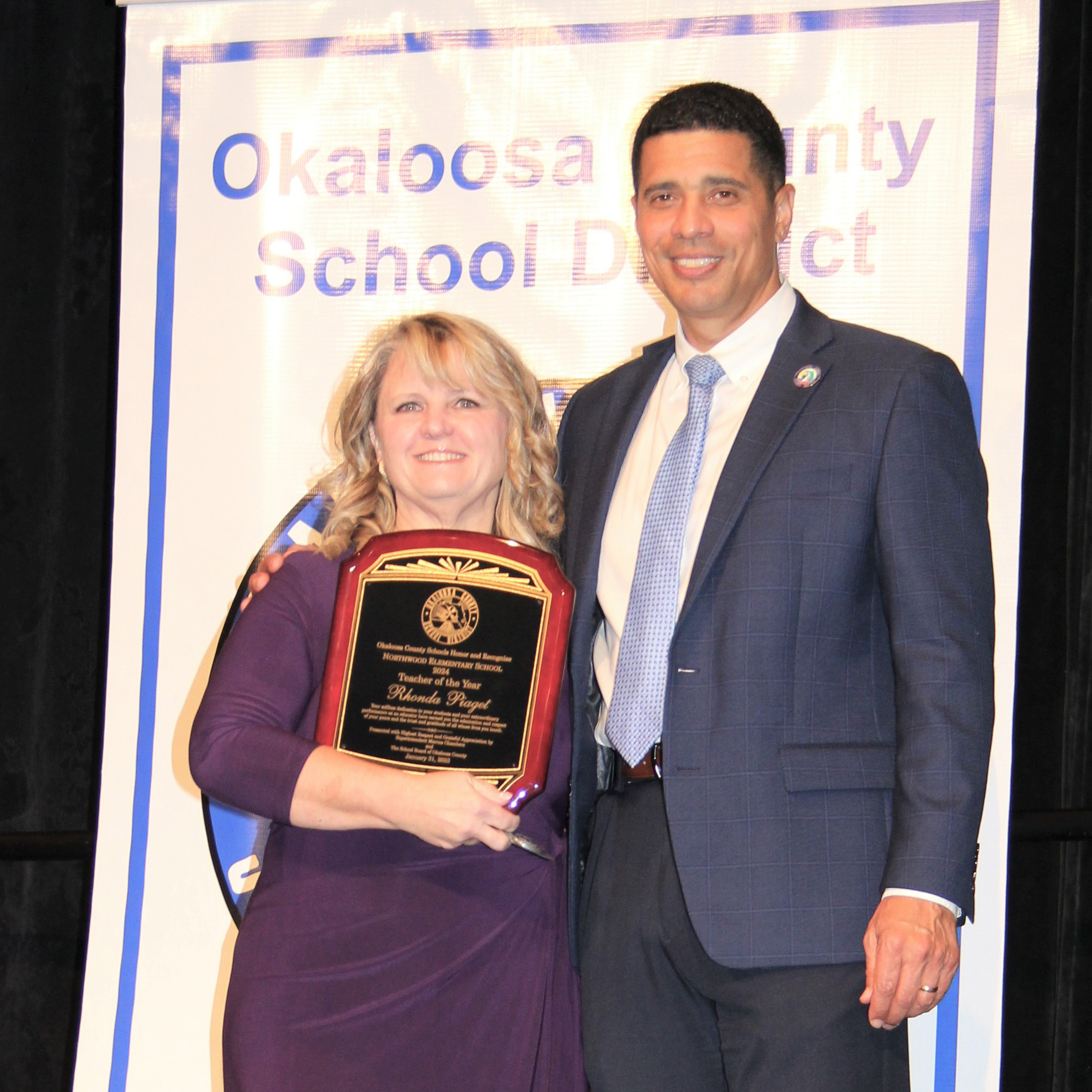 Rhonda Piaget was born and raised in Baltimore, MD, where she attended school K-12. After high school, she earned an Economics degree but later realized that teaching was her real calling. Rhonda returned to college as a single mother and earned her master's degree in Educational Leadership from UWF. This is her 20th year teaching in OCSD where she has taught Kindergarten, 1st, and 2nd grades, as well as math in 2-5th grade as a Title 1 Teacher. Rhonda has 4 children; Philip, Andrew, Ben, and Alyssa, who are products of Okaloosa County. They have all grown into successful adults and are her greatest accomplishments.
Okaloosa STEMM Academy – Mary Catherine Puffer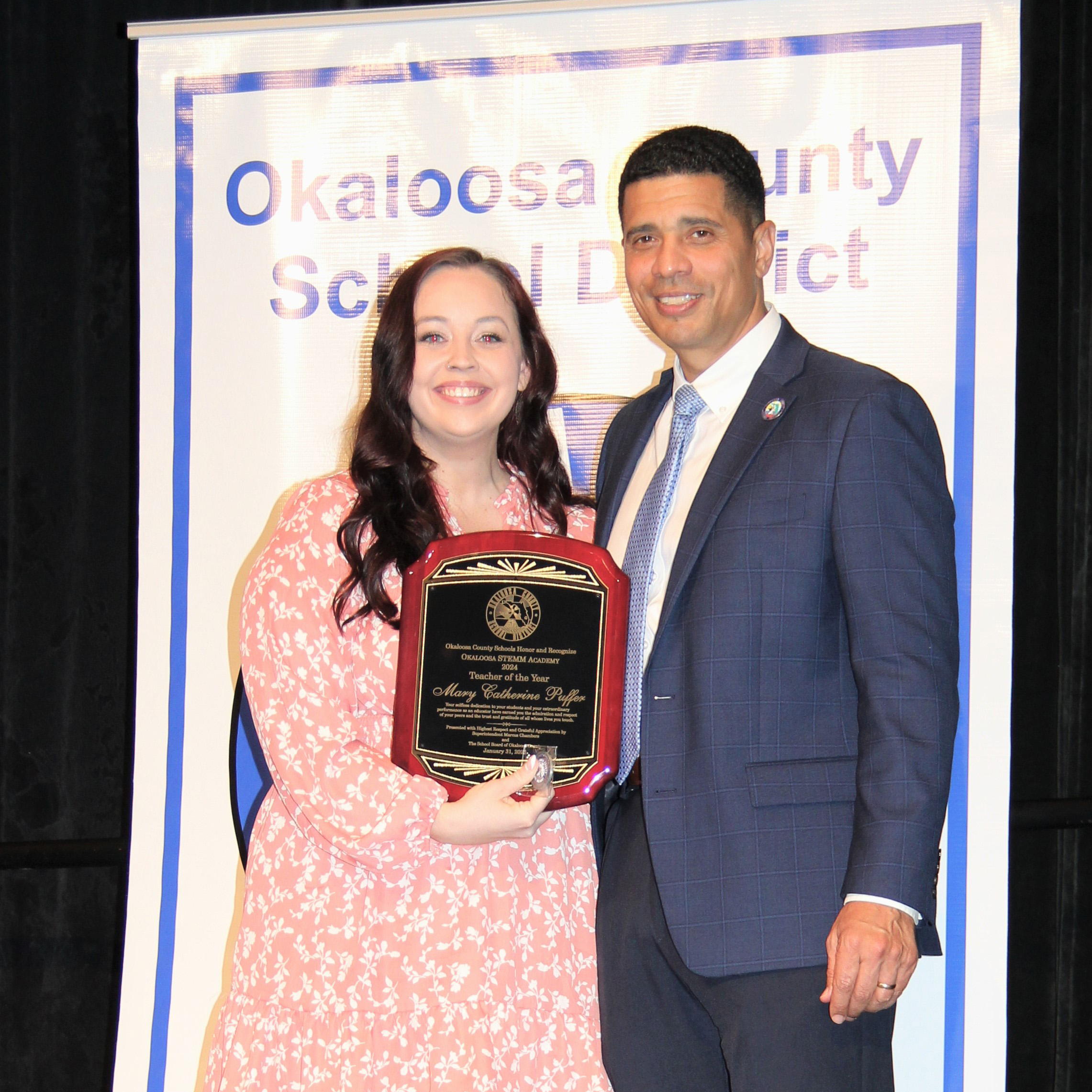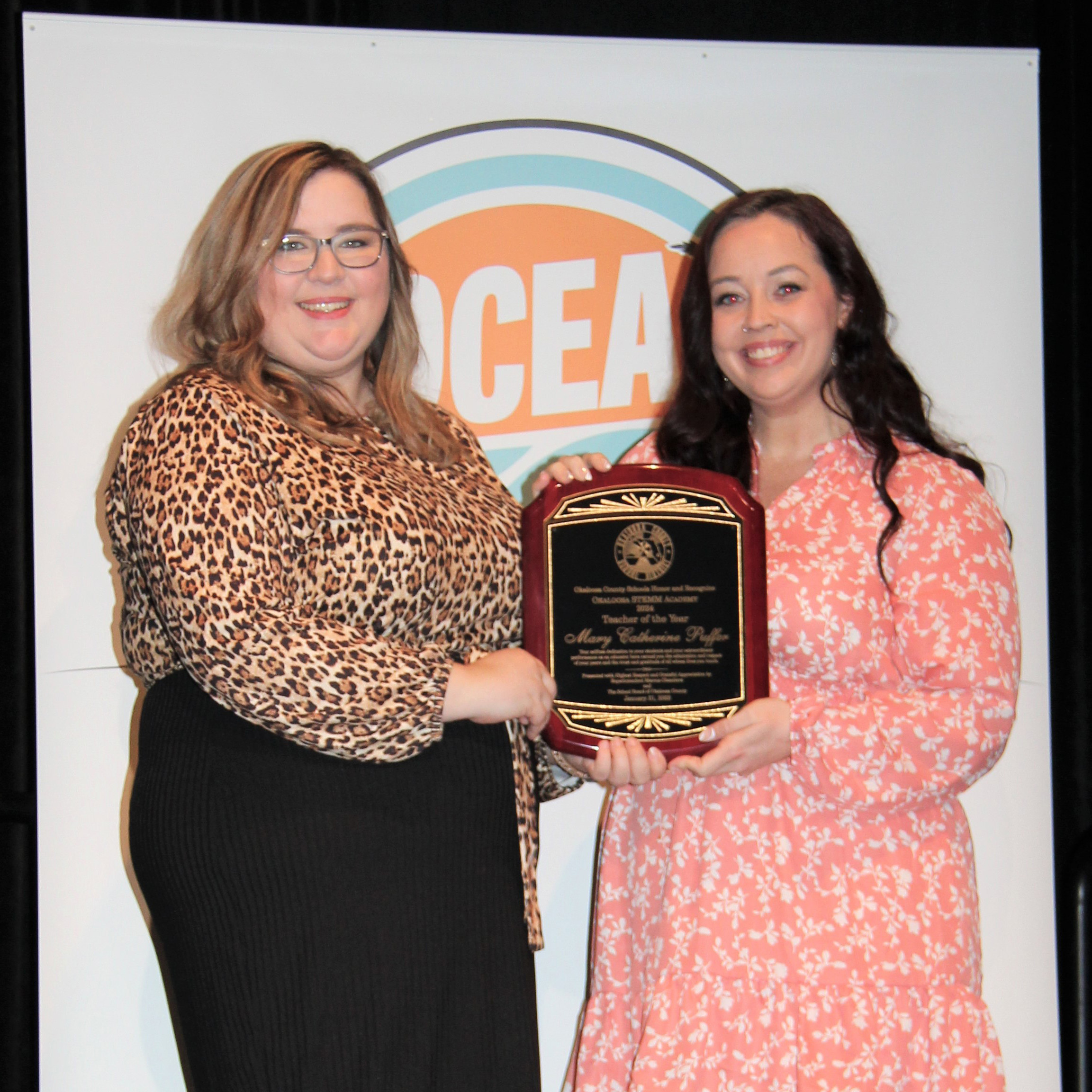 Mary Catherine Puffer is a zealous educator who revels in inspiring young scholars. She has a bachelor's degree in English and a master's in Education and holds a certification in ELA and Social Sciences. She has taught at the STEMM Academy for three years. She teaches 7th-grade ELA but has also taught World History, Debate, and Creative Writing. Mary Catherine is on the leadership team and serves as the grade-level liaison and the ELA department head. She's also the faculty advisor for STEMM's National Junior Honor Society. She thanks the faculty at the STEMM Academy for their support!
Plew Elementary School – Gerrianne Burnetter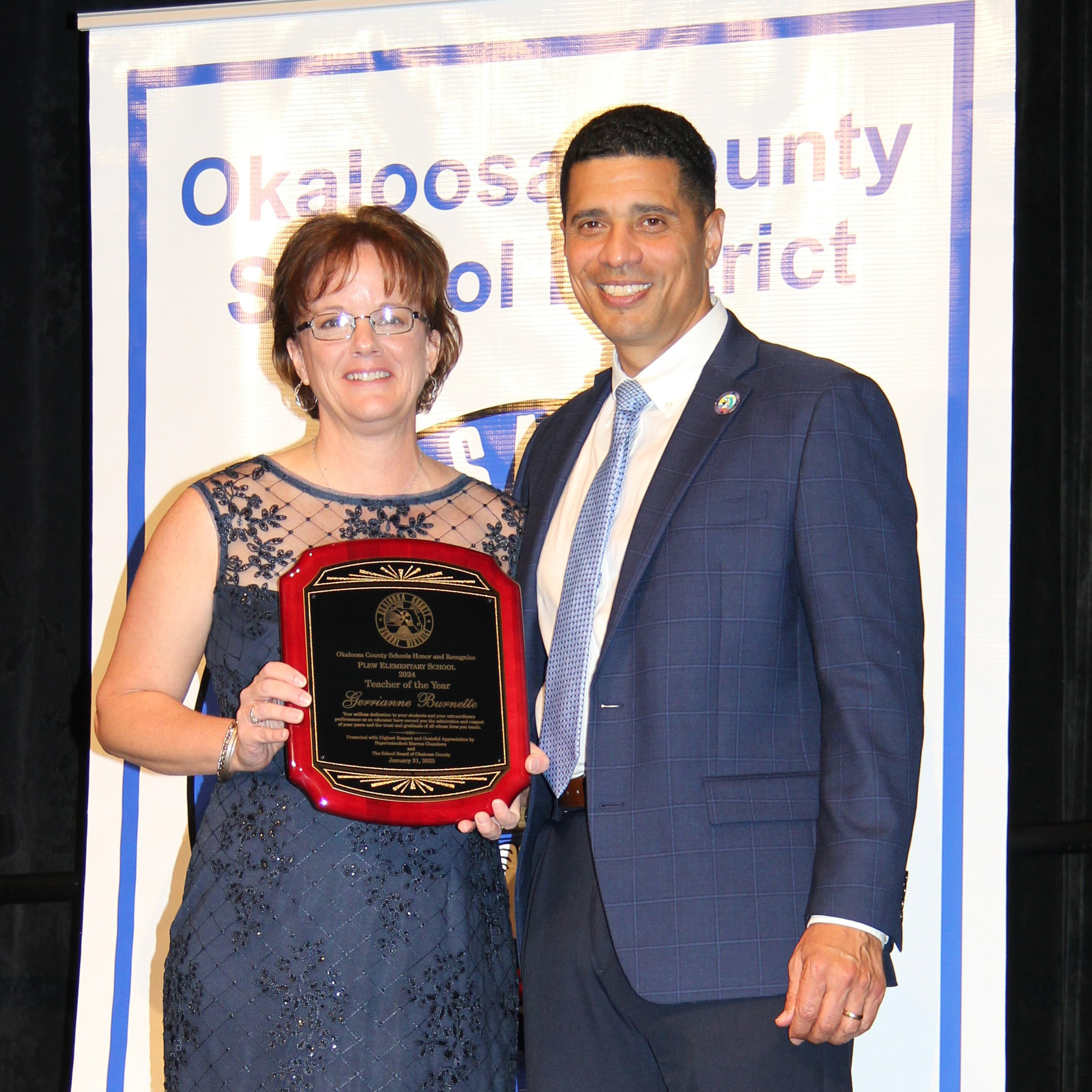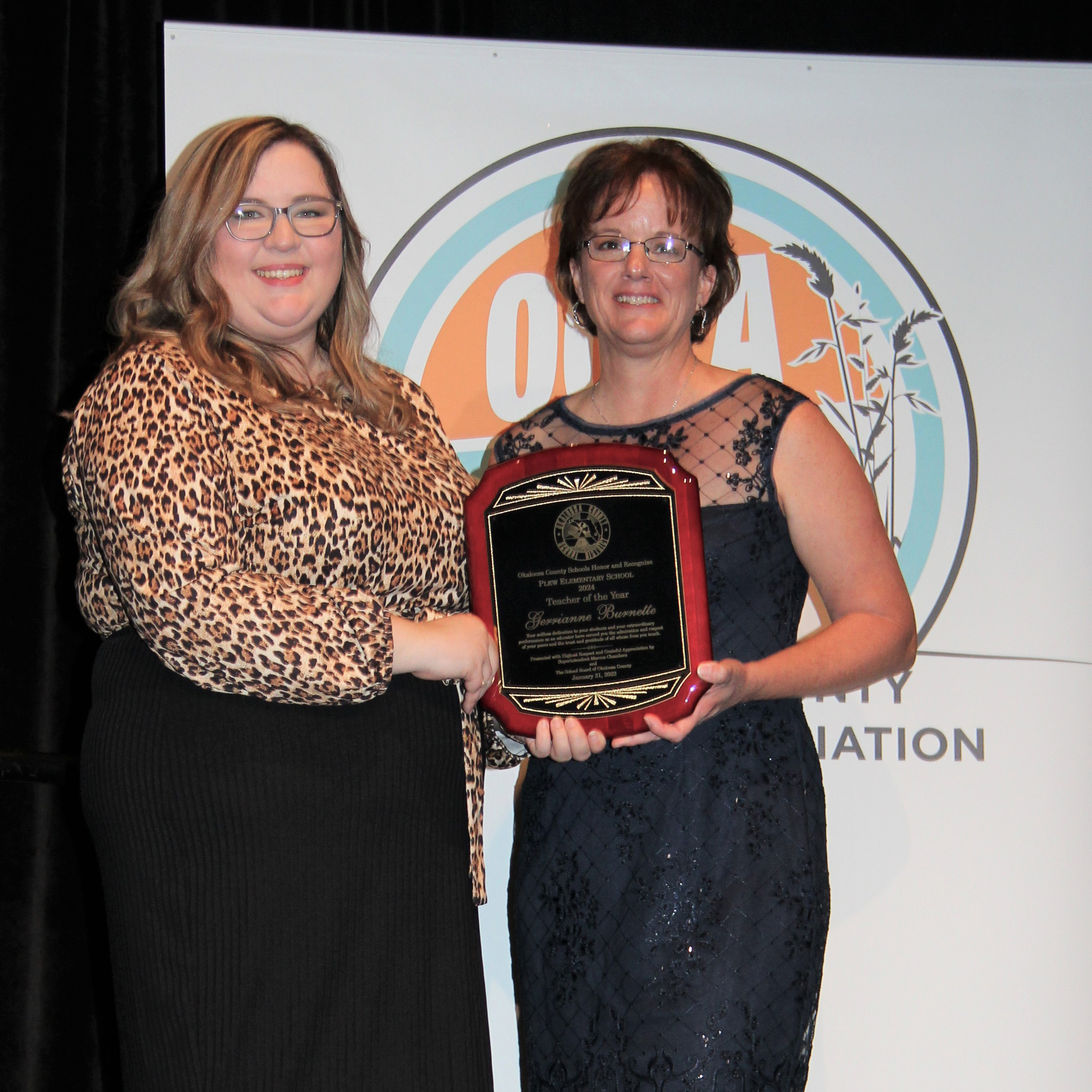 Gerrianne Burnetter is a proud wife and mom to three children. She earned her teaching certificate from Fontbonne University in St. Louis, MO, and is in her 27th year of teaching. Gerrianne moved to the Okaloosa County School District in 2003, and a year later, began teaching at Plew Elementary School. She is privileged to have taught alongside some of the "best of the best" at Plew Elementary School. She would like to thank her fellow teachers for their show of confidence and support by selecting her. She believes that it is truly an honor to represent Plew Elementary School as Teacher of the Year.
Richbourg School – Keitha Holloway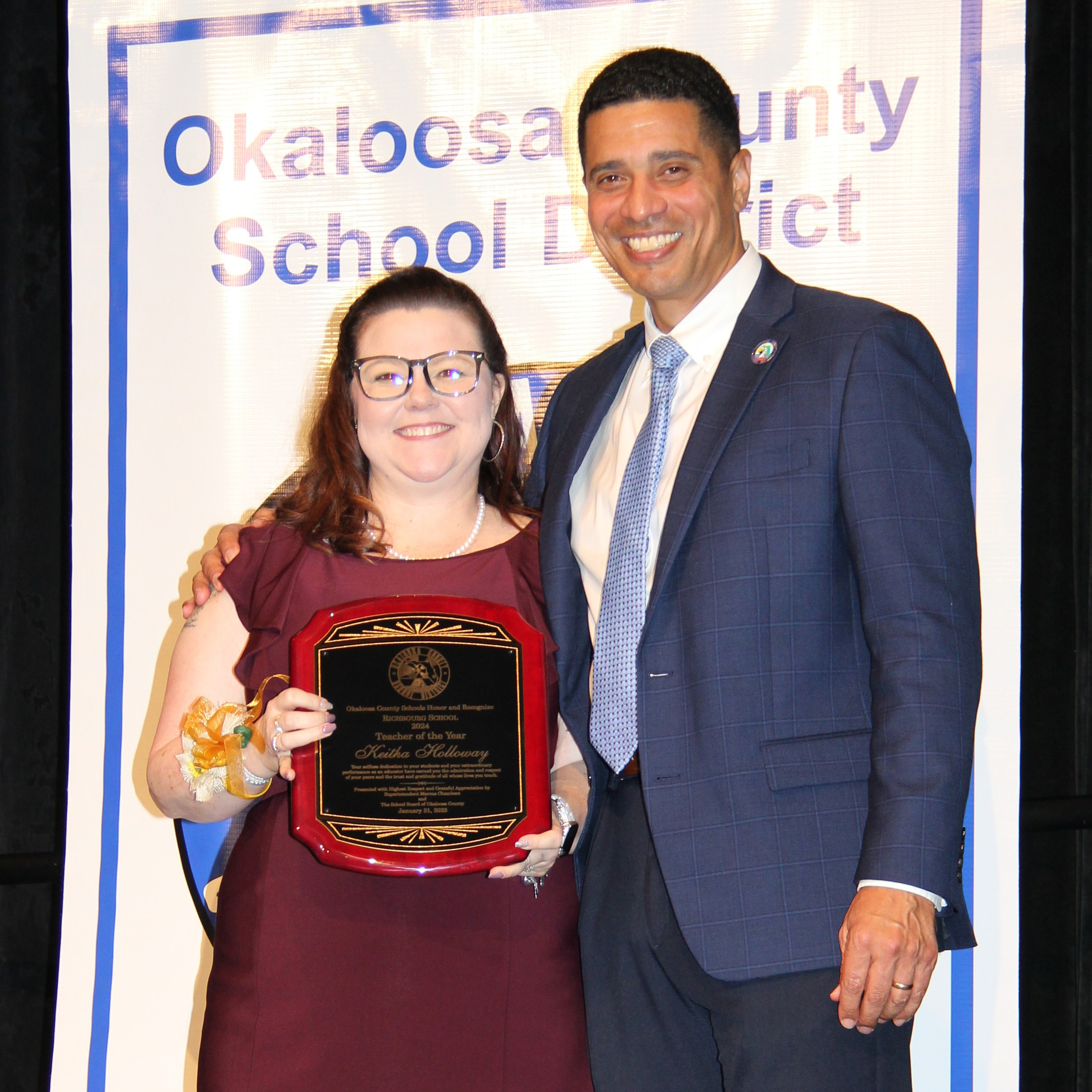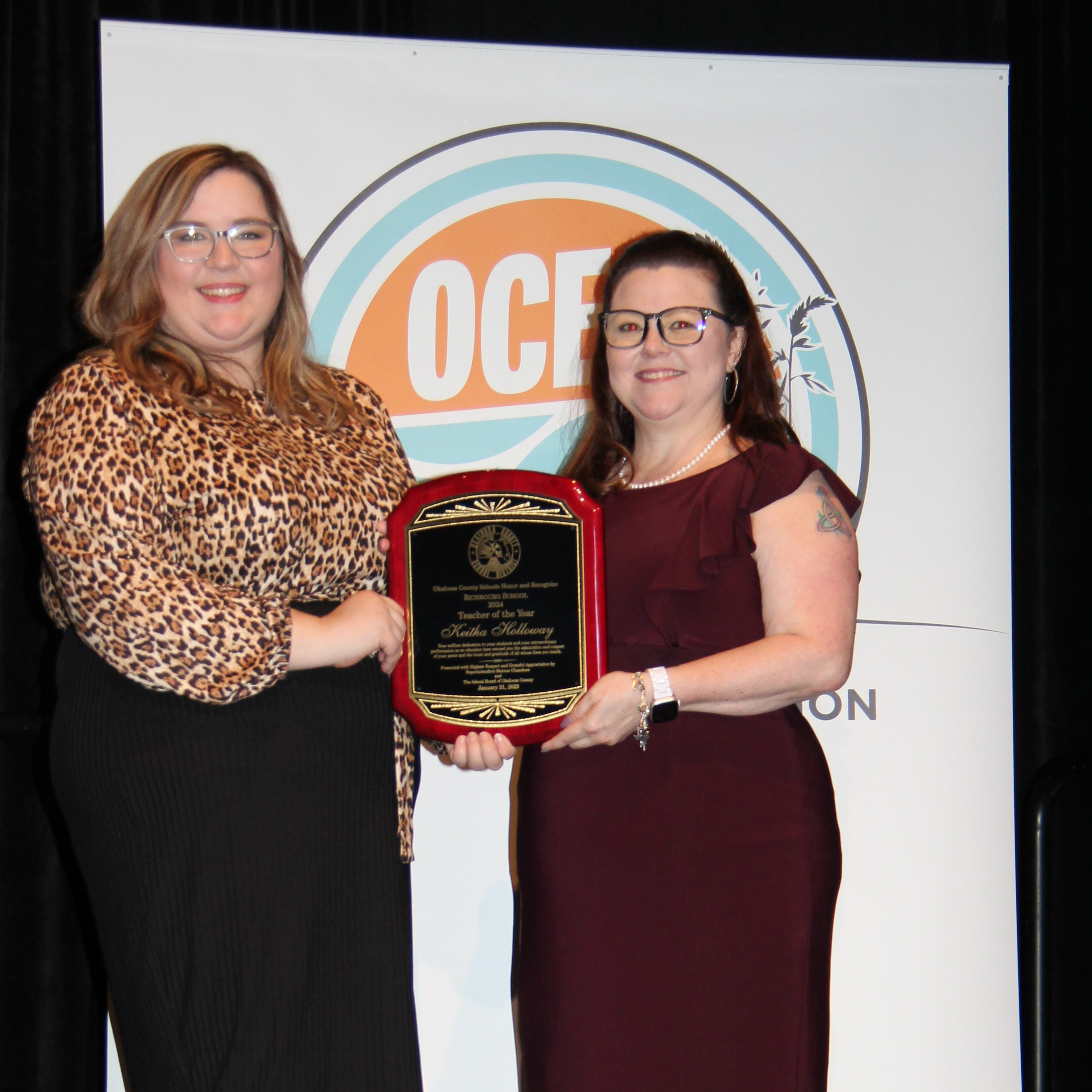 Keitha Holloway began her teaching career in Corpus Christi, TX. She earned a B.S. in Interdisciplinary Studies from Texas A&M, a Master of Science (M.S.) in Guidance and Counseling with a minor in Psychology from Texas A&M Corpus Christi, and a Specialist in Educational Leadership from FSU. She began working in the education field 24 years ago and has been a school counselor in Okaloosa County for the past 15 years. She is thankful for the support of her friends, family, her daughter, Kelsey, and granddaughter, Kali.
Riverside Elementary School – Ashley Adams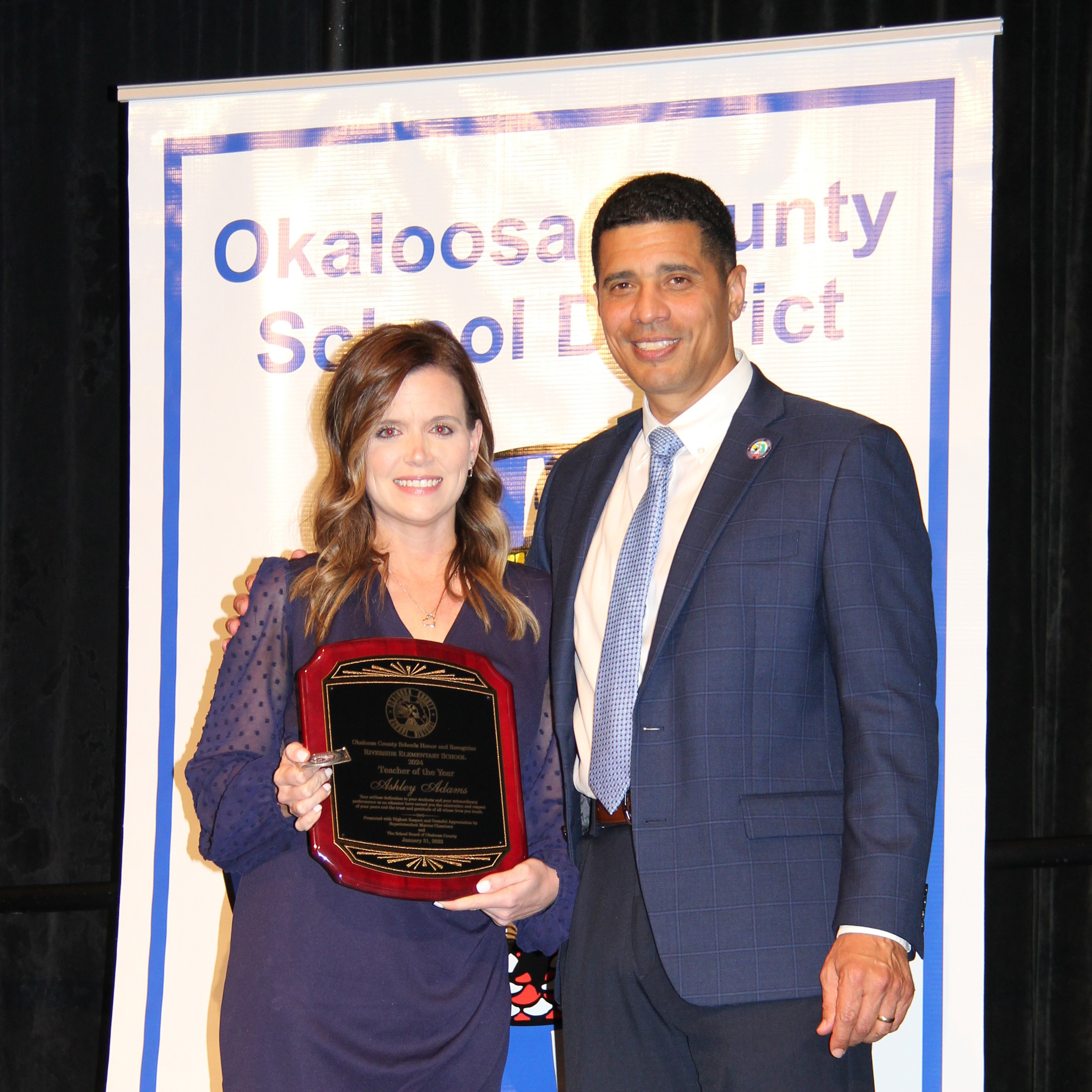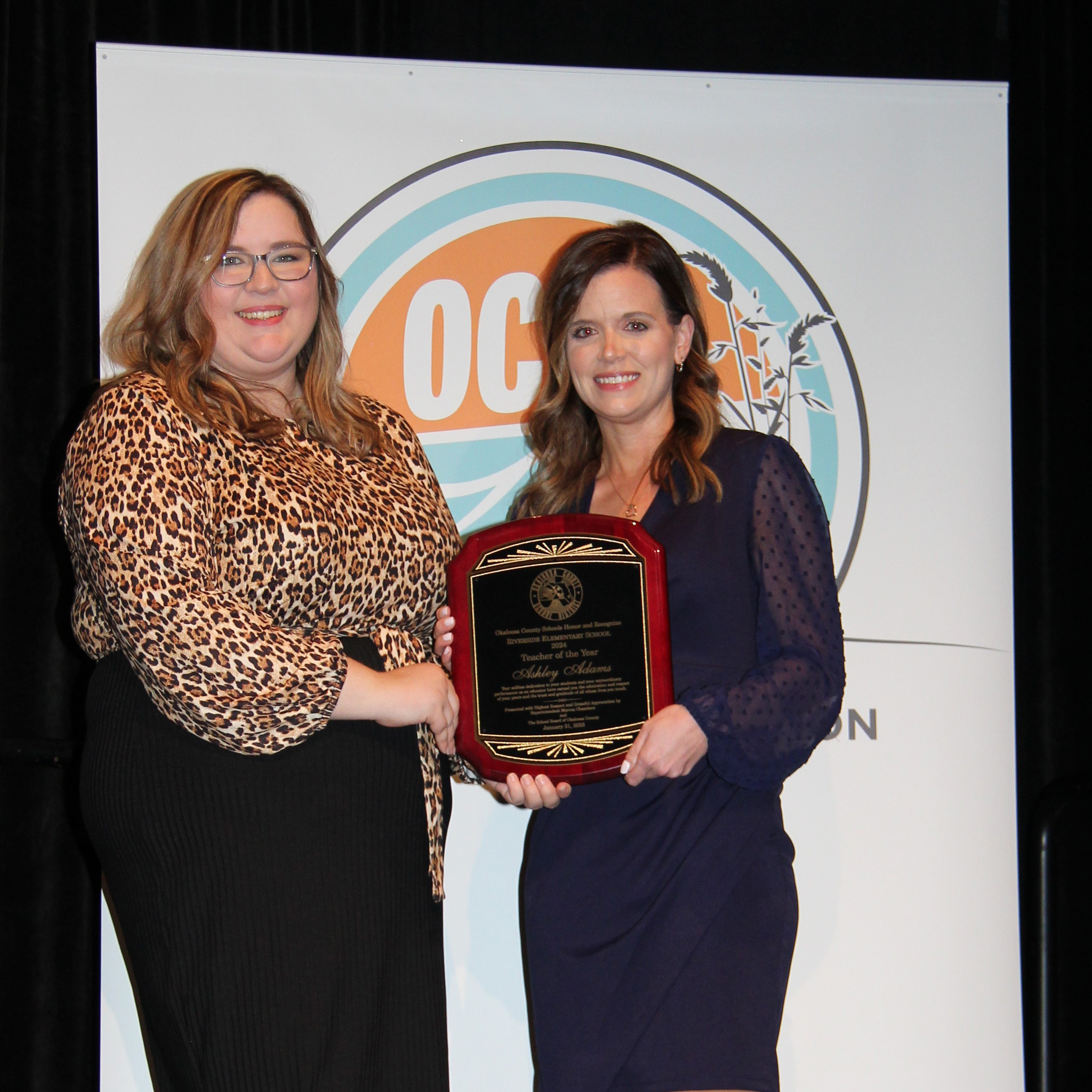 Ashley Adams is honored to represent Riverside Elementary School as teacher of the year. She's in her 10th year of teaching kindergarten at Riverside Elementary School. She loves building relationships with her students and colleagues and has mentored many teachers and students during her career. Ashley enjoys being active within her school and currently helps run the Student Council where she interacts with the 3rd, 4th, and 5th grade student leaders. She believes in every student at Riverside Elementary School, not just her own. She looks forward to many more years of teaching and inspiring a love of learning.
Ruckel Middle School – Marchelle Tomassetti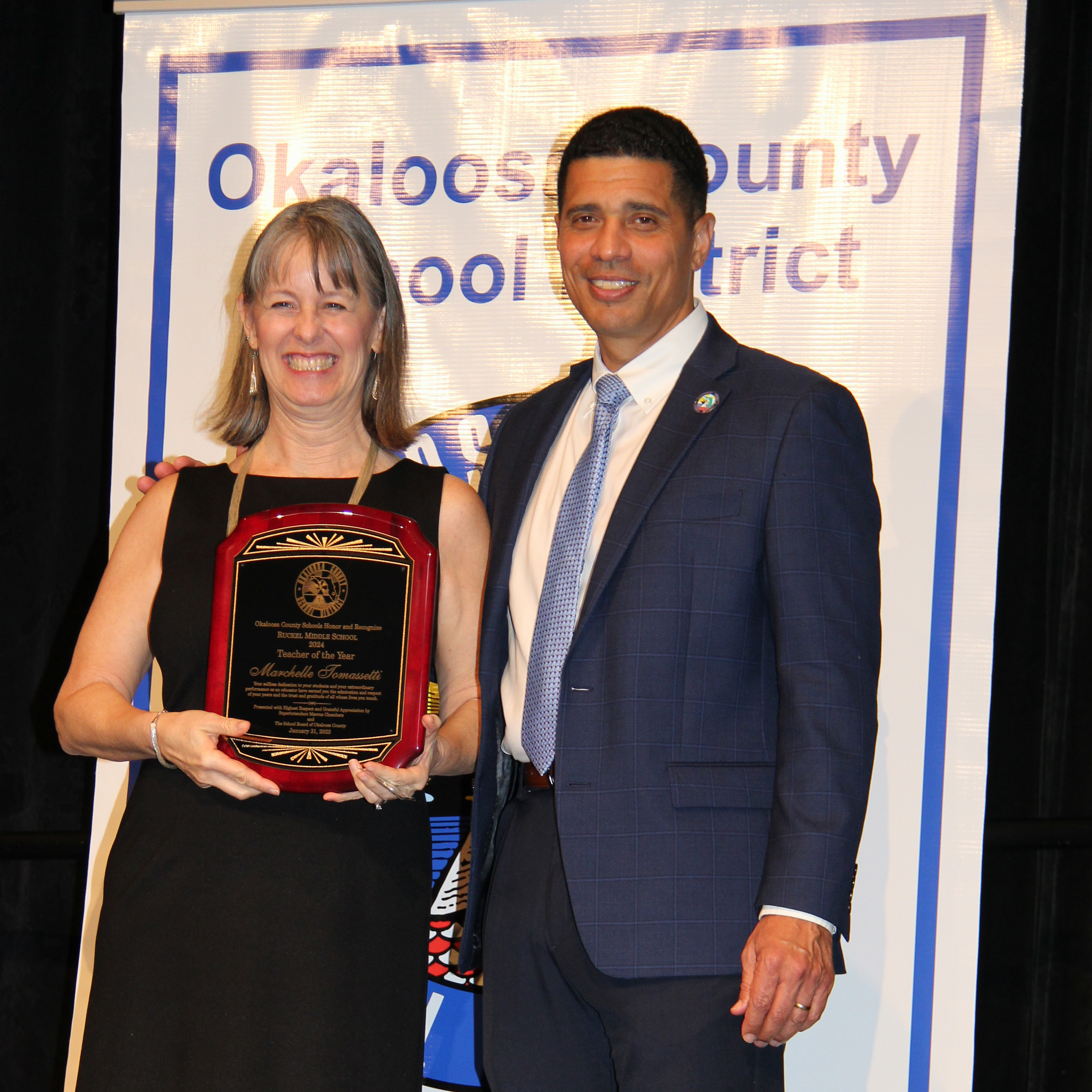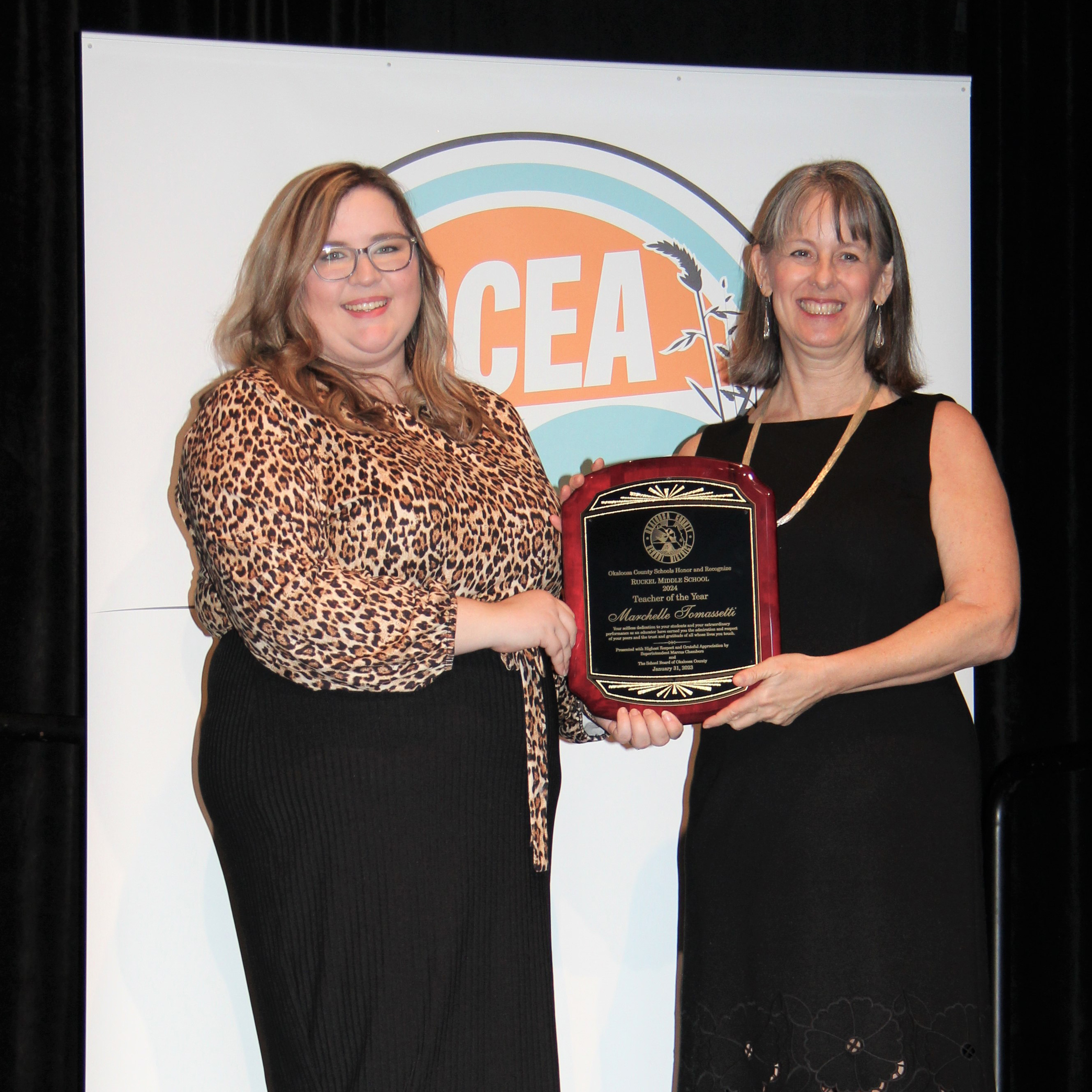 Marchelle Tomassetti began teaching in 1989. Initially, as a Marketing and Business Education teacher, her desire to communicate with the large community of Spanish-speaking students and parents at her school led to her learning Spanish herself. As a military spouse, she taught Spanish and Business courses before taking a few years to remain home with her small children. In 2012, Mrs. Tomassetti began teaching math and Spanish at Ruckel Middle School and for the past seven years, she has exclusively taught Spanish. Additionally, she is the lead advisor for the National Junior Honor Society.
Shalimar Elementary School – Cheryl Liddon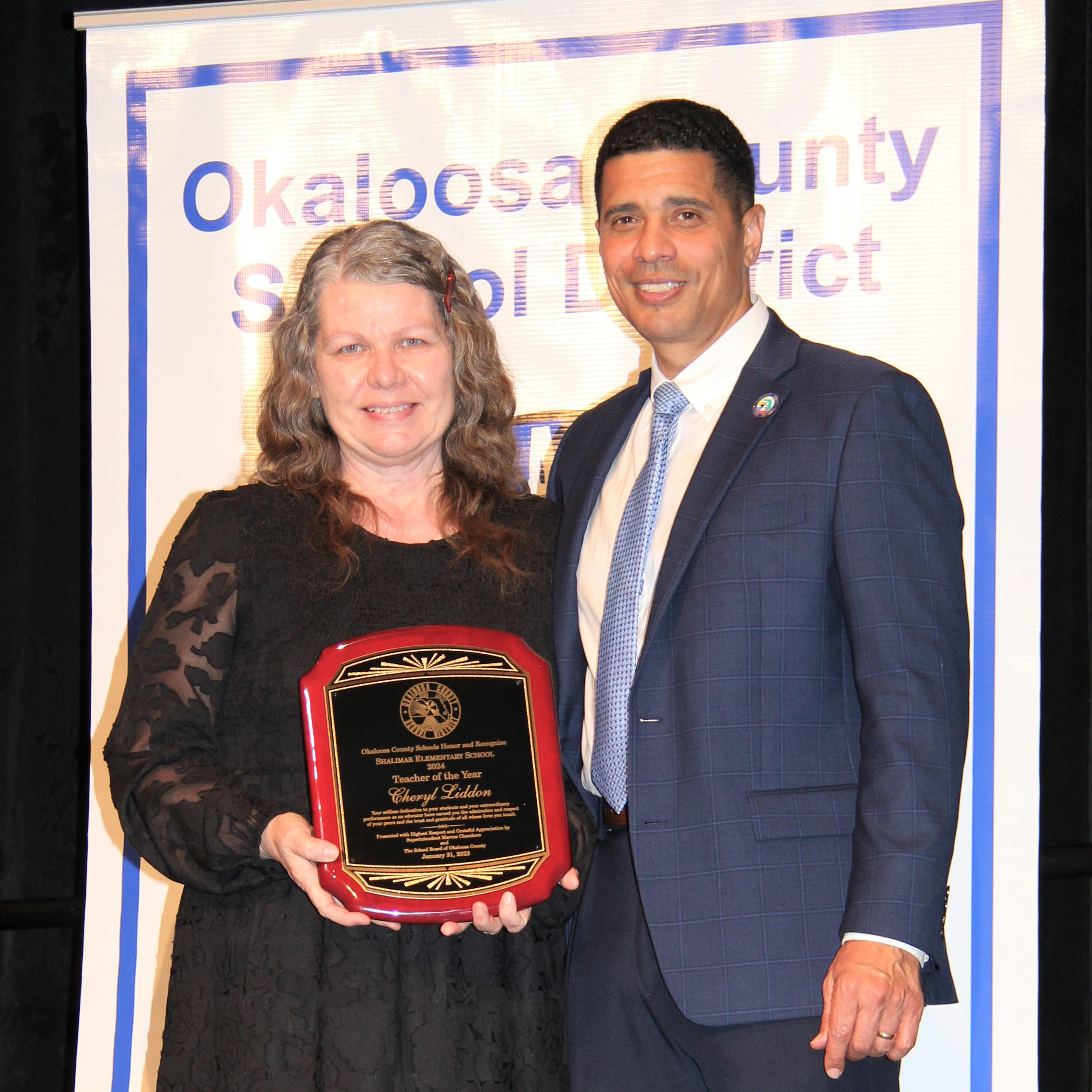 Cheryl Liddon joined Shalimar Elementary School in 2016 and has taught PreKD, Kindergarten, and now 1st grade. She works to build a classroom culture that encourages community, based on high expectations and solid routines. Every student has a place and purpose. Cheryl provides a safe place in which students learn through peer interactions and support one another. Her motto is "relationship is everything." Cheryl appreciates her husband, Terry, for his support and understanding when her teaching duties take time away from her family. She is humbled to receive this honor from the amazing Shalimar Elementary School faculty.
Shoal River Middle School – Ryan Parker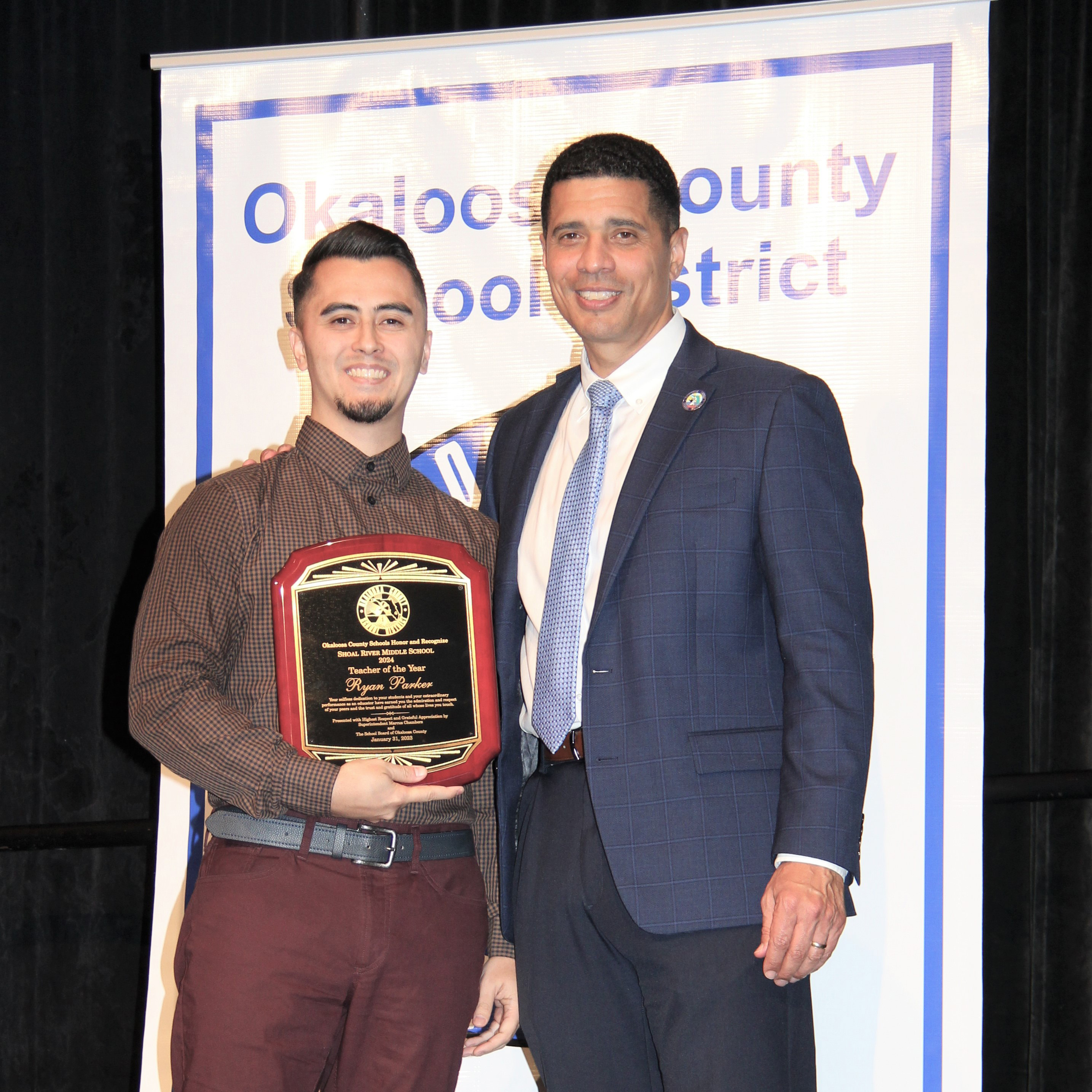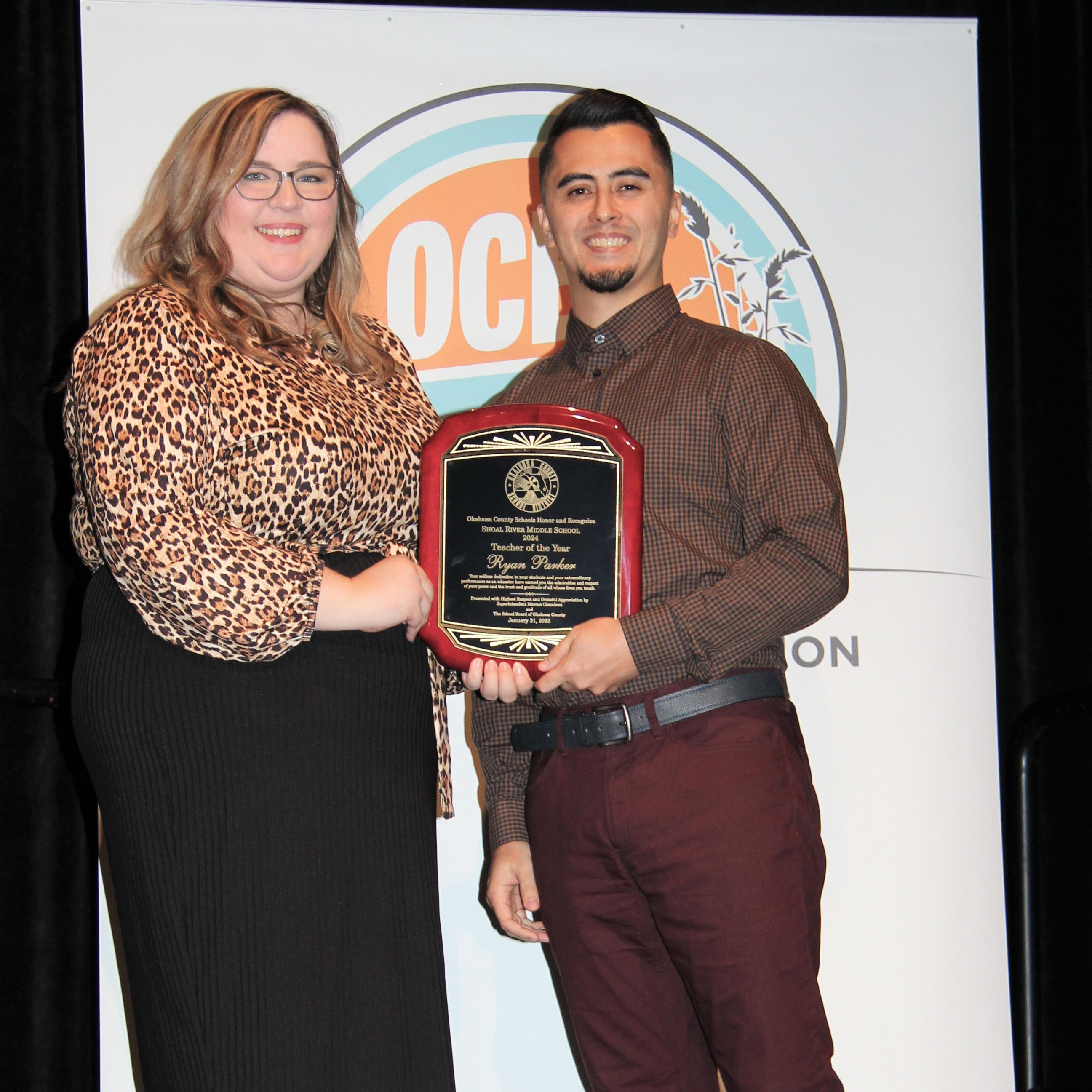 Ryan Parker has taught at Shoal River Middle School for the last three years. He has taught 7th-grade Civics, worked on the accreditation team, coached Track and Field, been part of the school leadership team, and sponsored the Student 2 Student club. Ryan considers his biggest strength to be the enthusiasm and energy he brings to his classroom, which has allowed him to create a positive learning environment for his students. His main goal is to ensure his students have the confidence and knowledge to be successful throughout this year and beyond. Ryan is proud to represent Shoal River Middle School.
Silver Sands School – Summer Pickett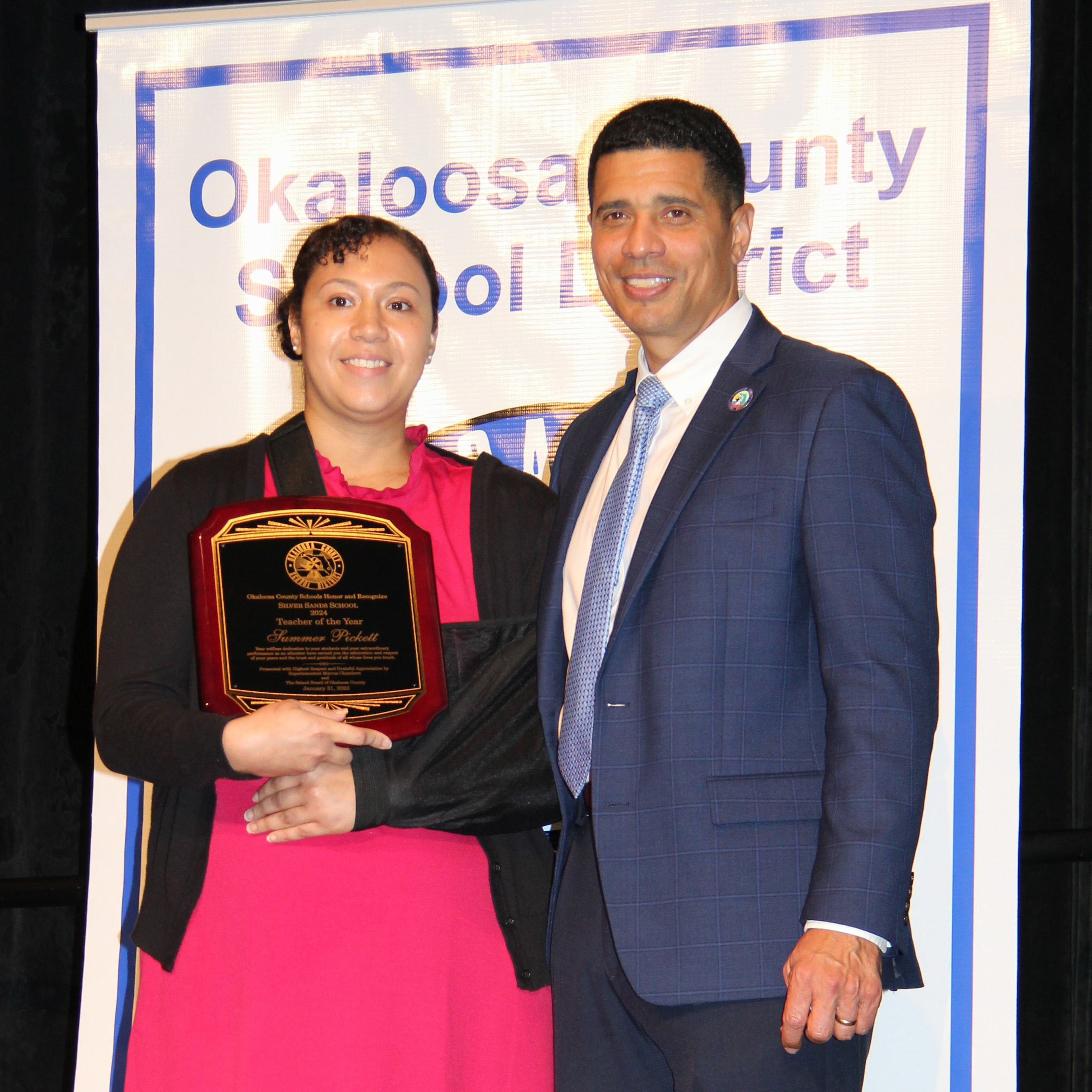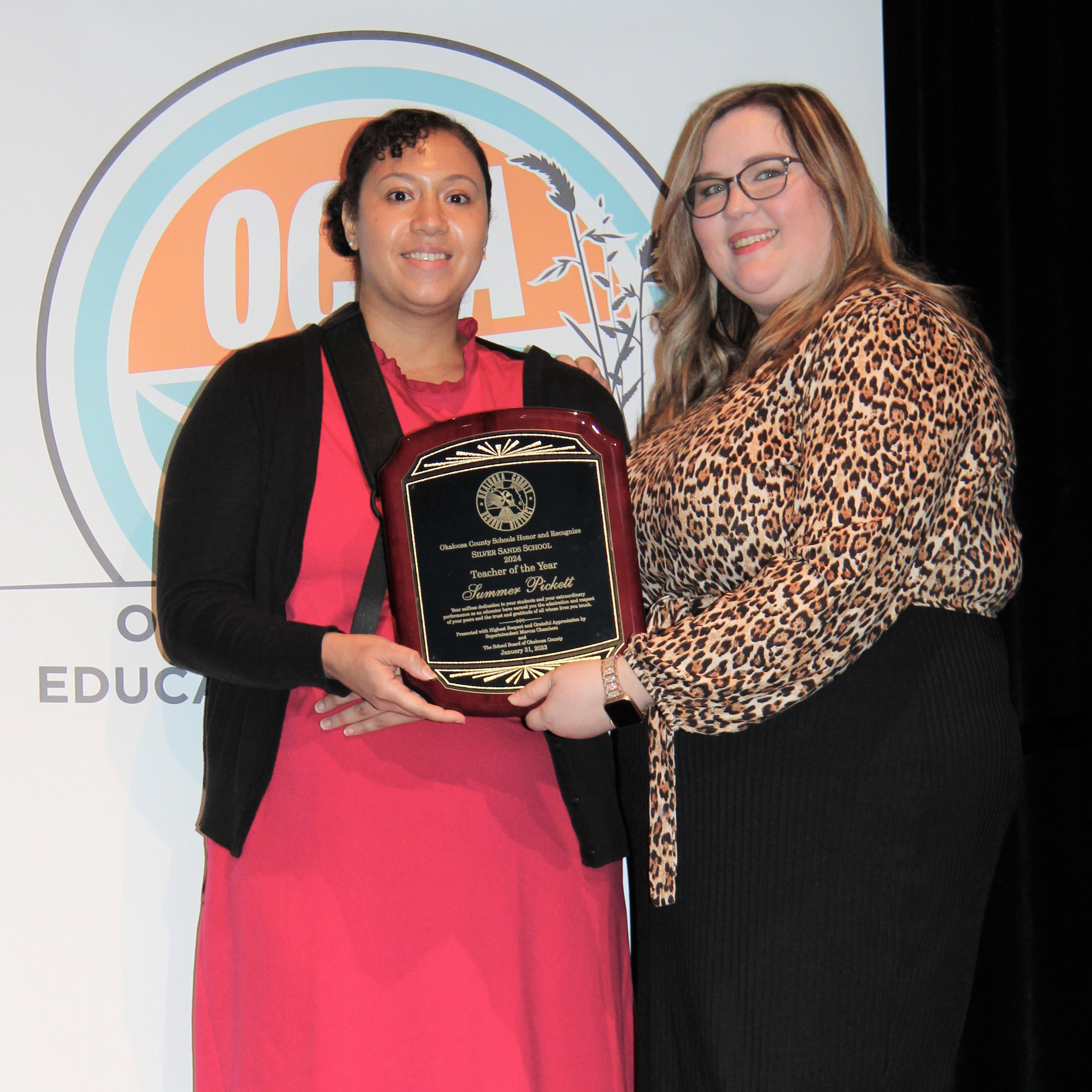 Summer Pickett teaches High School Communication at Silver Sands School. She is a trauma-informed educator and performs every part of her job with compassion and diligence. Through the daily use of CORE communication boards, Ms. Pickett is able to teach and interact with all of her students. Together, she and her students navigate through various academic subjects, daily living skills, social-emotional awareness strategies, and more. She uses all resources available to create the best learning environment for her students. Ms. Pickett encompasses that EVERY child is teachable!
Southside Primary School – Elizabeth Havard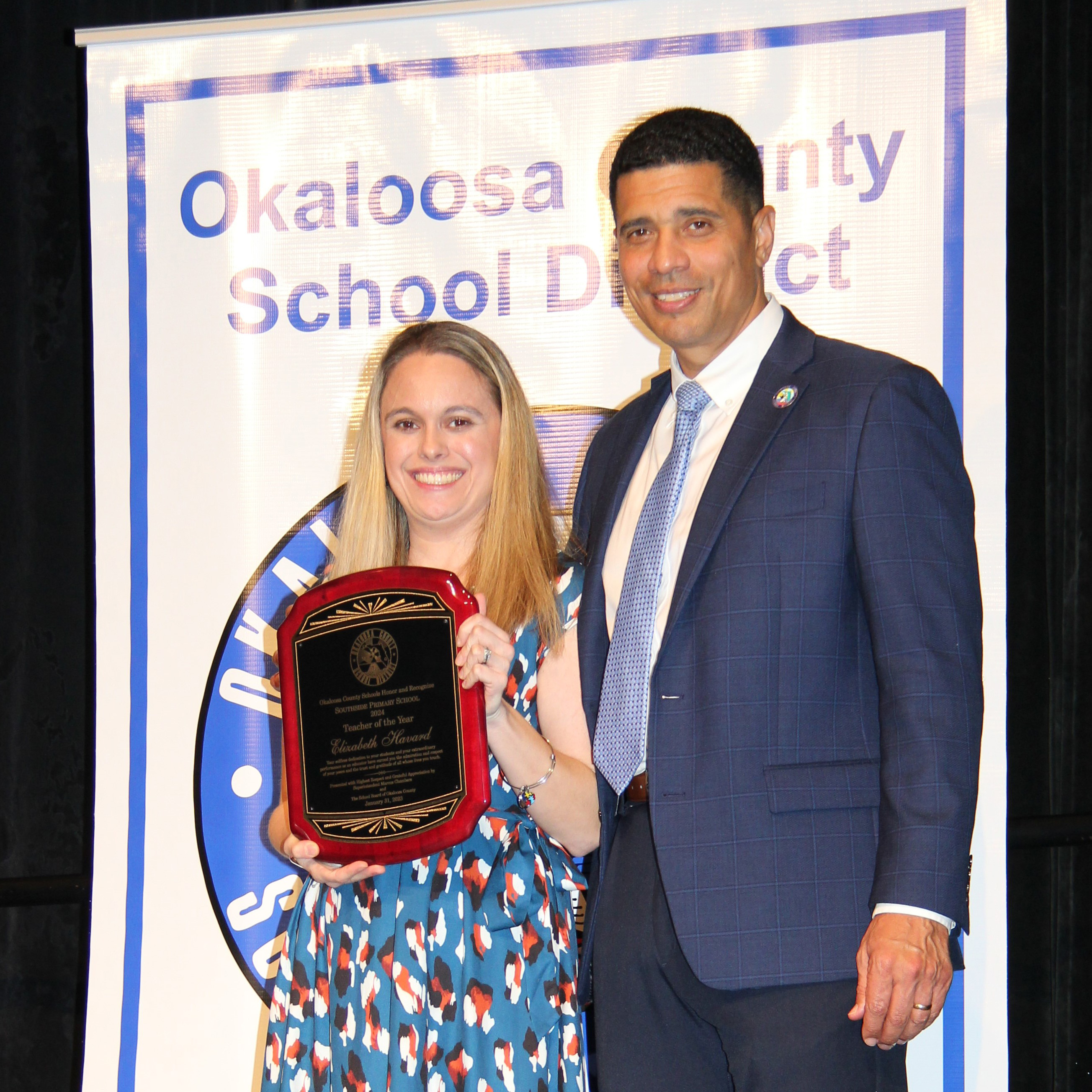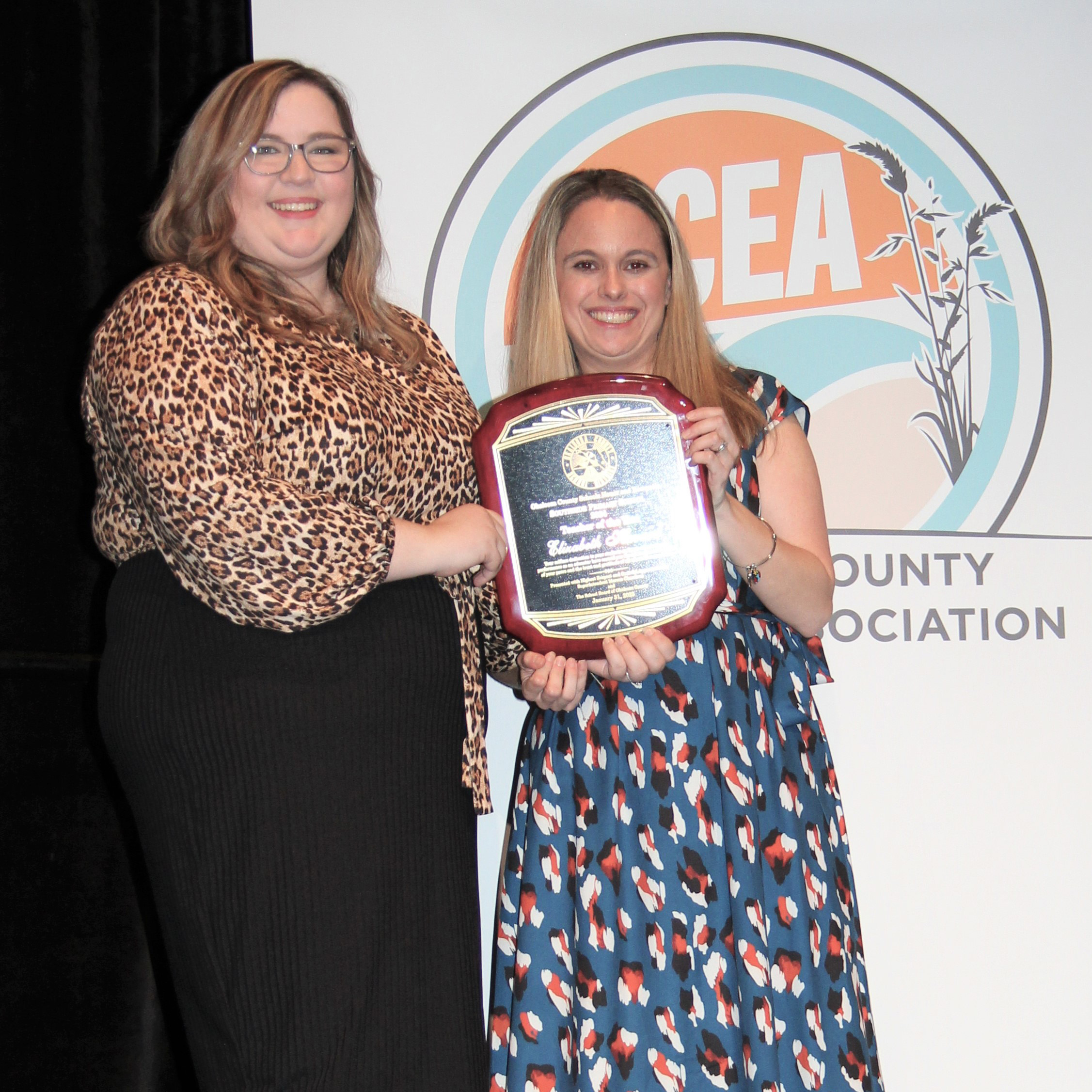 Elizabeth (Liz) Havard has lived her whole life in Okaloosa county and has been teaching for 15 years. She has an amazing husband and two remarkable sons. She has dedicated her adult life to the acquisition of knowledge on neurodiversity and became a special ed teacher due to her unyielding belief that all children, regardless of their neurology, are doing the very best they can with the tools they are given. Liz is grateful for this recognition as it serves as a reminder of what it means to be a teacher. It is a responsibility not taken lightly and Liz's only hope is that she can live up to this ideal.
Walker Elementary School – Michelle Kennedy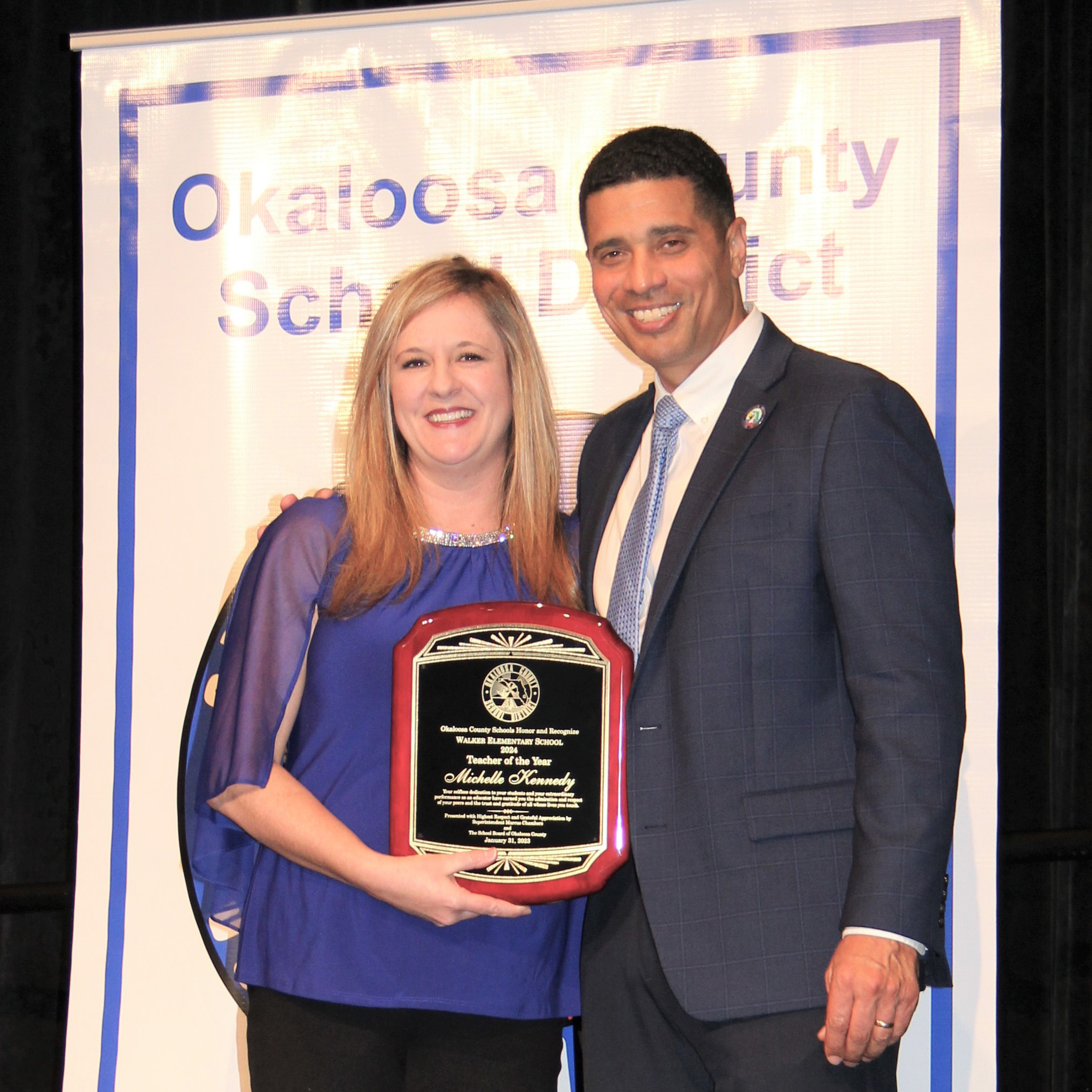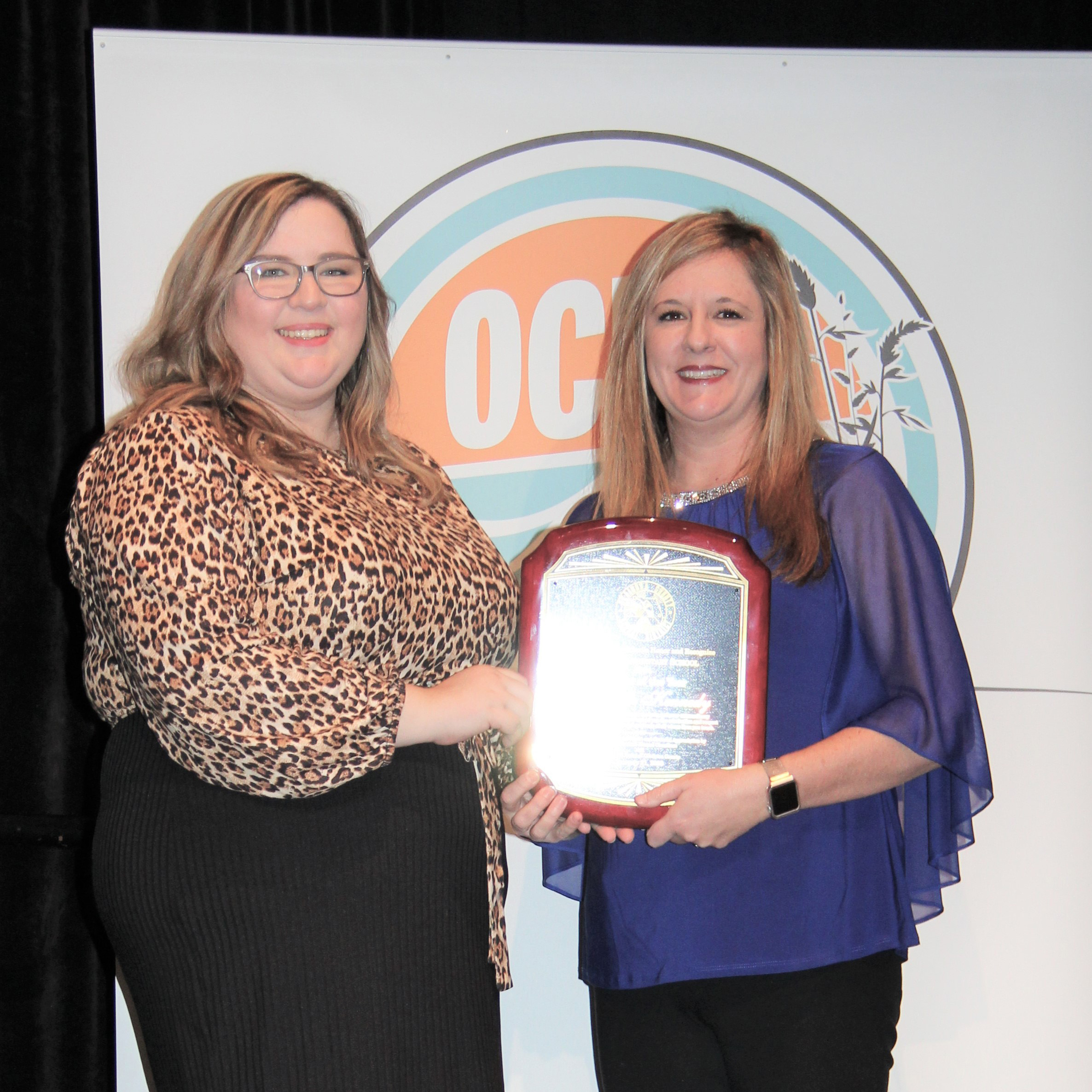 Michelle Kennedy has been an educator in Okaloosa County for 18 years. She holds great pride in this county's education program, because she is an alumnus of it, and has been touched by so many wonderful educators within it. Her passion is teaching within the primary grades, where she hopes to lay a strong foundation and help develop a love of learning in her students. Her family is her #1 supporter. She would like to thank her parents, Wil and Lynda, husband Bobby, sons Drew and Bobby, and daughter Alyssa for always being there to help out and love her through the crazy teacher life she lives.
Wright Elementary School – Jennifer Nichole LeBlanc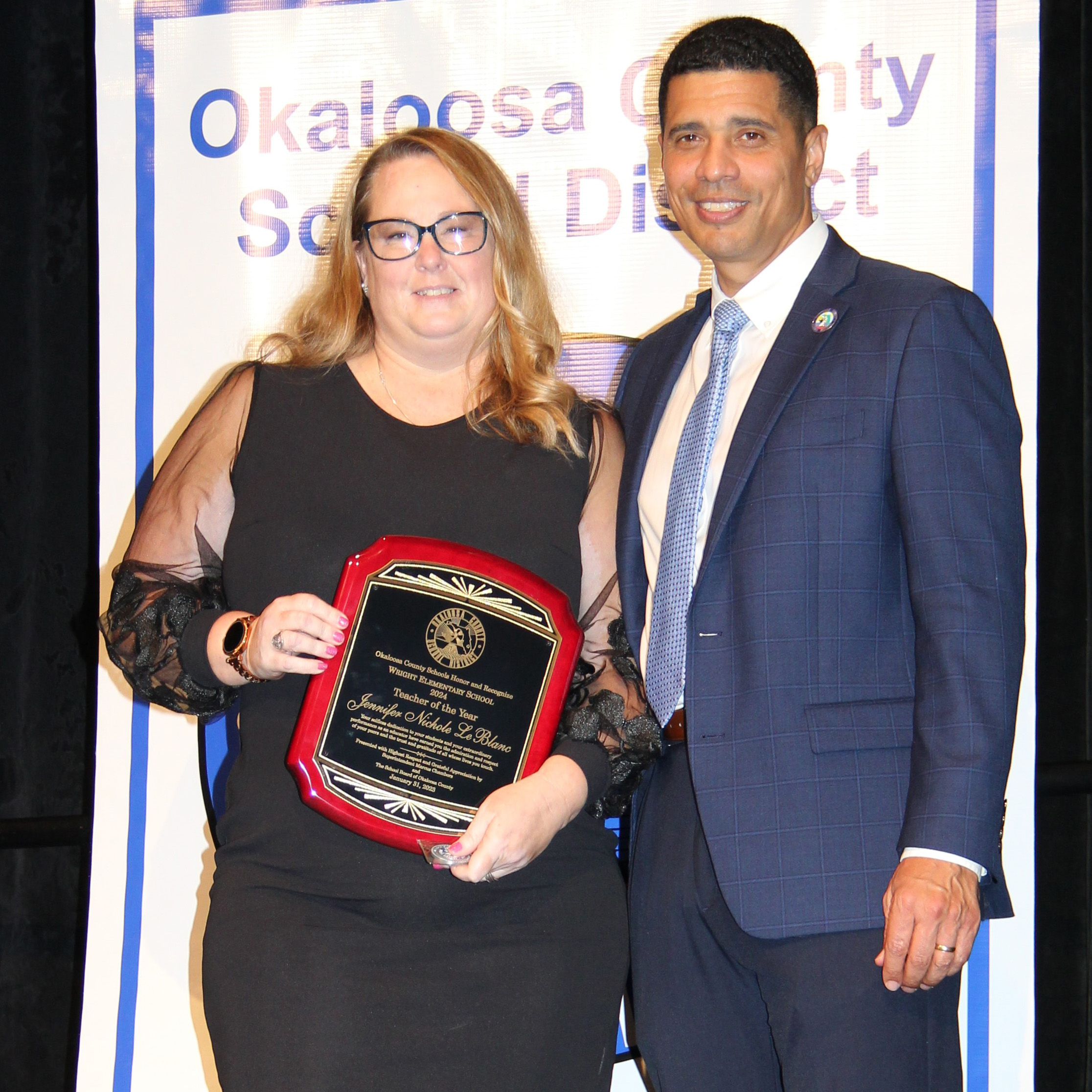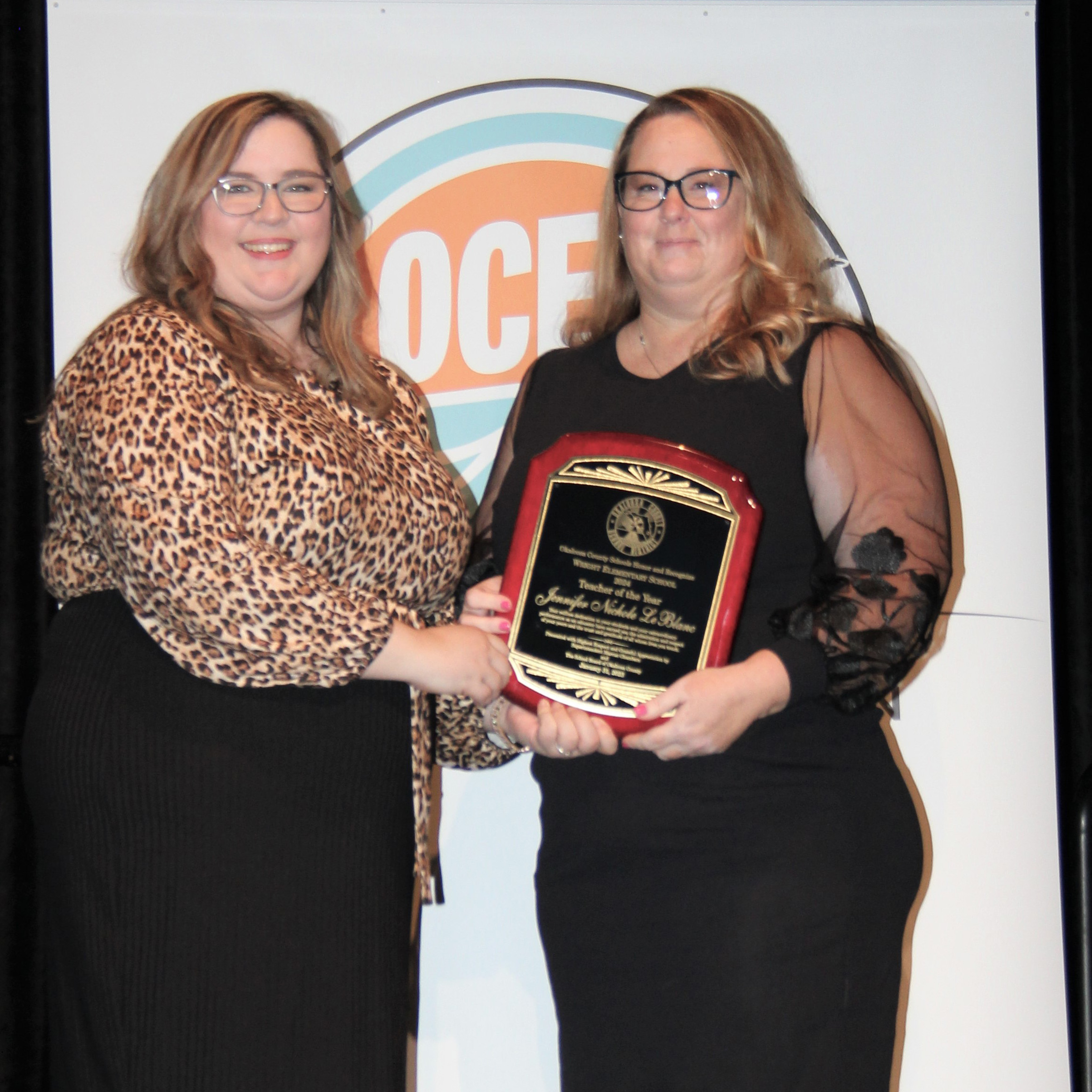 Jennifer Nichole LeBlanc inspires student success by building solid relationships based on respect and communication giving them the confidence to overcome those barriers that impede their learning. She obtained her B.S. degree in Elementary Education and a M.S. Ed. in Curriculum and Instruction from Old Dominion University. She has taught in various classroom settings such as co-teaching inclusion, self-contained, and departmentalized. Nichole is currently on multiple school improvement committees and serves as grade level chair and after school STEM teacher. For Nichole, learning is a lifelong journey.
Special thanks to the following organizations and businesses for their monetary or in-kind contributions to the 2024 Teacher of the Year Banquet:
BitWizards

Florida Power and Light (FPL)

Step One Automotive Group

Talking Parents

Okaloosa Gas

Titan Technologies (formerly TelaForce)

Eglin Federal Credit Union

Oklaoosa Public Schools Foundation

HCA Florida Healthcare

Publix

Ruckel Properties

Salty Pop Popcorn

The Island Resort at FWB

White-Wilson Medical Center

Andrews Institute

Community Bank

CHELCO

Deb's Coffee

ERA American Real Estate

Fishbein Orthodontics

Okaloosa County Teachers Federal Credit Union

Hurlburt Field School Liaison Program

Chick-fil-a Fort Walton Beach

Travelmation - Lynnlee Stanford, Agent
This year's Selection Committee members included:
Alyson Lofe - Chair, Bluewater Elementary School

Dr. Diane Kelley - Okaloosa County School Board Member

Brittany Tate – Pryor Middle School, 2023 TOY

Elaine Crump – Niceville High School

Kyla Scelzi - Davidson Middle School
Specials thanks also go to:
Angelique Cox, Rosemarie Morris, and Stephanie Hicks - Banquet Committee

Hilary DeMers - Slideshow Presentation

Eric Mitchell and Brandon McSween – Technical Support

Perry Rich and Sean DeWitt - Print Shop

Paul McNeeley - Live Stream Videographer
​